Is Wal-Mart Quietly Building An Organic Empire To Fuel Its Wild Oats Rollout?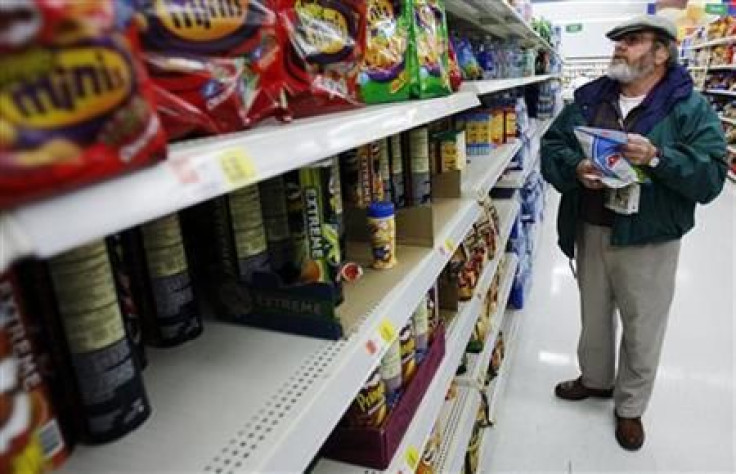 Wal-Mart's bold entry into the booming organic food market sets a lofty goal for the company: offering a wide range of products bearing the coveted USDA certified organic seal at stores across the United States.
But experts say that the target may be impossible to live up to in a country where less than two percent of farms grow organic crops.
"There's no way in hell that Wal-Mart is going to be able to carry a line of organic products that all bear the certified-organic USDA seal," Darrin Duber-Smith, president of the natural and organic products strategic planning firm Green Marketing and marketing professor at Metropolitan State University of Denver, told IBTimes. "There's a huge supply problem in organics. Demand outstrips supply by 25 percent in the industry."
"Organic" is a loaded term with specific meanings outlined and regulated by the USDA. While most USDA-approved products made with at least 70 percent certified organic ingredients can print the words "made with organic" on their labels, in order for a product to carry the USDA's green "Organic" seal, it must contain at least 95 percent certified-organic ingredients.
Wal-Mart contends that it will be able to meet its goal of selling a line of nearly 100 products -- of which nearly 90 percent are certified organic -- at all of its stores as well as on its popular website. The company hopes to achieve this goal through an exclusive supply partnership with Wild Oats, a brand owned by the Los Angeles-based investment firm Yucaipa Companies.
"They are USDA certified-organic products. Ninety percent are USDA-certified organic," Wal-Mart spokeswoman Danit Marquardt told IBTimes via phone, adding later that "it will initially roll out to 2,000 stores. The intention is to roll out across the chain. It will also be available on Walmart.com later this summer."
That imminent launch appears on its face to be untenable given the shortfall in organic farms' productivity. But Duber-Smith offered a caveat to his assertion that the chain will not be able to pull off such an ambitious organic roll-out, saying that Wal-Mart may have quietly laid the groundwork necessary to do just that. And the evidence suggests that he might be right.
The process for converting a traditional farm to an organic-certified one lasts a minimum of three years, which means that the plans any new organic farms Wal-Mart may be relying on for the ingredients in its organic foods would need to have been underway since 2011 at the latest. According to Bill McCue, a spokesman for Wild Oats, that is the year "Wild Oats Marketing LLC was formed by the Yucaipa Companies … to bring back the much-loved and trusted Wild Oats brand."
The company has not explicitly stated whether or not it or Wild Oats has set up a network of new organic producers to supply the ingredients needed to make the certified-organic goods it plans to sell, and Marquardt would not say what the company has done to ensure a supply of organic ingredients. But she did state that Wild Oats is "a company that we've been working with for the past couple years on this project."
The Bentonville, Ark.-based retail chain has also indicated that it will be offering Wild Oats products at rock-bottom prices, in keeping with its corporate mantra. For instance, the company wrote on its website that Wal-Mart's six-ounce cans of Wild Oats tomato paste will sell for 58 cents, which is 41 percent cheaper than that of other national organic brands sold at competing groceries. Likewise, 32-ounce cans of organic chicken broth will cost 88 cents -- 43 percent less than equivalent products elsewhere.
That Wal-Mart -- the second-largest company on Fortune's Global 500 list, with more than $469 billion in revenues and $17 billion in profits -- hopes to sell large quantities of the nation's limited supply of organic goods at prices far below what the market currently bears is a courageous gamble on its own.
The company reported that 91 percent of Wal-Mart customers it polled said they would be interested in purchasing reasonably priced organic goods. But in order to turn that interest into sales, Wal-Mart also needs to convert a swath of shoppers who are not used to purchasing organic goods into doing so at its stores, which may be a tough sell given that organic goods are typically more expensive than their nonorganic counterparts.
"How will that translate to actual sales? Of the 91 percent that say they'd like organic products at a reasonable price, what's reasonable?" asked Nancy Brown, a founding partner at the global brand agency CBX. "How low will Wal-Mart need to go to convince their customers to try organics? Because you know there's still going to be a price differential."
But if it does work, the surge in sales and possible expansion of consumer base will increase demand and drive prices for organic ingredients even higher, potentially adding further strain to its commitment to offer inexpensive organic products. Certainly, a network of its own organic farms would go a long way toward addressing that issue.
"I think in the short run prices will go up because supply has been so squeezed. It's going to mean much higher prices in the whole industry," Duber-Smith predicted, adding that the company's massive size does give the company a unique ability to keep its prices low.
"They must control their supply chains. When you have control over them you control pricing. As the head of the channel they can dictate price points … Wal-Mart has all the power, which means they can squeeze every penny out of organic suppliers the way they have with conventional suppliers for years."
That could be the key to success for its Wild Oats plan. Marquardt emphasized that the way the company is able to leverage its position as the nation's largest retailer, and the demand assurances that come with such prominence, to sell products at lower price points than smaller groceries can offer.
"The benefit that we have is that we're able to use our scale to deliver quality organic products to our customers for less. And when we do this it's a win-win-win situation for our customers, our suppliers and our company," she explained.
"Our customers can trust that they'll save money at Wal-Mart, our suppliers can count on us for the demand and we're able to offer innovative new products. At Wal-Mart, we're able to make agreements with our suppliers to provide scalable savings to our customers."
© Copyright IBTimes 2023. All rights reserved.