Wal-Mart Would Love To Have A Banking License, But It Doesn't Necessarily Need One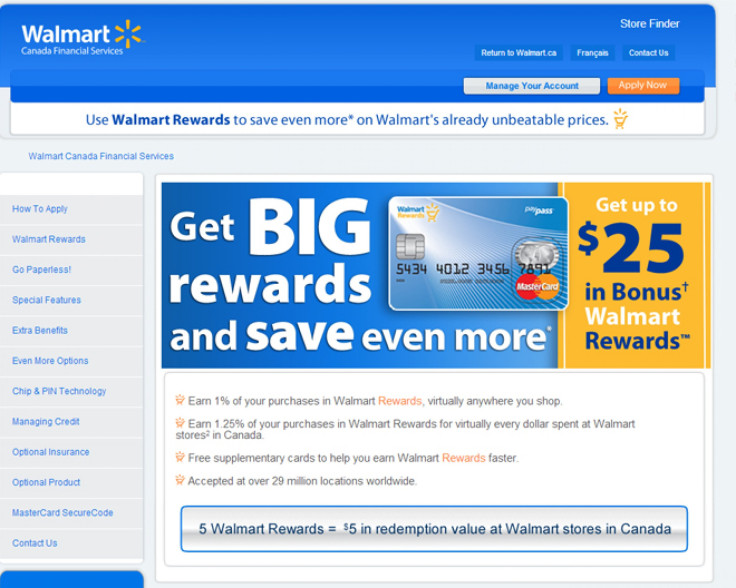 Wal-Mart Stores Inc. (NYSE: WMT) makes no bones about its efforts to expand into retail nonbank consumer financial services.
Over the years the world's largest retailer has entered the market for prepaid debit cards, credits cards, payroll check cashing, money orders and wire transfers, but for years it has had its sights on a holy grail: full-fledged retail financial services. Having a bank charter would first allow Wal-Mart to lower its cost of processing credit and debit card transitions, for example. It could also potentially engage in the many services offered by your local bank branch – from auto financing to mortgages.

Through its membership warehouse vendor Sam's Club it already offers small business loans of up to $25,000. A decade ago the company tried unsuccessfully to acquire banks. Three years ago, Canadian banking regulators granted the company permission to found Wal-Mart Canada Bank of Mississauga, Ontario. It quickly put its own credit card on the market north of the border.
So it's no surprise that after more than a decade of attempts to get into U.S. banking and, failing those, to expand nonbank financial services, the world watches to see what the behemoth of Bentonville will do next in the world of consumer financial services, whether it will eventually acquire a charter as it did in Canada in 2009, or whether it will continue to expand nonbank financial services. It cannot take, hold and invest deposits like a regular bank; but it's certainly free to lend.
After Wal-Mart announced this summer it would be selling a prepaid debit card in partnership with American Express Company (NYSE: AXP), Rochdale Securities analyst Dick Bove questioned the legality of the product.
"Banks are not allowed to be involved in banking and commercial activities. It appears that Wal-Mart is involved in both," he said in a research note.
Wal-Mart declined to comment, but no violations of bank regulatory rules have been officially levied against the company.
Some argue that banks have a special place in the economy, subject to consumer and commercial protections that shouldn't involve other commercial enterprises.
"A U.S. bank charter opens the door to too-big-to-fail issues and potential taxpayer bailouts. Would we really want to protect Wal-Mart in that way?" wrote Ann Graham in American Banker earlier this year.
Meanwhile, as consumers are increasingly frustrated over the "gotcha-fee" practices of commercial banks, nonbanks could see a way to lure them over to the nonbank wherever they are legally able.
A survey released this week by North Carolina-based consulting group Carlisle & Gallagher looked into consumers' sentiments about approaching nonbank entities for home mortgage financing. The results, based on a survey of 618 respondents in September suggest most consumers would consider taking out a mortgage from a company other than a bank. Nearly half of them said they would consider a mortgage from electronics payment provider Paypal Inc. of San Jose, Calif., while a third said they would consider a mortgage from Wal-Mart.

A mortgage through Wal-Mart?
Depending on how it's done, it's technically legal.
"Wal-Mart could sell money just as it sells other things," said Brent Ambrose, professor of real estate and director of the Institute for Real Estate Studies at the Smeal College of Business at Pennsylvania State University. "They could form a partnership and become the storefront for selling mortgages, that's how I would envision them doing it. The question is whether it could offer interest rates competitive with banks."
In the late '90s and early '00s the company made numerous attempts to get into banking after it argued that the 1999 Financial Services Modernization Act allowed nonbank commercial operations to acquire financial services companies and operate their own banking operations. It failed to acquire a bank in Broken Arrow, Okla., in 1999, and its attempt to acquire a bank in California led to the state legislature to pass a bill specifically outlawing what is arguably permitted by the controversial banking deregulation bill signed into law by then-President Bill Clinton.
© Copyright IBTimes 2023. All rights reserved.