Walgreens Badly Misses Earnings Estimates, Shares Drop 12%
The struggling Walgreens Boots Alliance, the holding company that owns Walgreens Company, Boots UK and a host of other pharma-related firms, revealed poor results for the second fiscal quarter of 2019 and dismaying projections for the full-year.
Before Tuesday's earnings call, analysts were already expecting CEO Stefano Pessina to admit to a bad quarter. They were taken aback, however, when Pessina described Q2 2019 ending Feb. 28 as the "most difficult" quarter since acquiring European drugstore chain Alliance Boots in 2014. Also dismaying was Walgreens falling short on so many key operating metrics.
The holding company's quarterly earnings and revenue badly missed analysts' expectations. As for the full year, the alliance expects earnings to be flat compared to its previous forecast of 7 to 12 percent growth.
As a consequence, the company said it will slash more than $1.5 billion in costs by fiscal 2022, up from the $1 billion it announced in Q1.
Pessina said a number of the trends "we had been expecting and preparing for impacted us significantly more quickly than we had anticipated."
Walgreens' adjusted earnings of $1.64 per share during the quarter was way off analysts' estimates of $1.72 per share, according to data from Refinitiv. Revenue also disappointed, coming in at $34.53 billion as against expectations of $34.56 billion.
Walgreens reported $1.16 billion in net income (or $1.24 per share), down from $1.35 billion (or $1.36 per share) a year earlier.
Pessina said generic drug prices dropped while pharmacy benefit managers paid Walgreens less, hammering the firm in the quarter. He also said Walgreens faced "consumer market challenges" in the U.S. and the U.K.
Same-store sales tumbled 3.8 percent, primarily due to the weak cough, cold and flu season compared to the same period in 2018.
Co-Chief Operating Officer Alex Gourlay said Walgreens is pleased with the progress it's making on its partnerships. He said Walgreens is working closely with Kroger's executive team to determine how best to unlock future growth and synergies. Walgreens partnered with Kroger in October 2018 to sell groceries in some Walgreens stores. It expanded the pilot in December.
Walgreens also diversified in an unexpected fashion. Last week, Walgreens said it will sell CBD (cannabidiol) topical products in 1,500 of its stores, following CVS Health.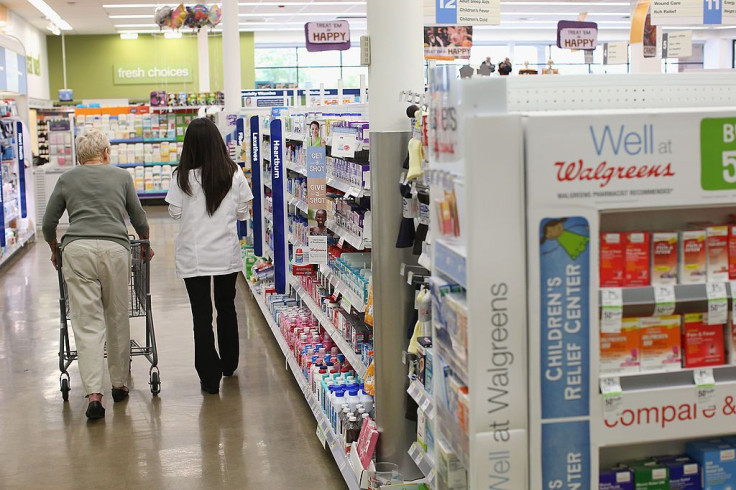 Walgreenss' executives tried to ease concerns it will cut costs too much and starve the business. CFO James Kehoe said Walgreens will invest about $1 billion over the next three years between operating expenses and capital. He said some 80 percent will be operating expenses.
"In one year, we'll be putting in $300 million to boost the partnerships and to boost our capabilities on digitalization of the company, so we're not going through the business for the sake of hitting cost cutting," he said.
Walgreens' shares lost more than 12 percent, which keeps it on track for their worst day since Aug. 6, 2014 when they lost 14.3 percent. It also pummeled its competitors, sending CVS shares tumbling nearly 4 percent and Rite Aid's stock down by about 8 percent on Tuesday.
© Copyright IBTimes 2023. All rights reserved.