Want Some Mafia With Your Pizza? How The Mob Is Taking Over Rome's Restaurants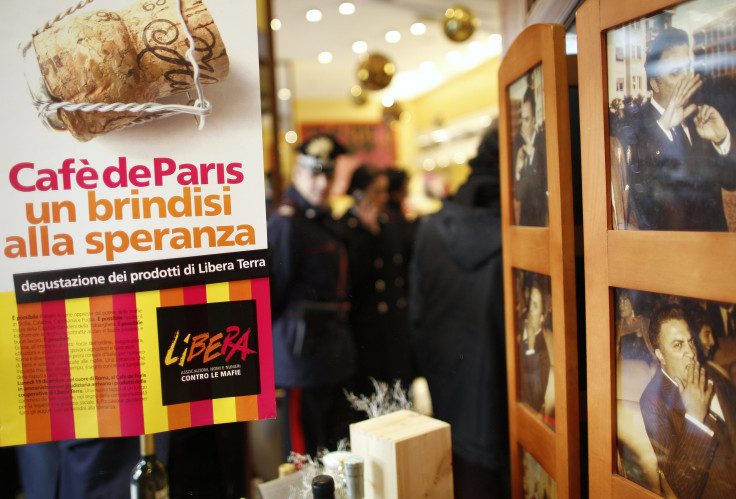 ROME -- Pizza Ciro, a picturesque restaurant in the heart of Italy's capital, still displays the colorful tiles and fake ancient paintings of Neapolitan landscapes it was known for in its heyday. Nestled between the Spanish Steps and the Trevi Fountain, the pizzeria used to be a magnet for hungry tourists.
Pizza Ciro is no longer so popular. At lunchtime on a recent workday, only four Japanese tourists were inside, maybe lured in by Neapolitan folk music. But the Japanese girls enjoying their pizza in an empty hall, sitting just underneath a big, non-operational flat-screen TV, would be unsettled if they knew a few facts.
The pizzeria had been in business for more than a decade before it was seized by Italian authorities last month, along with 26 other restaurants and cafés in the heart of Rome. In a major sweep against the Mafia, police arrested 90 people and seized assets worth 250 million euros, including pizzerias allegedly owned by a crime syndicate that used them to launder proceeds from drug dealing, extortion and loan-sharking.
Assets including Ciro, as well as the revenue they generate, could still go back to their owners. Those assets have just been frozen, pending trial, for now. The bill paid by the four Japanese girls could someday end up in the pockets of criminals from the Camorra, the ruthless Neapolitan version of the Mafia. Along with the Sicilian original and the 'Ndrangheta, the Calabrian mob based in the toe of Italy, the Camorra is one of Italy's big three criminal groups that rake in enormous amounts of money. Prosecutors say a lot of that money is being laundered into legitimate businesses in Rome, some located just steps from Parliament and government buildings.
Michele Prestipino, a veteran anti-Mafia prosecutor who in 2006 helped capture the Sicilian Mafia's boss of bosses, Bernardo Provenzano, told International Business Times the January sweep was a landmark operation because it unveiled a new way of doing business by the Camorra. The camorristi used to set up dummy firms and figurehead owners, a classic Mob tactic, but now they are stealthily forging alliances with healthy, lucrative, legitimate businesses that are able to justify large financial transactions.
The Reach Of The Octopus
"The raid on pizzerias unveiled an emblematic alliance between a well-established family of business owners in Rome and one of Naples' most powerful Camorra families," Prestipino, who leads the investigation as Rome's deputy chief prosecutor, said in an interview. The size of the Mafia presence in Rome is difficult to assess, according to Prestipino, but "for sure, there is so much wealth in Rome that is indirectly linked to criminal groups," he said.
According to Sabrina Alfonsi, the president of Rome's central district, "nearly 70 percent of restaurants and bars in downtown Rome are thought to be in the hands of organized crime." Figures from LUISS University in Rome put the turnover for Mafia groups from their Rome operations at more than one billion euros, or $1.35 billion, a year.
Marco Genovese, a local representative for anti-Mafia NGO Libera, said the police raids helped awaken Rome to a reality the Italian capital had long neglected. "The biggest achievement of the Mafia-linked asset seizures in Rome is that they brought the issue under the spotlight, but much remains to be done," he said.
People may not even realize that they are ordering their pizza from the mob, whose extensive reach is exemplified by the euphemism many Italians use to describe it: la piovra, the giant octopus, whose tentacles reach far and wide.
Outside Pizza Ciro, just steps away from government offices on Via della Mercede, a waiter came to the doorway after noticing a reporter persistently hovering around outside. "I just can't say anything, there's an ongoing investigation," he said politely, sounding worried and even slightly apologetic. The waiters and cooks at Ciro's four branches, three in Rome and one in Naples, are being checked by prosecutors for links to organized crime.
While waiters and other staff looked professional and busy, people who dined at Pizza Ciro in the past described a different atmosphere. "I used to have lunch there, but I soon realized the personnel was unprofessional. Waiters would serve you hastily, and they looked like everything but a waiter," said a journalist who used to work nearby and asked his name not be published for safety reasons.
A Waiter And A Criminal
The tale of Pizza Ciro is similar to that of the other pizzerias seized last month, like Pummarola e Drink, Sugo or Jamma Ja. Their Neapolitan-dialect names are supposed to bring to mind the city's pizza-making tradition, not its expanding crime families, buoyed in recent decades by a tight control of the drug market. But they offer a peek into how Mafia groups have broken out of their traditional stronghold in the South of Italy, spreading their tentacles across the country and swallowing a large slice of retail commerce in Rome.
"Rome helps Mafia groups disguise their presence thanks to its vast business activity. You have many businesses in Rome that can justify huge flows of money," Prestipino said. Those firms provide criminals with an easy and highly efficient way to launder money, and it's hard to tell who's a bad apple. "There are the good companies, the bad companies entirely in the hands of Mafia groups, and then there are those in between," Prestipino added.
Anti-Mafia prosecutors are focusing on the many shops and commercial activities in the city whose ownership has changed very rapidly. Many of the new buyers, mostly from southern Italy, are quick to replace staff and suppliers with people coming from their own areas. Then they hire relatives, or crime-family affiliates, who often are made to appear as legitimate owners of the business.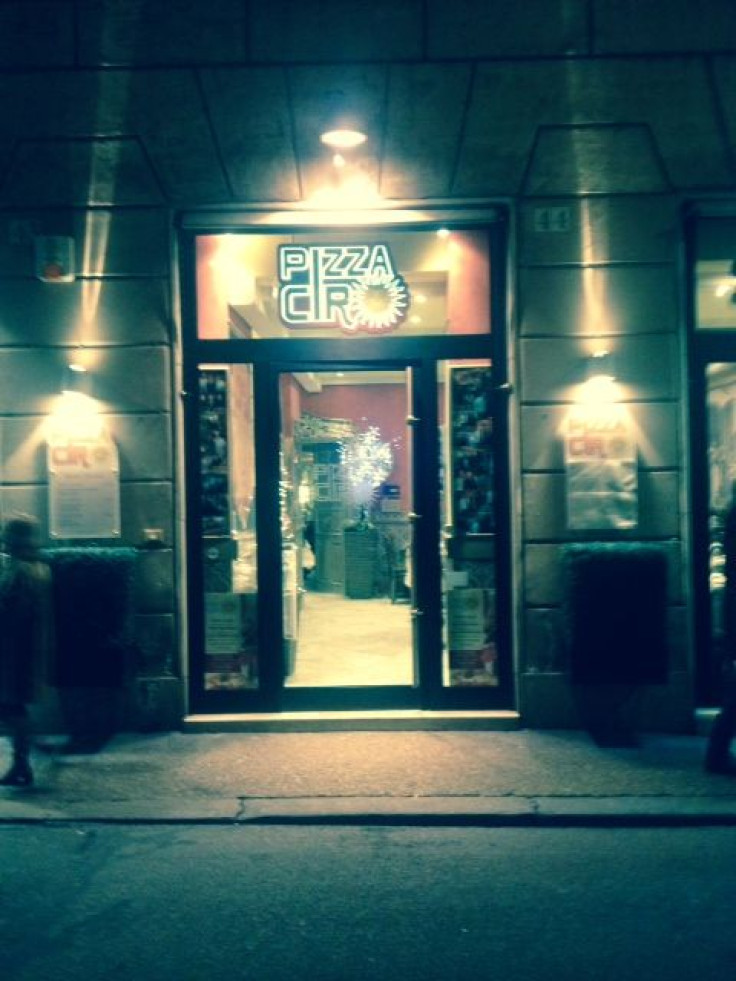 The people suspected of laundering money through Ciro followed a different pattern.
"You had this very powerful Camorra group in Naples that had had a long-time relationship with a family of real entrepreneurs, not figureheads, well-established in the Rome food market," Prestipino said.
That family, the Righis, specialized over years in the lucrative food business in Rome. They allegedly became a de facto partner of the Contini Camorra family, selling them their knowledge of the market in Rome and the possibility of investing in a thriving business, catering to the millions of people who visit Rome every year. In exchange, the Righis allegedly enjoyed protection, a non-unionized workforce, and often the illegal procurement of ingredients such as tomatoes and mozzarella, both produced in the Camorra-dominated Naples area.
Fancy Mafiosi Go Abroad
In sharp contrast with the violent crimes they commit in southern Italy, mafiosi in Rome are very careful to avoid clamor, so as not to draw attention from the authorities. Some criminal organizations are said to have agreed to a non-aggression pact in order to avoid public attention. Departing from traditional money-laundering strategies, they no longer invests in smoky bars, cheap hotels or run-down strip clubs in the suburbs, good for stocking cash rather than generating it. Today, the mafiosi increasingly choose prestigious locations and fashionable restaurants they expect to generate a profit.
Prosecutors found the Continis indirectly owned pizzerias located right in front of the Senate, or even tauntingly close to the headquarters of the National Anti-Mafia Prosecutor's Office. One could be forgiven for having no idea who's really behind those places; many didn't, even among the rich and famous who ate there and whose pictures still grace the doorway at Pizza Ciro. Among them are actresses, soccer players, even former prime minister Mario Monti and the celebrated anti-Mafia prosecutor Antonio Ingroia.
In 2010 authorities seized the Café de Paris, once the symbol of the Dolce Vita on fashionable Via Veneto and a hangout for Frank Sinatra and Federico Fellini. Prosecutors found it had been sold for 250,000 euros to a hairdresser from Calabria, a suspected member of the Alvaro-Palamara 'Ndrangheta family. Today Café de Paris is owned by Malaysian billionaire Robert Kuok and trying hard to stay in business. The Mafia scandal still scares customers away.
Two years later, police seized Antico Caffè Chigi, a bar right in front of the Italian government's headquarters in the heart of Rome. Politicians, cops, journalists and security officials regularly mingled there, until it was found to be owned by people linked to the 'Ndrangheta. Unlike the Café de Paris or Pizza Ciro, it closed up shop because of the scandal and mismanagement. Its sign was removed and it now lays bare, filled with dust, scrap paper and waste.
But unwittingly helping the Mafia launder its money doesn't necessarily have to happen in Italy. Mafia groups are among the most powerful and connected to other similar organizations globally. A report in 2012 from Confesercenti, an Italian business lobby, estimated that the main Mafia groups had a yearly turnover of 140 billion euros ($190 billion), almost one tenth of the size of the entire Italian economy, with cash reserves of 65 billion euros and assets all over the world.
Supply Meets Demand
Officials say the penetration of organized crime was made easier by the Italian debt crisis and a two-year recession that crippled businesses. According to Confesercenti, a retail business lobby, 417 bars and restaurants closed shop in Rome between January and September last year.
Enterprises on the brink of bankruptcy, sometimes already victim of loan-sharking or forced to pay blackmail, fell easily in the hands of Camorra or 'Ndrangheta. Both organizations, as well as the more famous Sicilian Mafia and the Banda della Magliana, a Roman-native criminal group, are flush with cash they need to launder. Supply met demand and, as a result, the mafiosi have thrived during the crisis.
Italy's Anti-Mafia Investigation Directorate, the main entity fighting against Mafia organizations, said it has seized assets worth over 14 billion euros since its creation in 1992. Among the assets seized are commercial property, hotels, bank accounts, luxury mansions and even castles. In the same timespan, it monitored over 5,000 businesses and ordered the arrest pending trial of roughly 9,000 people.
Still, once seized, assets can be recovered by the Mafia when they are sold; criminals put forward straw buyers, and the cycle begins anew.
The government agency that manages seized assets "needs reform," Rosy Bindi, an Italian politician who chairs the Anti-Mafia Committee in Parliament, recently said. She mentioned bureaucratic delays and the lack of a reliable database. Giuseppe Caruso, the magistrate who leads the agency, conceded that some agency officials used seized assets for "personal purposes," enjoyed "stratospheric fees" and kept a seat on the boards of confiscated companies, acting as "the supervisor and supervised entity".
But tourists sitting in Rome's Mafia-linked restaurants don't know any of this. They have no clue that the cheese on top of their margherita pie may have come from a dairy farm controlled by the Camorra, or that the young man serving them may really be a crime-family enforcer moonlighting as a fake waiter. And they don't know that the lyrics of the Neapolitan folk song blasting from the speakers at Ciro sound like a perfect, sadly ironic image of many Italians' unwillingness to face the hard truth that organized crime is buying up their country: "Let's forget the past! We're from Naples!"
FOR FREE to continue reading
✔️ Unlock the full content of International Business Times UK for free
offer available for a limited time only
✔️ Easily manage your Newsletters subscriptions and save your favourite articles
✔️ No payment method required
Already have an account?
Log in
© Copyright IBTimes 2023. All rights reserved.