War Of Words: Did Pakistan's Leader Nawaz Sharif Really Call His Indian Counterpart Manmohan Singh A "Village Hag"?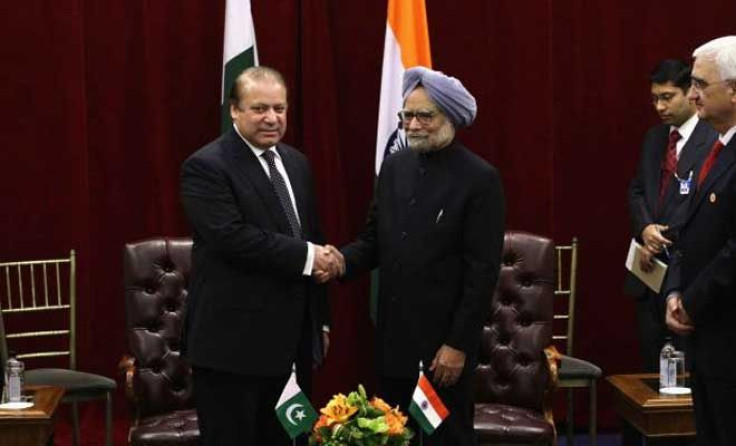 Indian media are salivating over reports that the Prime Minister of Pakistan, Nawaz Sharif, referred to his Indian counterpart, Manmohan Singh, as a "village hag" ahead of their summit meeting at the sidelines of the United Nations General Assembly in New York over the weekend.
India and Pakistan, sworn enemies since the formation of the two countries sixty-five years ago, face some monumental challenges, including widespread poverty, overpopulation, terror threats, the dispute over Kashmir and the ever-present danger of nuclear war – but all these topics were overshadowed temporarily by an insult Sharif allegedly hurled at Singh prior to his summit meeting with the Indian leader on Saturday.
GEO TV, a private Pakistani news channel, claimed that Sharif described Singh as a "dehati aurat" (a "village hag") during a breakfast briefing with two journalists at the UN. Press Trust of India (PTI) identified the two journalists who interviewed Sharif as Hamid Mir of Geo TV and Barkha Dutt of India's NDTV network. Specifically, Mir quoted Sharif as saying that "Manmohan Singh went to complain to [U.S. President Barack] Obama about me like a dehati aurat."
The Hindustan Times newspaper described the gaffe as a "major controversy." Dawn, an English language Pakistani newspaper, reported that outrage over the insult nearly "derailed" the planned conference between Sharif and Singh (the first such meeting between India's and Pakistan's top leaders in three years). But The Daily Telegraph reported that Pakistani diplomats (as well as Sharif's office) denied the accusations and assured Indian officials that Sharif wants to make good on his campaign pledges to improve relations and increase trade between Islamabad and New Delhi.
The "controversy" has already been exploited by India's nationalist right-wing opposition party, Bharatiya Janata Party (BJP), which has long criticized Singh (of the ruling Congress Party) for not taking tougher stances against Pakistan. Narendra Modi, the chief minister of Gujarat and BJP's candidate for Prime Minister at the next election, thundered at a huge rally in New Delhi: "How dare you [Sharif] say this? What right have you to say this? There can never be a greater insult to the Indian Prime Minister. There can never be a greater insult to India. We will not tolerate any insult to India."
Seema Sirohi, an Indian reporter who came to New York to cover the UN summit, called the episode "very unfortunate. You do not make such remarks about another country's prime minister. He [especially] cannot make such remarks hours before a crucial meeting." Another journalist, Lalit Jha, of Press Trust of India, called Sharif's remarks "extremely unfortunate".
But there are doubts that Sharif even made the insulting remark. PTI reported that Dutt of NDVT said in her Twitter account: "this [Mir's version] is a distortion entirely" and that Sharif said "nothing of [the] kind".
Dutt explained what really happened at the interview session with Sharif. "Little did I know that a short, off-camera breakfast conversation with Pakistan's Prime Minister Nawaz Sharif would be distorted to such a grave extent," she wrote for NDTV. "Before the interview started, Pakistan's PM was meeting with a small group of people, his officials and some Pakistani journalists for breakfast. PM Sharif invited me to have a cup of tea with them, since I was there for the interview. During this informal conversation, PM Sharif expressed unhappiness over the fact that Pakistan had been so central to the meeting between PM Singh and US President Barack Obama. He argued that India should have brought its grievances to Pakistan directly. He also said it reminded him of an allegorical story of a dispute between two people in a village, in which one was a woman. The moral of his story was that disputes should be settled between parties directly and not involve a third party."
Sharif himself does not seem too fazed by the controversy -- he even told Indian TV that Singh is a "good man" and that his invitation to the Prime Minister to visit Pakistan is still on the table. In addition, some figures in India do not see what the big problem is. Referring to Modi's vitriolic reaction, India's External Affairs Minister Salman Khurshid said there is nothing wrong with being a "dehati aurat," reported the Economic Times. "Modi does not like 'dehati aurat,'" he told PTI. "Of course he does not like dehati aurat. Why should we think of a dehati aurat being a pejorative term."
Still, Indian media were less than sanguine about what the two leaders may have accomplished during their brief tete-a-tete. "The outcome of the meeting, which had been in the works for several weeks, is surely a modest one," said an editorial in the Hindu newspaper. "Even before the talks began, both sides had clearly laid out their positions. Mr. Sharif stuck to his previous stand, and did not come up with anything outside the box, harking back to self-determination in Kashmir with the aid of the United Nations," stated the First Post.
© Copyright IBTimes 2023. All rights reserved.