Warriors: Kevin Durant To Begin Practice, Klay Thompson Expected For Game 4
The Golden State Warriors are seeking a 3-peat in 2019 having won back-to-back NBA championships in 2017 and 2018 but this time around they are going up against a new opponent in Toronto Raptors and a depleted squad due to multiple injury concerns. The main concern is the absence of Kevin Durant, who has been out since Game 5 of the Western Conference semifinals with a right calf strain.
The reigning champions have since lost Klay Thompson and Kevon Looney with the latter ruled out indefinitely with a collar bone fracture. Thompson missed Game 3 with a minor hamstring strain, which the Warriors lost 123-109 and now trail the Raptors 2-1 in the NBA Finals.
Steve Kerr expects Thompson to return for Game 4, according to The Athletic's Tim Kawakami, and the Warriors head coach admitted that the only reason the shooting guard sat out of Game 3 was for fear of aggravating what is not a serious injury concern. Stephen Curry shouldered the scoring burden and finished the night with a playoff career-high 47 points, but it was not enough to prevent defeat.
However, all the eyes will be on Durant over the next two days with all signs pointing toward a potential return for the small forward. Monte Poole of NBC Sports reports that the forward has had two "solid" individual workouts in the last two days, and he is expected to advance to working out with coaches and the younger players on Thursday.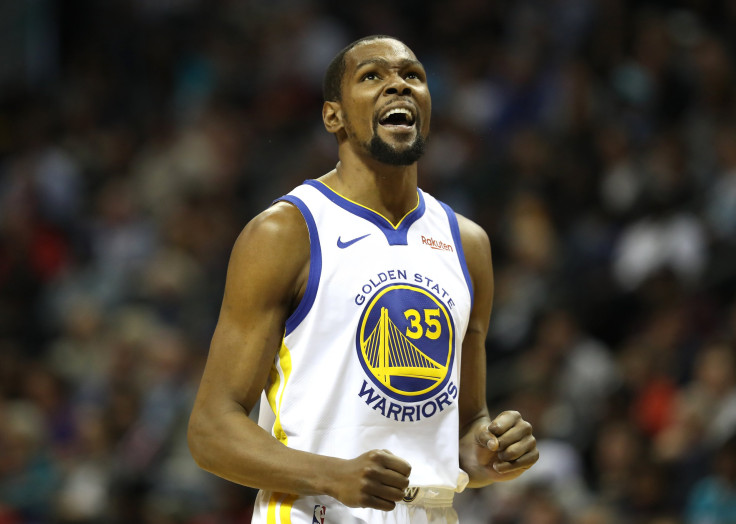 The Athletic's Anthony Slater revealed after the Warriors loss on Wednesday night that Durant is expected to take part in a behind-closed-doors scrimmage, but it was uncertain if the setting will be 5-on-5 or 3-on-3. And Kerr had indicated ahead of Game 2 that Durant could return to the court after just one full practice session.
"Attention now shifts to the Warriors facility in downtown Oakland, where Kevin Durant is expected to go through a closed door scrimmage tomorrow in either a 3-on-3 or 5-on-5 setting. Series rides on two muscles: Durant's calf, Klay's hamstring," Slater wrote.
The optimism about Durant's potential return continued with Warriors owner Joe Lacob admitting to ESPN's Stephen A. Smith that he is certain the forward will return before the end of the NBA Finals. The return of Durant and Thompson for Game 4 will again make the Warriors favorites to win a third straight final, but if not the Raptors are currently in the driving seat with Kawhi Leonard, Kyle Lowry, Pascal Siakam and Mark Gasol performing at a high level in every game.
© Copyright IBTimes 2023. All rights reserved.