WATCH: Chelsea Clinton Relates to Sandra Fluke on Rush Limbaugh Attacks [VIDEO]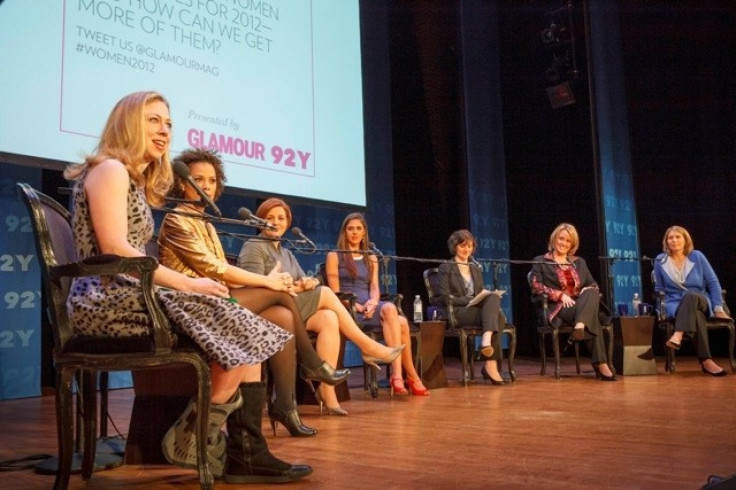 If the video is not working, click here.
Chelsea Clinton sympathized with women's issues advocate Sandra Fluke earlier this week, saying she too had been attacked by conservative radio host Rush Limbaugh when she was a kid in the White House.
Now, a video of the exchange (above) has been published, in which Clinton, daughter of Secretary of State Hillary Clinton, is seen praising Fluke.
[Sandra Fluke] and I actually have something in common, Clinton said on stage at the 92 Street Y in New York Wednesday night, during a discussion about women in politics. We've both been attacked by Rush Limbaugh.
I also believe that if you have the right type of enemies you are doing something correct, she said.
Fluke, a 30-year-old Georgetown Univeristy law student, became a household name when the radio shock jock called her a slut and other derogatory names for arguing that religious institutions should also provide to their employees health insurance that covers birth control.
Clinton was referring to the time Limbaugh described her as the first family's dog on television when she was just a child who moved into the White House after the election of her father, President Bill Clinton.
She was 30 and I was 13, Clinton said. It's true. I'm grateful I don't remember the exact phrasing, but something like, 'you may know that the Clintons have a cat, Socks, in the White House. They also have a dog.' Then he put a picture of me on the screen. Thankfully I had grown up in public life and knew that having thick skin is a survival skill.
The former first child praised Fluke for handling the situation with grace.
Sandra, you have reacted with such an ability to everything that has happened. You have chosen to empower yourself over what has happened, and not become disempowered.
Fluke said she is thinking about what message her actions would have to young girls amid the controversy..
They would clearly be thinking 'sit down and shut up,' because 'if I speak out that's what happens' ... I wanted to be an example of someone who did not go away, she said, adding: I hope it will be an empowering moment in some strange way.
The Glamour magazine-backed panel, Running in Heels, was moderated by Clinton and also featured Amy Holmes, anchor for Glenn Beck's GBTV; Abby Huntsman Livingston, daughter of former Republican presidential candidate Jon Huntsman; New York City Council Speaker Christine Quinn; and Stephanie Schriock, president of Emily's List, a group that helps elect candidates who support abortion rights.
© Copyright IBTimes 2022. All rights reserved.
FOLLOW MORE IBT NEWS ON THE BELOW CHANNELS