Watch Meghan Markle Receive A Group Hug From Schoolchildren During Cardiff Visit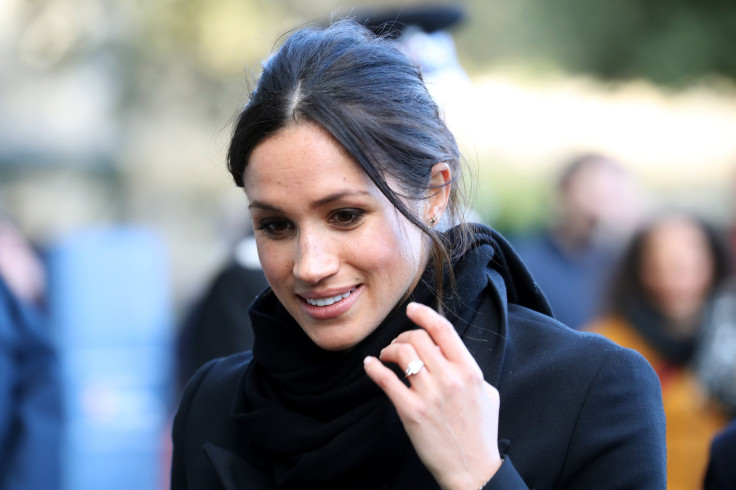 Prince Harry and Meghan Markle's recent royal engagement earned the actress a big hug from the schoolchildren.
On Thursday, the duke and the "Suits" star visited Cardiff Castle. They also made a stop at StarHub in Cardiff's Tremorfa. While in the area they watched the children play table tennis and Jenga. They also watched a group of young kids between 5 and 11 years old dance.
According to Kayleigh Forster, a junior dance teacher, Prince Harry and Markle were "cheeky." The duke even encouraged the kids to give his fiancée a hug to which they willingly obliged.
"At one point Harry did say, 'One, two, three, I want you all to hug Meghan!' So all the kids just kind of ran to Meghan," Forster said. "I thought she was going to fall over for a second, but she didn't. It was kind of cheeky of him, but really quite cute. You could see the cheekiness there with the both of them."
The royal prince then ushered the kids off while saying: "She's mine." According to Wales Online, the "Horrible Bosses" star was pleased when Prince Harry asked the children to do it. "You've made my day!" Markle responded after receiving the group hug from the children.
Before Prince Harry and Markle ended their visit to Cardiff, the "Remember Me" actress made a statement of how wonderful her visit to Wales was. It was actually her first visit to the country.
"It's my first time in Wales ever. I love it. Everyone is so sweet," Markle said.
The persons who met the princess in waiting during the said royal engagement have the same words to say about her. "She was incredible," Dean Maynard, Center Assistant, told ET about Markle.
"She was very, very friendly and easy to approach. She was really getting involved. She wasn't shying back away from anything. She was really interacting with the kids. Both of them were interacting a lot with the kids," Dean added.
Meanwhile, aside from meeting the warm people from Wales, Prince Harry and Markle were welcomed with a sweet treat. The couple was presented with a five-tier wedding cake made from cheese upon their arrival in Cardiff.
"We made it for them. It's to celebrate their wedding and to offer our congratulations to them. We do get asked to make wedding cakes occasionally. We have been asked in the past to do it," said Simon Mercer, director of the cheese company.
© Copyright IBTimes 2023. All rights reserved.