What Does Obama's Victory Mean To The World? Leaders Congratulate, Weigh In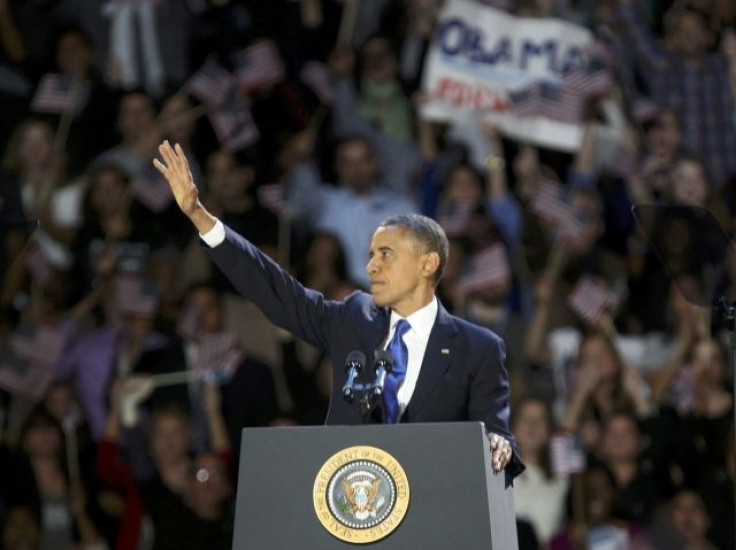 Messages from the world leaders have started pouring in congratulating U.S. President Barack Obama on winning a second term, even as nations weigh in on what his victory could mean to them.
Britain
British Prime Minister David Cameron sent his greetings to Obama soon after the declaration of results Wednesday.
"I think he's a very successful U.S. president and I look forward to working with him in the future," Cameron said during his tour of the Middle East, BBC reported.
"I would like to congratulate Barack Obama on his re-election."
"I have really enjoyed working with him over the last few years and I look forward to working with him again over the next four years," he said.
Cameron also called for a trade deal between the U.S. and European Union and for a resolution of the crisis in Syria among "so many things" that both the parties needed to do.
China
Chinese President Hu Jintao and Premier Wen Jiabao sent congratulatory messages to Obama on his reelection saying China will "look to the future and make continuous efforts for fresh and greater progress in the building of the China-U.S. cooperative partnership."
Obama has been reelected just before China's ruling Communist Party meets Thursday for a congress which will witness top leadership transitions that comes once-a-decade.
Australia
Australian Prime Minister Julia Gillard issued a statement offering "warm congratulations" to the President on behalf of her government and the people.
"Australia has worked closely with President Obama and his administration over the past four years. I look forward to continuing this friendship," she said, according to a report in the Sydney Morning Herald.
Australia's opposition Leader Tony Abbott also congratulated Obama as well as the U.S. Senators, representatives and Governors who were elected.
"It was a hard fought contest worthy of one of the world's greatest democracies," Abbott said in a statement. "The United States is Australia's largest and most important ally and Australia can look forward to a continuation of the best possible relations with the United States."
Israel
Israeli Prime Minister Benjamin Netanyahu, whose relations with Obama has been tricky, congratulated the President saying the strategic alliance between the two countries was "stronger than ever," Reuters reported.
"I will continue to work with President Obama to ensure the interests that are vital for the security of Israel's citizens," Netanyahu said in a short written statement.
Israeli officials and politicians from both the government as well as the opposition weighed in on Obama's victory, most of them congratulating him but some questioning his commitment to the State of Israel, Jerusalem Post reported.
Defense Minister Ehud Barak congratulated Obama saying he had "no doubt that the Obama government will continue with its policy that is based on support for the security of Israel."
"I believe that in the tradition of deep friendship and on the backdrop of shared experiences accumulated with President Obama we will be able to overcome any of our differences," Barak said, alluding to the rift between Israel and the U.S. in dealing with Iran's nuclear aspirations.
Opposition Kadima Party MK Shlomo Molla criticized Netanyahu for "hurting" Israel's interests "with his arrogant and incomprehensible involvement (in the U.S. elections) on the side of Mitt Romney."
Palestine
Palestinian negotiator Saeb Erakat said he hoped that Obama's re-election would mean the creation of a Palestinian state in the next four years.
"We hope that a Palestinian state will be implemented in Obama's next term," he told AFP in Ramallah, without congratulating the President. "We hope Obama will stop (Israeli) settlement (activity) immediately and not stop the Palestinians from going to the U.N. to get non-member status because non-member status will protect the peace process and the two-state solution," Erakat said.
Germany
German Chancellor Angela Merkel sent a letter congratulating Obama and hailing their cooperation to beat the global economic crisis.
"I have deeply appreciated our many meetings and conversations about all the issues involved in developing the German-American and the transatlantic relationship, not least in overcoming the global financial and economic crisis," she wrote in a letter released by her office.
Though both leaders are known to be on friendly terms and share mutual respect, Merkel's relationship with Obama has been contrasted with the one she shared with his predecessor George W. Bush who was captured giving Merkel a quick shoulder massage at a G-8 summit in 2006.
Obama, in 2011, bestowed Merkel with the Presidential Medal of Freedom and honored her with a state dinner in the White House's Rose Garden.
France
French President Francois Hollande congratulated Obama saying it meant the U.S. would remain committed on the world stage.
Obama's victory meant a "clear choice for an open, united America that is totally engaged on the international scene," he said.
Obama's victory would "once again reinforce our partnership to facilitate the return of economic growth in our countries, to fight unemployment, and to find solutions to crises that threaten us, notably in the Middle East," he said.
Eurogroup
The head of the Eurogroup of finance ministers said Europe would find it easier to work with the U.S. president in his second term than with a new leader in Washington, AFP reported.
Speaking to reporters in Singapore shortly before President Barack Obama emerged as the winner, Jean-Claude Juncker, who is also the prime minister of Luxembourg, said "during his first mandate, the president normally is focusing on turbulent domestic issues."
"The second mandate, U.S. presidents normally are rediscovering the entireness of the European identity, and we need for the US and for Europe to be close, to work closely together," he said.
India
Indian Prime Minister Manmohan Singh congratulated Obama saying he looked forward to continue working with him.
Leaders of India Inc. also welcomed the re-election of Obama, saying that continuity would be good for bilateral relations but expressed doubts on overseas outsourcing.
"This is a good development for India. Between two large economies there will be issues and concerns. Outsourcing is also a concern and I hope it will be addressed soon," Godrej Group chairman Adi Godrej was quoted as saying by PTI.
Echoing Godrej's views Bharti Group chairman Sunil Bharti Mittal said: "It is on expected lines but there was some heat reported in the last few days. I think it will be good for India. There will be continuity."
Pakistan
Imran Khan, Pakistan's cricketer-turned-politician and the chairman of Tehreek-e-Insaf who has been a vocal critic of U.S. drone attacks in the border region between Pakistan and Afghanistan, said he hoped that Obama would look for a genuine peace settlement during his second term.
"Obama's last term wasn't good for Pakistan," Khan said while expressing his reservations about Washington's drone policy, ANI News reported. However, Khan's reaction cannot be counted as the official reaction from the Pakistani government.
© Copyright IBTimes 2023. All rights reserved.
FOLLOW MORE IBT NEWS ON THE BELOW CHANNELS