What Is 'ELeague'? From eSports To 'CS:GO,' Everything You Need To Know Before The TBS Debut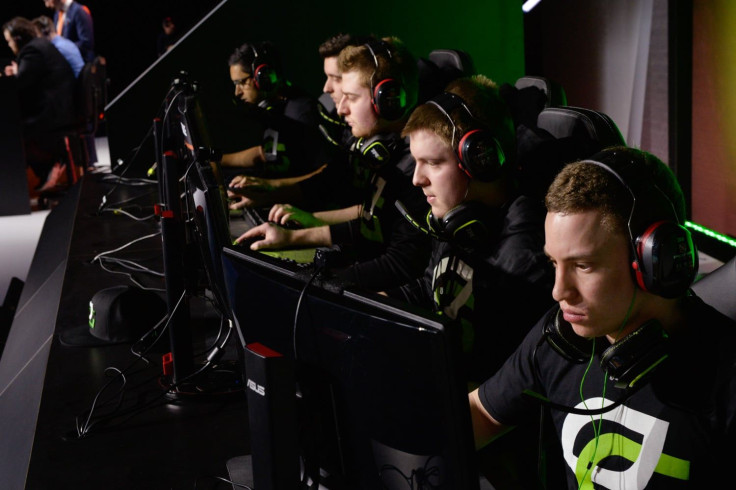 ESports will be arriving in the living rooms of millions Friday with the debut of "ELeague." Airing every week on TBS, "ELeague" is a 10-week "Counter-Strike: Global Offensive" tournament where 24 teams will compete for a $1.4 million prize pool. For those curious about competitive gaming, here is a handy primer ahead of the first "ELeague" matches.
Before getting into the ins and outs of "ELeague," a quick rundown of eSports in general is needed. ESports is a blanket term for all competitive gaming. There are multiplayer online battle arena, or MOBA, games such as "DOTA 2," "League of Legends" and "Heroes of the Storm. There are professional leagues for first-person shooters such as "Call of Duty," "Counter-Strike" and "Battlefield." "FIFA" is played competitively. Fighting games "Street Fighter V," "Super Smash Bros.," "Mortal Kombat" also fall under eSports.
ESports, for the most part, have yet to develop into separate sports like the NBA, NHL or NFL. Riot Games publishes "League of Legends," but also serves as the administrator for tournaments. The "League of Legends" Championship Series is the highest professional tier featuring the best teams competing for the biggest prize pools.
Valve, which publishes "Dota 2," also serves as the tournament administrator. Unlike the league format featured in "League of Legends," Valve focuses on seasonal Majors with tournaments determining who competes in these events. Last year's "The International" featured a prize pool topping $18 million, and first-place team Evil Genius took home $6.6 million.
The Electronic Sports League is responsible for organizing or sanctioning many tournaments and leagues around the world, including the Intel Extreme Masters series of eSports tournaments and the ESL Pro League for "Counter-Strike: Global Offensive." Major League Gaming has its own tournaments and streaming platform airing daily eSports content. Twitch, in partnership with FaceIT, established the Esports Championship Series, with "Counter-Strike: Global Offensive" being the first game.
At the heart of all these tournaments are teams consisting of individual players. These teams can be pretty busy. Fnatic, one of the best "Counter-Strike: Global Offensive" teams, recently competed in the ESL Pro League, Twitch's Esports Championship, the Major League Gaming Major Championship: Columbus and the Intel Extreme Masters X -World Championship, just within two months.
"ELeague" is part of a rapidly growing eSports scene, but it is also the first multi-week eSports tournament ever to air on television. Created by Turner Sports, in partnership with WME-IMG, the competitive gaming league runs for 10 weeks. Game publisher Valve Corporation was the first to sign on with "ELeague." Turner Sports plans to air two seasons, with the first season set to kick off Friday. Valve's "Counter-Strike: Global Offensive" will be the featured game for the inaugural season. The fall season of "ELeague" will feature a different game.
Watch live video from ELEAGUE TV on www.twitch.tv
Competitive gaming has been featured on television before, but this is the first time a major broadcaster has dedicated 10 weeks of airtime to live tournaments. The matches stream on Twitch every Tuesday beginning at noon EDT. Group play will see teams play one another twice over the course of two days. Each victory is worth one point. Based on point totals, the four teams will be ranked, with the first-place team playing the fourth-place team and the second playing the third on Thursday. The winners will advance to the weekly final, which will air live on TBS. The two losing teams will compete to advance to the "Last Chance Qualifier" round.
The six groups will compete in this format until July 1. After a bye week, the Last Chance Qualifier round begins July 12. Group play will take place from Tuesday to Thursday with winning teams advancing to compete on TBS. The quarterfinals take place over two days, with matches streaming on Twitch beginning Thursday followed by live matches on TBS Friday. The semifinals air July 29 on TBS, followed by the global championship July 30 at 4 p.m. EDT.
Matches will take place at Turner Studios in Atlanta in a new arena built specifically for eSports. There will be a broadcast booth with analysts and commentators similar to other sports broadcasts. Traditionally, live look-ins on the teams will appear to the side of the screen while the action from the game takes up the majority of the screen. "ELeague" will also include a live ticker displaying stats and other news about the teams.
Before tuning into Twitch Tuesday — or TBS Friday — understanding how "CS:GO" is played is important. The game has its own rules and strategies that a viewer should know before watching. Each match is five-on-five in a best-of-30 format. The early matches are important as each team earns money to buy new weapons, with stronger weapons costing more. Jason O'Toole, a "Counter-Strike" analyst who will appear on "ELeague," has a handy breakdown of the economic strategy of "CS:GO."
© Copyright IBTimes 2023. All rights reserved.
FOLLOW MORE IBT NEWS ON THE BELOW CHANNELS