What Is Iron Dome? Obama Signs $225M Funding Package For Israel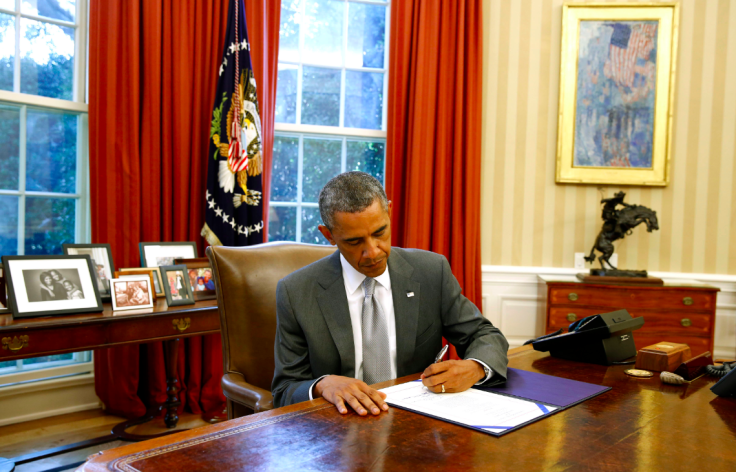 An additional $225 million of U.S. taxpayer dollars will be allocated for Israel's Iron Dome missile defense system as a result of legislation signed by President Barack Obama Monday, the White House said. Giving money to the Iron Dome project is nothing new for the U.S. In the past, hundreds of millions were provided, the Associated Press reported. The latest funding package is supposed to help restore Israel's defense capabilities.
The signing came as Israel and Hamas militants agreed to a 72-hour cease-fire to end hostilities that began four weeks ago. Hamas began pummeling Israel with rockets following the burning death of a Palestinian youth, killed in retaliation for the kidnap-slayings of three Israeli teenagers.
"This funding will ensure that Israel will be able to sustain production of Iron Dome components in order to maintain adequate stockpiles of Iron Dome interceptors and equipment," the White House said in a statement, addding Iron Dome "has saved countless Israeli lives."
"The United States has been clear since the start of this conflict that no country can abide rocket attacks against its civilians," the official statement read. "The United States supports Israel's right to defend itself against such attacks."
The statement finished: "We also continue to call on Israeli authorities to take all feasible precautions to prevent civilian casualties in Gaza and protect the civilian Palestinian population from the effects of attacks, and we continue to stress that all parties to the conflict must comply with international humanitarian law."
The Israeli military said 63 rockets were fired from Hamas territory Monday and five were intercepted by Iron Dome.
The Iron Dome defense system has reportedly been effective during the current violence between Israel and Hamas militants, the AP reported. The money granted to Iron Dome will help Israel's military shoot down rockets or mortars headed toward major population centers in Israel. Israeli officials say the system has a 90 percent success rate.
The money was approved by Congress last week before lawmakers embarked on their annual summer break. When Obama signed the bill in the Oval Office Monday afternoon, a handful of photographers were present.
Follow me on Twitter @mariamzzarella
© Copyright IBTimes 2023. All rights reserved.