Al-Jazeera America Touts Gaza Reporting Amid Ratings Spike: Ad Blitz Targets 18 Cable Networks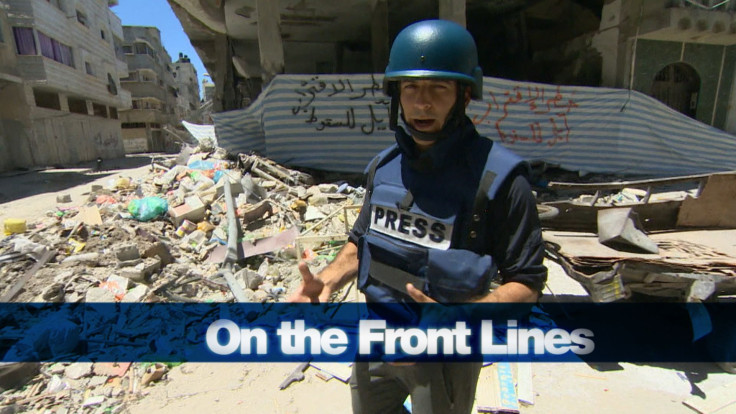 Buoyed by a spike in ratings that began with the start of the conflict in Gaza, Al-Jazeera America is hoping to keep the momentum going with a new advertising blitz to tout its recent achievements.
The fledgling cable network Monday aired a new commercial called "Crisis in Gaza," a 30-second spot featuring a montage of Al-Jazeera journalists reporting from the frontlines of the ongoing conflict. The commercial is to air this week on 18 cable networks, including rival news channels CNN, Fox News and MSNBC.
Ehab Alshihabi, Al-Jazeera America's chief executive, told International Business Times the ad campaign is not an unusually large one for the network. But he said it's the first time the network centered a campaign on a single news event. "We are targeting news viewers to make them aware of the in-depth, fact-based coverage we are providing of an important news story," Alshihabi said in an email. "We have selected media that have the best composition and reach for this viewing audience."
Nearly a year after its launch, Al-Jazeera America hasn't exactly attracted the kind of viewership that would worry its more-established competitors. The network has struggled with low ratings since its debut, often to the delight of its detractors in the conservative media. More recently, it has been hit by staff layoffs and budget cuts, reports indicate. And just last week, TV Newser reported more layoffs may be on the way.
But the network's parent company in Qatar is well-situated in the Middle East, including a news bureau in Gaza City. Since the conflict began, Al-Jazeera America has received praise from U.S. news outlets for its extensive on-the-ground coverage, and cable-news consumers have noticed. Total viewership was up 42 percent in July, compared to the previous month, a network spokeswoman said.
Granted, that bump didn't bring Al-Jazeera America anywhere near the level of its rivals: Data provided by Nielsen Media research shows the network ranked 93rd among all cable channels in July. CNN, by contrast, ranked 33rd, and Fox News ranked 3rd. But those networks also enjoy nearly twice the market penetration: CNN is available in 99 million homes, compared to 60 million homes for Al-Jazeera America. It's also worth mentioning unlike the audiences for CNN or Fox News, Al-Jazeera's audience is growing. The network has seen three straight quarters of total-day household and audience growth, a spokeswoman said.
Alshihabi declined to say how much money Al-Jazeera America is spending on its ad campaign, but it's clear from the brassy promo that hopes of a turning point are rising.
"Crisis in Gaza" airs Monday through Friday this week on Time Warner Cable and Verizon FiOS in New York and New Jersey. Watch the full promo below.
© Copyright IBTimes 2023. All rights reserved.