What Is Line? Tech IPO Planned In Tokyo And NYSE For Japanese Messaging App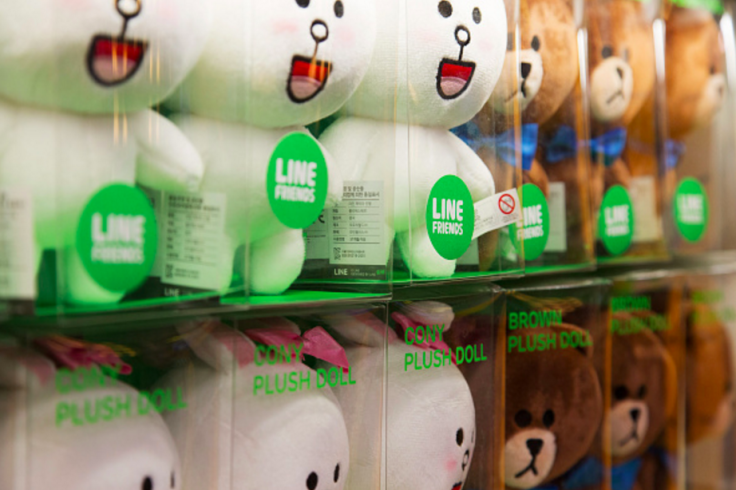 Something new is headed to both the Tokyo and New York stock exchanges next month. Line Corporation, a Japanese messaging app, is set for its initial public offering of stock in Japan and in the U.S. on July 14 and July 15, respectively, as it tries to expand its user base internationally. The company said Friday it will list as LN.
Line is Japan's most popular messaging app, but it has yet to expand much further. Out of its 218 million monthly active users, 152 million (70 percent) are located in Japan, Taiwan, Thailand and Indonesia. Line "made the decision to go public in both Japan and the United States to further enhance its strong position in Asia and to continue a more active global expansion," the company told the Wall Street Journal.
The free app offers voice calling and text messaging as well as services like games, music streaming and taxi hailing. It plans to add add a low-cost mobile carrier options and mobile payments, the Journal reported.
Owned by South Korean internet company Naver Corp., Line generates revenue from in-app purchasing of digital stickers and games as well as advertising. In 2013, the company pulled in $317.5 million in revenue, and last year it earned around $1 billion.
The company has not always been profitable, however. In 2015, Line reported a loss, which it partially attributed to MixRadio, a music streaming service it acquired from Microsoft the year prior and shut down in February.
Line was founded in 2011 shortly after the earthquake and tsunami in Japan, the country's largest on record, that left 15,894 dead and caused major disruption in cellular and landline phone service. Over the last five years, the app has grown steadily, but it still faces stiff competition from rivals in the U.S. and globally.
Facebook Inc.'s Messenger and WhatsApp have 900 million and 1 billion monthly active users, respectively. Tencent Holding Inc.'s WeChat reigns as the most popular app in China, in part because the other ones are blocked.
Still, Line is taking to the public market for scale. This isn't the first time it proposed such a plan. The company pitched to go on the Tokyo Stock Exchange exactly two years ago but later decided to postpone, blaming the turbulent market, TechCrunch reported.
Line plans to offer 13 million shares in Japan and 22 million in New York while its parent company, Naver, will retain 175 million shares. The company is expected to be valued at more than $5 billion.
© Copyright IBTimes 2023. All rights reserved.