What Is NATO? Donald Trump Threatens To Leave North Atlantic Treaty Organization Military Alliance As Russia Ties Questioned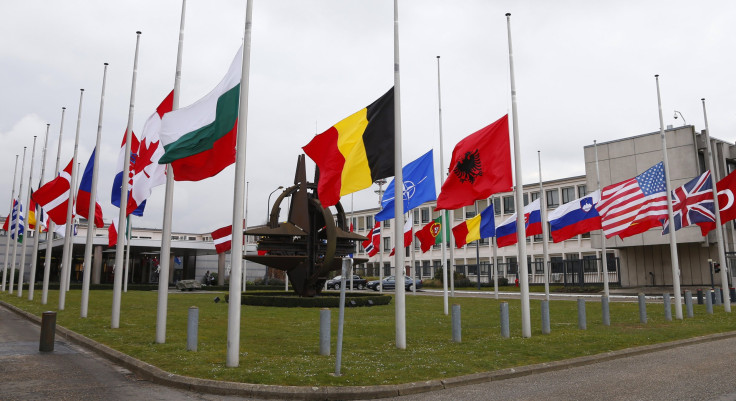 The United States' membership to an international military and political alliance was in jeopardy now that Donald Trump has been elected as president-elect. Trump has repeatedly questioned whether the U.S. should unequivically defend allies of NATO, formally named the North Atlantic Treaty Organization, because he said other member nations have not "fulfilled their obligations to" America.
Helping to fuel that speculation are Trump's alleged ties to Russia, which is not part of the military bloc that includes a number of Western countries in addition to some in Eastern Europe. Chief among those nations' concerns is if Russia will try to annex any of its bordering countries much like it did to Ukraine's Crimea in 2014.
NATO, which Trump has called "obsolete," irrelevant, expensive and unfair, was first created by the U.S. in 1949 so that each member nation could collectively protect one another from the former Soviet Union, of which Russia was a part. Trump's comments, which were prompted in part by deadly terror attacks in Brussels in March, have been condemned by the Pentagon and the Joint Chiefs of Staff, among other government officials.
A NATO member nation is expected to use 2 percent of its GDP on its own military defense so as to diminish the level of dependency on other member nations for help. Trump has said the trend of the U.S. involving itself militarily in a number of countries' affairs must end.
The initial incarnation of NATO included just 12 countries: the United States, Canada, Belgium, Denmark, France, Iceland, Italy, Luxemburg, the Netherlands, Norway, Portugal, and the United Kingdom. It has since grown to 28, with the most recent additions being Albania and Croatia in 2009.
Texas Sen. Ted Cruz, who lost the Republican presidential nomination to Trump, said breaking away from NATO would "hand a massive victory to [Russian President Vladimir] Putin." Putin congratulated Trump on his victory Wednesday and said the two countries should work together, according to CNN.
The Russian government and Trump's presidential campaign were in contact with one another during the election season, a Russian diplomat confirmed Thursday. Trump has repeatedly expressed his desire for the U.S. and Russia to thaw out their chilly relations.
Still, NATO vowed to continue defending its allies on Wednesday, despite Trump's ultimate ascendance to the White House, Reuters reported.
"The U.S. commitment to NATO and the collective defence of Europe has been rock solid for almost 70 years and I am absolutely confident that it will still be the case," NATO Secretary-General Jens Stoltenberg said Wednesday.
© Copyright IBTimes 2023. All rights reserved.