What Is NATO's Article 4? Why Turkey Called For Consultations Under Rarely Used Provision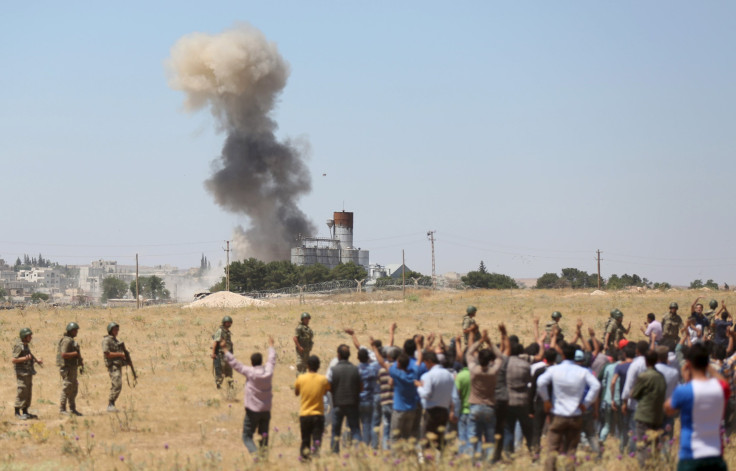 When Turkey called Sunday for NATO consultations, it invoked Article 4 of the Alliance's 1949 treaty -- a provision rarely called upon since NATO's creation and often overshadowed by the better-known Article 5. But Turkey's choice to use Article 4 this week could hold clues to Ankara's intentions as it ramps up military action in neighboring Syria.
Secretary-General Jens Stoltenberg announced that the 28-member North Atlantic Council would gather Tuesday as a result of Turkey's request. Under the provisions of the text, any member state can request consultations with other NATO members, for a broad, if vague, array of reasons.
"The Parties will consult together whenever, in the opinion of any of them, the territorial integrity, political independence or security of any of the Parties is threatened," reads Article 4, in full, of the official text of the 1949 Atlantic Treaty. Article 4 differs notably from Article 5, which states that any attack against a member nation is an attack against all members and which also allows for the use of armed force.
Invoking Article 4 has previously been described as an effort to "steer clear of inflaming…conflict," in the words of NATO Watch, a virtual think tank that advocates for greater transparency within the Alliance. As a result, the fact that Turkey invoked Article 4 suggested that despite claims Turkey would finally join the fight against ISIS, Ankara could be hesitant to dive more deeply into the violence in Syria. It has previously invoked Article 4 once since the start of the civil war in neighboring Syria -- after a Turkish jet was shot down by Syria in June 2012 -- although that was prior to the emergence of the Islamic State group in June 2014, whose presence drastically changed regional dynamics.
Turkish Armed Forces Over Time | FindTheData
Turkey has been reluctant to take an active role in fighting the Islamic State group in Syria, but it changed its approach Friday, after which it launched several cross-border strikes at fighters from the Islamic State group as well as those from Kurdish groups, the Associated Press reported. Kurdish militia have been the most effective at fighting the Islamic State group on the ground, but relations between the Kurds -- a minority group in Turkey, Syria and Iraq that has long bridled for an independent state -- and Ankara have been hostile. Turkey fears that a stronger Kurdish movement would pose a threat to its own stability.
Turkey's call for consultations under Article 4 came after multiple attacks along the Turkish border with Syria in the past week. A car bomb Sunday killed two security officers and wounded four in southern Turkey, while a Turkish soldier was killed and two others wounded after ISIS militants fired at them from the border. Meanwhile, a suicide bomber, later identified as a 20-year-old Syrian Kurd suspected of having fought with the Islamic State group in Syria, killed more than 30 people in Suruc July 20.
"Turkey requested the meeting in view of the seriousness of the situation after the heinous terrorist attacks in recent days, and also to inform Allies of the measures it is taking," a NATO statement said Sunday. "NATO Allies follow developments very closely and stand in solidarity with Turkey."
In the six decades since NATO's creation, Article 4 has been invoked only four times, twice of which were by Turkey: in 2003, with the U.S. invasion of Iraq, and in 2012. In 2014, Poland also invoked Article 4, with the rationale that "the developments in and around Ukraine are seen to constitute a threat to neighboring Allied countries and having direct and serious implications for the security and stability of the Euro-Atlantic area," NATO said at the time.
Separate reports revealed Monday that the United States and Turkey were planning to establish an "Islamic State-free zone" in a strip of territory within Syria and along the Turkish border. U.S. officials have insisted that it would not include a no-fly zone, at least nominally, even though the structure would have "nearly the same effect" as a no-fly zone, a senior administration official told CNN.
© Copyright IBTimes 2023. All rights reserved.