What Will Trump Do About Israel, Palestine? How Netanyahu is Preparing For New US President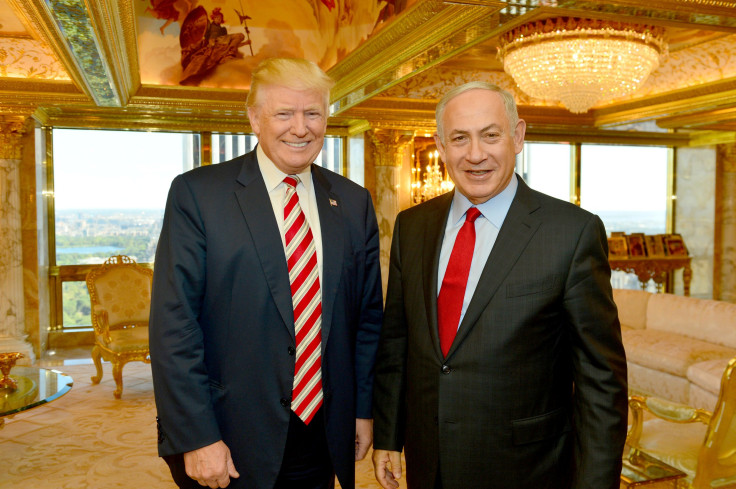 Foreign leaders and nations around the globe have been fretting over the incoming administration of President-elect Donald Trump. But not members of Israel's right wing.
Israel's Jewish Home and Likud parties, each considered to the right of the political spectrum, were reportedly "eager" to see if Trump would provide support for the country looking to build more settlements on the lands heavily disputed and claimed by Palestinians, Reuters reported Thursday.
Israel's attempts to build those settlements and expand in Gaza, the West Bank and some parts of East Jerusalem, has long been at the heart of its often violent conflicts with Palestinians for decades. Many other nations have panned Israel for doing so, and the issue caused significant strain in the relationship between Prime Minister Benjamin Netanyahu and outgoing U.S. President Barack Obama.
Last month alone, Israel was incensed by the U.S.' decision not to use its veto power to stop a United Nations Security Council resolution that condemned building settlements and demanding its end. Shortly thereafter, U.S. Secretary of State John Kerry said in his final big speeches as head of the country's diplomatic arm that Israel's attempts to further the settlements stood in the way of a possible two-state solution to the conflict.
"The status quo is leading toward one state and perpetual occupation," Kerry said.
The Jewish Home party and some members of Likud, which is headed by Netanyahu, were working on legislation that would claim one large settlement in the West Bank and dozens of "unauthorized posts," according to Reuters.
However, Netanyahu may hold back those efforts until he can properly feel out Trump.
Since winning November's election, Trump has seemingly sent supportive messages to Netanyahu's government and Israel and even questioned the U.N.'s usefulness. He's suggested moving the U.S. embassy in Tel Aviv to Jerusalem, said he wanted to meet with Netanyahu as soon as possible and openly stated on Twitter that while the U.N. has potential it's not a place where much gets done.
Trump also nominated South Carolina Gov. Nikki Haley to be the country's ambassador to the U.N. She ripped the U.N.'s treatment of Israel while suggesting the U.S. was funding of 22 percent of the international body's budget during her Senate confirmation hearing Wednesday, CNN reported.
"Are we getting what we pay for?" Haley asked.
Haley also told the senators in attendance that she would need their help and wouldn't "shy away" from cutting funding to the U.N. However, Haley would go on to either contradict herself or roll back the severity of her initial statement.
"The U.N. and its specialized agencies have had numerous successes," Haley said. "However, any honest assessment also finds an institution that is often at odds with American national interests and American taxpayers ... I will take an outsider's look at the institution."
© Copyright IBTimes 2023. All rights reserved.