Are Israel And Palestine At War? Officer Erez Levi Killed In Bedouin Clashes [VIDEO]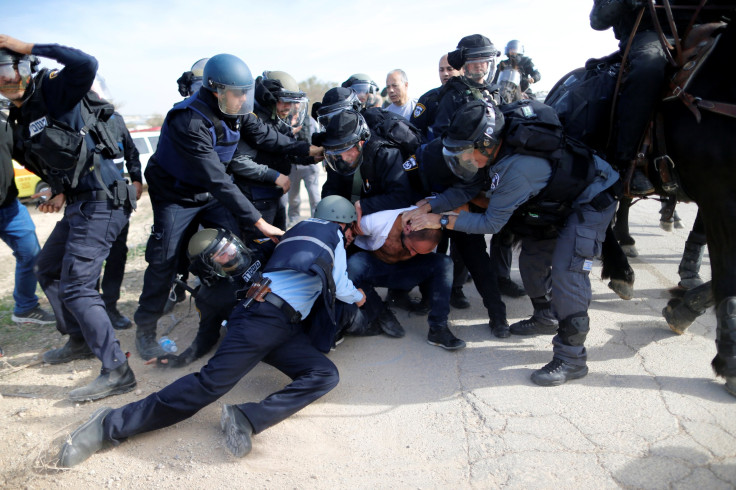 Deadly clashes broke out Wednesday in the Negev Desert as Israel attempted to demolish a Bedouin village to make room for Jewish housing, prompting local Arabs to protest. The incident took place in the southern village of Umm al-Hiran, where locals had reportedly built housing structures without government permits.
Israeli authorities entered the area with the intention of demolishing the unauthorized housing and allege one of the residents, identified as Yaakub Abu al-Qiyan, sped his car into police officers, attempting to ram them. Qiyan was killed after he fatally struck one Israeli officer, Erez Levi. Locals who witnessed the events argued police opened fire on Qiyan before the vehicle increased speed and that the driver lost control after being fatally struck.
A video of the incident shot from an Israeli police helicopter appeared to show Israeli forces open fire on Qiyan's vehicle while he was driving at a slow pace, contradicting the account put forth by Israeli authorities, according to Israeli daily Haaretz. Israeli security officials maintained their narrative of events, calling the incident a terror attack and alleged Qiyan may have been inspired by the Islamic State group, also known as ISIS. Locals who said they knew Qiyan described him to Agence France Presse as a "revered schoolteacher" with no affiliation to Islamic extremism.
Meanwhile, an Arab-Israeli lawmaker was shot in the head by a rubber bullet during demonstrations against the demolitions. Ayman Odeh, who heads the leftist Hadash party and the Arab Joint List coalition, accused Israeli forces of trying to incite violence among the residents with the use of excessive force.
"Hundreds of police raided the village of Umm al-Hiran. Massive firing of grenades everywhere. A large number of men, women and children in terror and fear. It's hard to imagine the sights here," Odeh wrote in a Hebrew-language tweet Wednesday morning.
After the 1948 Arab-Israeli War, the Israeli army expelled many of the Negev's Bedouins from their original lands in order to expand the territory of the newly established State of Israel and a number were moved to Umm al-Hiran in the 1950s. In 2015, the Israeli Supreme Court rejected the Bedouins' rights to the land and ruled that Umm al-Hiran could be demolished to make way for a Jewish village.
© Copyright IBTimes 2023. All rights reserved.
FOLLOW MORE IBT NEWS ON THE BELOW CHANNELS