While France Seeks To Replace Russia As India's Key Defense Partner, French Industry Struggles: Report
KEY POINTS
While Russia continues to deliver nearly half of India's weapons, India seeks to diversify its procurement
French defense industry is struggling to ramp up production in response to global demand, wartime needs
Washington failed in weaning New Delhi away from Moscow with an offer of military-aid package
While the war in Ukraine exposes the quality of Russian weapons and raises questions on Moscow's ability to meet defense production and supply demands due to Western sanctions, France is seeking to grab the opportunity to become India's prime arms supplier.
As French Defense Minister Sébastien Lecornu heads to India on Sunday for a two-day visit aimed at strengthening bilateral defense ties, a report in the Politico says it is impossible to ignore the pitch for potential defense deals at a time when the French defense industry is itself struggling.
During his visit to India, Lecornu will visit the aircraft carrier INS Vikrant off the coast of Mumbai on Nov. 27 and is scheduled to meet his Indian counterpart Rajnath Singh the following day. Lecornu is also expected to call on Prime Minister Narendra Modi during the visit.
Lecornu's visit follows the recent meeting between Modi and French President Emmanuel Macron who held talks on the sidelines of the recently concluded G-20 summit in Bali. While the French President is himself expected to visit India in "early 2023," his diplomatic advisor Emmanuel Bonne is expected to be in India in January for talks with the country's National Security Advisor Ajit Doval.
While France already ranks second in top weapons suppliers to India after Russia, the Politico report highlights how the French defense industry, which is struggling to ramp up production in response to global demand and wartime needs, may be ill-equipped to keep up with India's growing demands.
Although India has sought to diversify its weapons procurement, Russia continues to deliver nearly half of India's arms. While there is a growing urgency to diversify, New Delhi has also been pushing hard to achieve self-reliance in arms manufacturing.
"There is a sense of urgency in New Delhi to diversify, to find new sources, and France is already seen as an important partner. [India] is ready to loosen its ties and diversify away," said Garima Mohan, an EU-India expert with the German Marshall Fund, as quoted by Politico.
While France seeks to pitch itself as a key defense supplier, the Politico report points to the severe credibility issues faced by the country's defense industry while other suppliers from the U.S., Israel or South Korea grab opportunities.
Even as the country has bagged multiple high-value contracts, French defense exports have decreased in value within Europe over the past 20 years.
Despite its growing demand outside Europe, France is struggling to ramp up its defense production with French President Macron in June warning that his country needed to build "a wartime economy," with more investment, and faster, simplified production chains.
"They are planning to increase the output," Michel Goya, a French defense consultant and retired colonel reportedly said. "But there are issues of production capacity and bureaucratic delays. The question is still whether our defense industry can transition from being a luxury craft business to becoming a mass production industry."
Highlighting the production delays, the report points out that while the French Caesar truck-mounted howitzers have demonstrated efficiency in the Ukraine war, they take almost two years to build.
However, as experienced by Washington, the charm offensive from Paris may also struggle to wean New Delhi off from Moscow's arms.
Since the beginning of Russia's war in Ukraine, the West has brought pressure on India to pick sides with Washington, even offering a military-aid package to encourage New Delhi to scale down its dependence on Russian military equipment. Despite Western pressure, however, India has maintained an independent position stressing "diplomacy and dialogue" to end the conflict in Ukraine.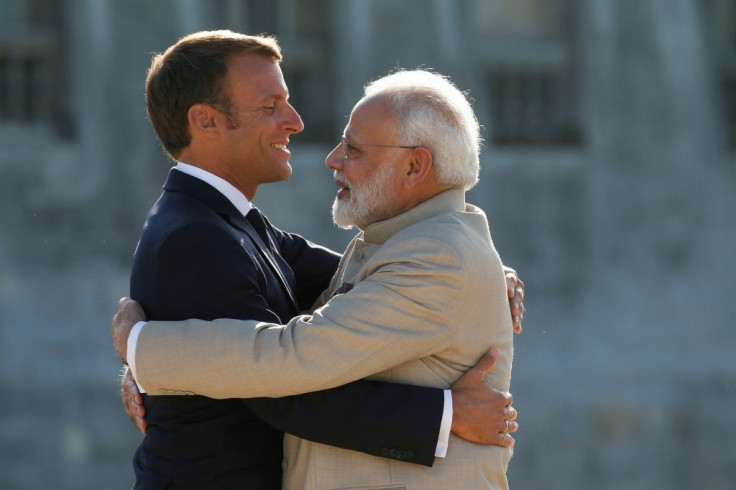 © Copyright IBTimes 2023. All rights reserved.