Whisper App Hits 20 Million Monthly Users, Doubles Over Six Months In 2015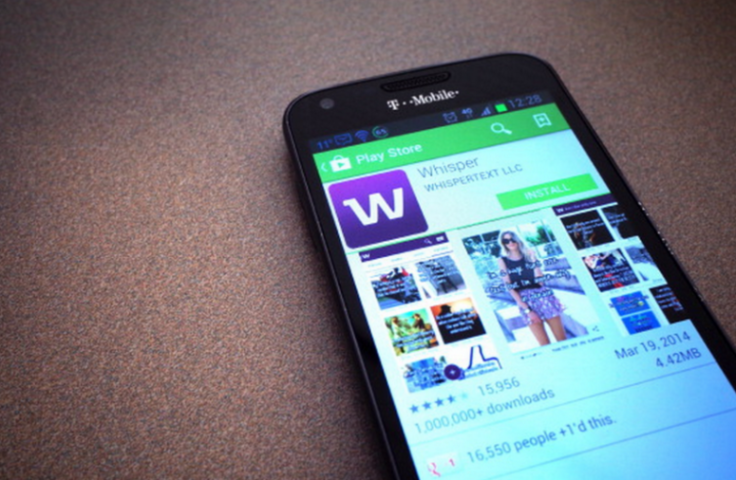 Whisper has new numbers to shout about. The anonymous-messaging app has reached over 20 million monthly active users, up from 10 million in May, and claims about 1 million "app opens" every hour, Whisper CEO Michael Heyward wrote in a blog post Friday.
The app, launched in 2012, allows smartphone users to create and view text-based images that often show extremely personal details or something that could be considered not politically correct. For instance, one of the most-liked posts for 2015 said, "I'm pregnant. My boyfriend told me to 'get rid of it.' I got rid of him."
Meanwhile, a different anonymous-messaging app, called Secret, shut down earlier this year. CEO David Byttow claimed that the startup, which had raised $35 million in venture capital funding, no longer represented the "vision I had when starting the company, so I believe it's the right decision for myself, our investors and our team," he wrote on Medium.
But Whisper has stayed open and is growing. The app had 2 million users in May 2013, and this year alone the startup claims to have nearly doubled its active users in six months. At 20 million, Whisper still pales in comparison to Facebook's 1.55 billion, Instagram's 400 million and Twitter's 320 million active monthly users.
But its growth rate is notable, and it might be because of Whisper's positive vibe. While Yik Yak and Secret have been criticized as destinations for bullying, Whisper has cast itself as a mobile zone for openness and support. Indeed, the most-used word and the most-searched word on Whisper for 2015 was "LOVE."
"Whisper serves as a home for every single person who wants to be silly, real, quirky, honest, awkward, raw, less lonely, and most of all … simply loved for who they are," Heyward wrote in the blog post.
'Good' Advertising?
Based in Los Angeles, Whisper has also attracted the attention of big-name advertisers. Since 2014, the app has supported over a dozen advertising campaigns.
Disney/Pixar ran a five-day campaign for the film "The Good Dinosaur" over the recent Thanksgiving weekend. If a Whisper user typed in words associated with the movie, the app would pull up a branded background image. The "Popular" feed, which also includes drawings of the animated characters, asked the question, "What are you most thankful for?"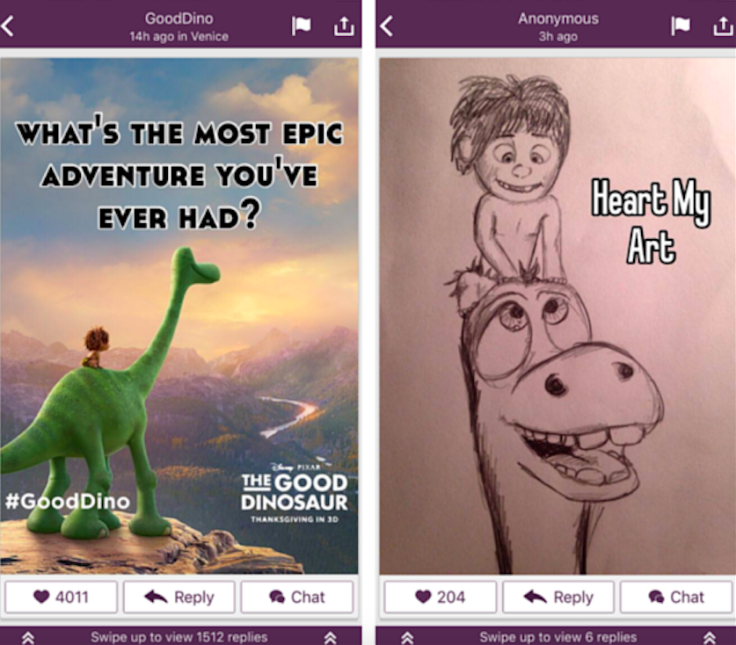 A Coca-Cola-hosted campaign earlier this year had over 5,000 replies in an eight-hour period. "It's early days, but we're encouraged by the engagement results and the conversation sparked," Jennifer Healan, group director of content at Coca-Cola North America, told International Business Times in October.
Whisper plans to continue running branded stories next year as well as supporting and growing the active community. Whisper's largest audience is from the United States, yet the app has users in 187 countries, including Canada and India.
"2016 is about storytelling for Whisper as we continue to create a space for millions to share their authentic, unfiltered personal stories with the world," Aishwarya Iyer, Whisper's director of communications, told IBT in an email. "Our community -- and the content they create and share -- has reinforced the incredible power of these compelling, untold stories that need to be heard."
Whisper is supported by $61 million in venture funding led by Sequoia, Lightspeed, Trinity Ventures, Shasta, Thrive Capital and CAA Ventures. The startup closed a $36 million round in May 2014.
© Copyright IBTimes 2023. All rights reserved.