Why Whisper, The Facebook Alternative That Lets You Share Anonymously, Is No Secret To Brands Like Coca-Cola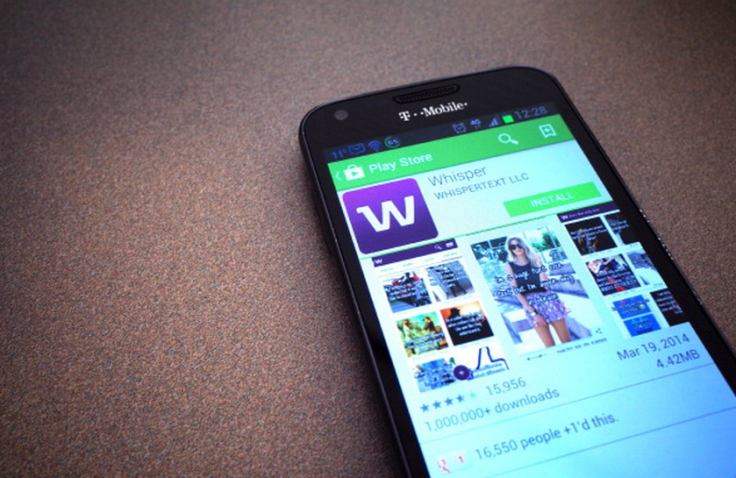 Advertisers don't want to whisper. With new competitors and a fragmented industry for allocating ad budgets, legacy brands' messages need to scream. Yet, Whisper -- a mobile app for sharing thoughts anonymously -- has become quite the shiny object for corporate advertisers.
With more than 10 million monthly active users, 10 billion monthly page views and users spending an average of 30 minutes per day on the app, Whisper has recently attracted campaigns from Coca-Cola, Fox and Universal Studios. Later this month, the company will launch an anti-bullying campaign with the nonprofit Ad Council.
On Whisper, users type messages and the app generates an image to serve as a background. A public feed shows these text-overlaid images under categories "Popular," "Nearby" or "Latest." Users can also search under "Confessions," "LGBTQ" and "Q&A." A viewer can choose to "heart" something, post a reply with their own whisper or private message the contributor.
Similar to Snapchat's filters, which can be ads, Whisper users elect to be a part of the advertising system; they can choose to incorporate a sponsored background and become part of the brand's messaging. But unlike Snapchat, where a user must enter their email and birthday to sign up -- and in striking contrast with Facebook -- Whisper users don't share any personal data to create an account. That absence leaves brands without targeting capabilities.
Whisper's model also treads in scary territory for advertisers in that anonymity can and has led to bullying. Anonymous app Yik Yak has faced several cyberbullying scandals. Online messaging forum Reddit is known for its racist and sexist threads. The CEO of Secret shut down the anonymous app in April, naming anonymity the "ultimate double-edged sword, which must be wielded with great respect and care." Whisper also has been hit by scandal after a report from The Guardian -- later retracted -- accused the app of privacy violations; in May, a teenage girl made a threat referencing the Columbine massacre in Whisper.
But Whisper CEO and co-founder Michael Heyward said he thinks his app can succeed as a place for positive conversation and advertisements. "Just because you can make prank phone calls on a telephone doesn't mean that everything on the telephone is bad," Heyward said. "We've always been super clear on this since the beginning. We only allow you to use anonymity as a shield, and not a sword."
Community And Moderation
Launched in May 2012, amid Facebook, Twitter and Snapchat's growing popularity, Whisper entered the crowded social networking industry with a focus on moderation. With just a handful of test users on day one, Whisper started with six moderators.
"They sat around with nothing to do," Heyward said. "In your mind you're working on something 24/7 for months and then you think the minute you put it out, it's going to be the biggest thing."
But with 2 million users by May 2013, the number of moderators scaled to 50. Whisper now employs more than 130 people -- 15 in-house and the majority based offshore in the Philippines and contracted through TaskUs -- to monitor the activity of 10 million active montly users. Those human moderators, who each look at thousands of posts per day, supplement a computer algorithm to analyze content that could violate the company's terms of use. For instance, automated tech will flag posts that mentioned a proper name and words or phrases from a designated list.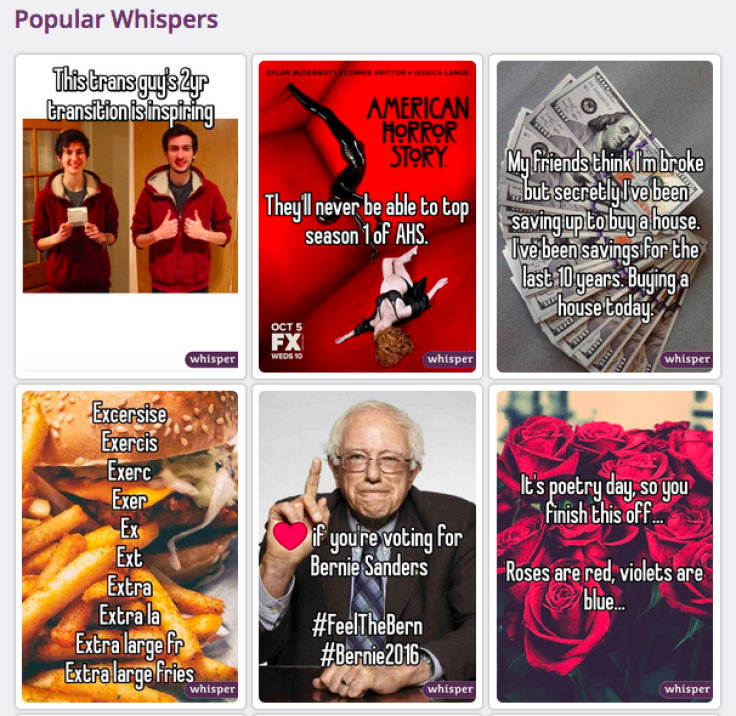 While some sites lean toward freedom of speech, Whisper touts the importance of moderation. "I was meeting with someone at an Internet safety event from an extremely well-known company and they said, 'We don't read everything that comes across our platform, and we don't want to.' That's the antithesis of what we are. In order to have a safe place like this, they do need to be moderated," said Nona Farahnik, Whisper's director of trust and safety.
Indeed, algorithms can fail. Facebook, a much larger social network with nearly 1.5 billion active monthly users, relies on moderators, algorithms and a user-feedback approach. Even when Facebook users report harassment it can be misinterpreted. For example, Facebook issued an apology to stand-up comedian Hari Kondabolu after a post he flagged as a death threat was first categorized as not in violation of "Community Standards."
Whisper attempts to remove all potentially harmful content before it is ever seen. "Most other platforms have a pretty hands-off, user-generated approach. We wanted to do more," Heyward said. ""We treat moderation as one of our core competencies … If there's something we want to be best in the world at, it's fostering a community."
Ads As Conversations
Now, with monthly page views in the billions and three-years of building a repertoire for active content management, Whisper has ramped up its ad deals. The company also recently brought on more management: Mark Troughton, who worked for prepaid card company Green Dot as president; Jaime Mendez, who was a general manager at Zynga as head of product; Shelby Huston Haro, who worked at Flickster and Fandango as head of sales.
As to who's jumping on Whisper, Joe Laszlo, a senior director of the Mobile Marketing Center for Excellence at the Interactive Advertising Bureau, noted the potential for recognition. "It's about knowing your audience. If a savvy brand can hit the right messaging app early on, they'll get attention," Laszlo said.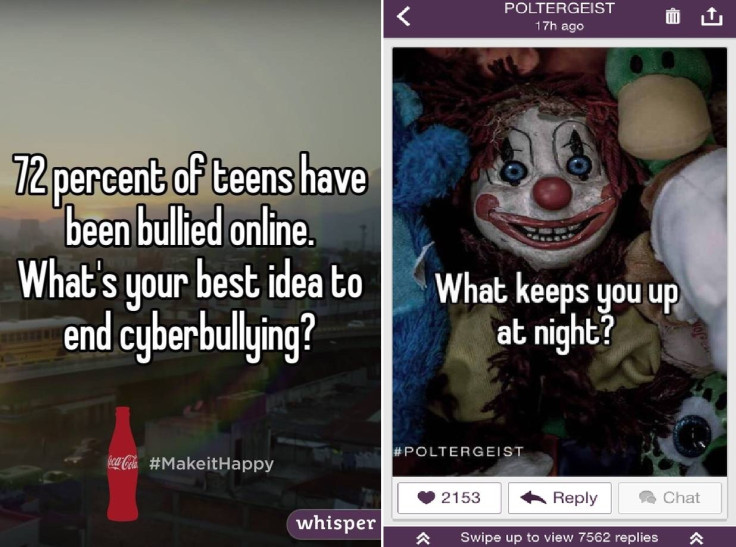 Whisper's first ad campaign in February 2014 was with Universal Studios to promote the Valentine's Day-themed movie "Endless Love." Since then, around a dozen campaigns have run on Whisper. Recently, Coca-Cola ran a campaign that received 5,000 replies and "hearts" over an eight-hour period.
"It's early days, but we're encouraged by the engagement results and the conversation sparked. It's important to us to explore new social media pathways as we innovate in the digital space," Jennifer Healan, group director of content at Coca-Cola North America, wrote in an email.
Brands can create their own whisper to which users can reply to with branded background. Coke's campaign started with a whisper that asked, "What's your best idea to end cyberbullying?" Replies to that message brandished a sticker with the Coke logo and slogan #MakeItHappy. A recent campaign from the Fox movie "The Poltergeist" asked, "What keeps you up at night?"
Contextual ads help keep users engaged. Like Whisper, Facebook-owned photo-sharing app Instagram has treaded lightly into advertising. "Advertisers need to do it in a way that makes them a welcome participant," IAB's Laszlo said.
Even with anonymity, Heyward touts Whisper's positive community along with the tight feedback loop between automated and human content management. "Most people have these little antennas that go off, 'Ad, run away!' Facebook has done such an amazing job on the targeting. We're about brand advertising. What's your story? What are you trying to convey?"
Whisper has raised $61 million in venture funding from Sequoia, Lightspeed, Trinity Ventures, Shasta, Thrive Capital and CAA Ventures, most recently in a $36 million round that closed in May 2014.
© Copyright IBTimes 2023. All rights reserved.