Who Else Has President Duterte Sworn At? Other Insults From The 'Trump Of The East'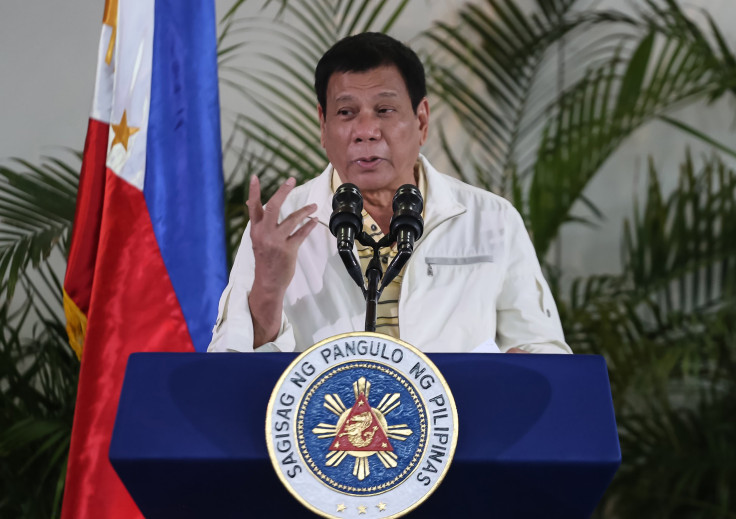 President Barack Obama was the latest addition to the ever growing list of high-profile people Filipino President Rodrigo Duterte has insulted. The "colorful" president called his American counterpart a "son of a whore" for which he later expressed "regret." Here is a look at all the other people the 71-year-old had insulted.
1. The United Nations:
In August, Duterte insulted the U.N. and threatened to quit the organization saying that he would invite China and other countries to form a new one. The comment came after two U.N. human rights experts in Manila urged the president to put an end to the extra-judicial executions which were on a rise since Duterte came to power.
"I will prove to the world that you are a very stupid expert. I do not want to insult you. But maybe we'll just have to decide to separate from the United Nations. Why do you have to listen to this stupid?" he said.
"You now, United Nations, if you can say one bad thing about me, I can give you 10 (about you). I tell you, you are an inutile. Because if you are really true to your mandate, you could have stopped all these wars and killing," he added.
When asked about the consequences of his words, he responded, "What is ... repercussions? I don't give a shit to them. You do not just go out and give a shitting statement against a country."
2. The U.S. Ambassador to the Philippines, Philip Goldberg:
When speaking of his presidential campaign to soldiers in the Cebu province he spoke against the U.S. ambassador Philip Goldberg who was critical of the president's comments on sexual violence.
"I am OK with him," Duterte said speaking of U.S. Secretary of State John Kerry and then added, "I quarreled with his gay ambassador. I am pissed with him. He meddled during the election, giving statements here and there. He was not supposed to do that."
"That son of a bitch really annoyed me," he said.
3. Foreign missionaries:
Speaking to soldiers in August, Duterte addressed the issue of terrorism, accusing foreign missionaries of having a different mission.
"There were white people, I suppose Arabs, who are here as missionaries. They brought no weapons. They are into indoctrination," he reportedly said. "Like communists, if they have established their influence, then that's the time their political officers come in," he added.
He said that such people should be arrested before they gain followers and "contaminate [them] with ISIS disease."
4. Donald Trump:
Duterte has been compared to U.S. presidential nominee Donald Trump several times with comedian John Oliver describing the president as the "Trump of the East." But Duterte rejected this comparison.
"He is a bigot and I am not," he reportedly said.
5. Journalists:
Duterte justified the killing of journalists who took bribes or engaged in corruption saying, "Just because you're a journalist you are not exempted from assassination if you're a son of a bitch." His comment came in response to a question concerning a reporter who was shot dead in Manila earlier.
"Most of those killed, to be frank, have done something. You won't be killed if you don't do anything wrong," he added.
He mentioned the murder of journalist Jun Pala who was murdered in Davao in 2003 when Duterte was mayor. He was also a vocal critic of the 71-year-old. "The example here is Pala. I do not want to diminish his memory but he was a rotten son of a bitch. He deserved it," Duterte said.
6. The Catholic Church:
The 'Trump of the East' took on the Catholic Church accusing the institution of hypocrisy. Nearly 80 percent of Filipinos are part of the Catholic Church.
"You sons of whores, aren't you ashamed? You ask so many favours, even from me," he reportedly said, addressing Catholic bishops. "You know the most hypocritical institution? The Catholic Church"
"Look, were you able to stop me?" he asked referring to his landslide victory in the presidential elections.
7. The Pope:
The leader of the Catholic Church wasn't spared either. During his campaign, Duterte insulted Pope Francis for causing a traffic jam in Manila.
"It took us five hours to get from the hotel to the airport. I asked who was coming. They said it was the Pope. I wanted to call him: 'Pope, son of a whore, go home. Don't visit anymore'," he reportedly said.
However, Duterte had written to the pope later asking for forgiveness. He is also planning on visiting Vatican City to apologize to the pope in person.
8. Singapore:
In May, the president said "jokingly" that he would burn the Singaporean flag in response to Singapore's announcement of an investigation into a falsified photo of the country's Prime Minister Lee Hsien Loong endorsing Duterte.
"How can a self-respecting country react to such trivial matter and calling for investigation? Now, it has tasted its own dose of medicine when Duterte retorted jokingly that he will burn the Singaporean flag again. It's a tit-for-tat. Only the onion-skinned would actually be affected," Duterte's campaign spokesman Peter Tiu Lavinia said.
FOR FREE to continue reading
✔️ Unlock the full content of International Business Times UK for free
offer available for a limited time only
✔️ Easily manage your Newsletters subscriptions and save your favourite articles
✔️ No payment method required
Already have an account?
Log in
© Copyright IBTimes 2023. All rights reserved.