Philippine President Duterte Expresses 'Regret' For 'Strong Comments' About Obama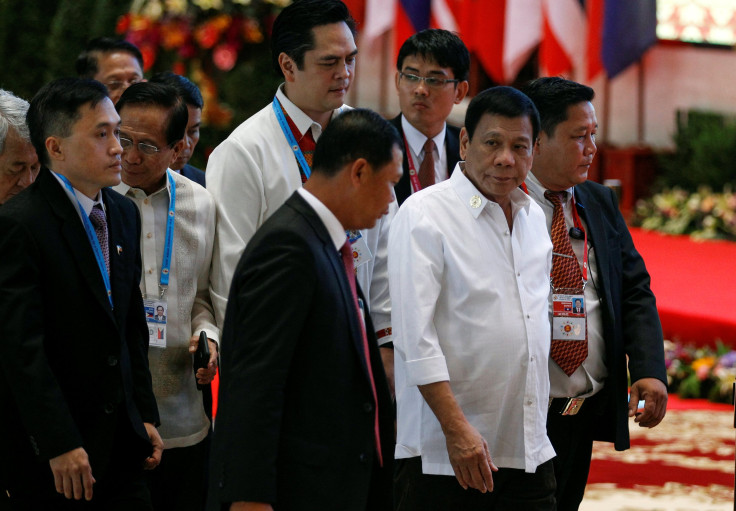 Hours after U.S. President Barack Obama canceled a planned meeting with his Philippine counterpart Rodrigo Duterte, who had committed a serious diplomatic gaffe — prone as he is to verbal outbursts — by calling Obama a "son of a whore," the leader of the Southeast Asian country expressed "regret" at the "concern and distress" his comment caused.
During a press conference Monday, before he left for a regional conference in Laos — which Obama is also attending — Duterte warned the U.S. president not to bring up the matter of extrajudicial killings in the Philippines that have been carried out as part of Duterte's war on drugs. And in the same breath, he referred to Obama in similar words he has previously used for the U.S. ambassador to the country, as well as for Pope Francis.
The White House has expressed human rights concerns over the killings, which number over 1,500 in the last two months since Duterte has been president.
Obama, who learnt of Duterte's comments as he came out from a meeting at the G-20 summit in China, responded in a measured way that signaled the meeting would be called off: "I always want to make sure that if I'm having a meeting, that it's actually productive and we're getting something done."
In comments issued after Washington canceled the meeting between the two leaders — the Philippines used to be a U.S. colony — Duterte said it has been "moved to a later date" and that he looked "forward to ironing out differences arising out of national priorities and perceptions."
The Department of Foreign Affairs of the Philippines issued a formal statement as well, in which Duterte is said to have "expressed his deep regard and affinity for President Obama and for the enduring partnership between our nations."
© Copyright IBTimes 2023. All rights reserved.