Who is Jacob Lew? Like Predecessors, Obama's New Chief of Staff Has Financial Industry Background, Ties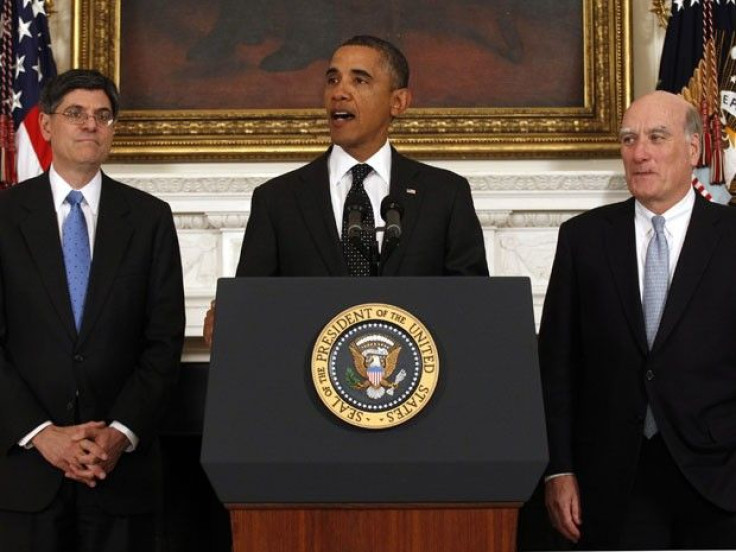 When President Barack Obama announced that William Daley would replace Rahm Emanuel as White House chief of staff last January, many liberals -- noting Daley's longstanding corporate ties and propensity for urging Democrats to support business interests -- were enraged over the president's decision. Following Daley's resignation after barely a year on the job, Obama unveiled his newest choice for one of the most powerful positions in the nation: Jacob Lew, the current director of the Office of Budget and Management.
Lew, who previously served as OMB director in the Clinton administration, is well regarded by both parties on Capitol Hill, according to multiple reports. However, like Daley and Emanuel before him, he has considerable ties to the financial industry that will likely to be a focus of attacks by liberal Democrats, or even Republicans sniffing for blood as the 2012 election approaches.
Lew's Citgroup Connection
A few months after the Occupy Wall Street protests became an international movement, Lew's appointment may understandably be a slap in the face to Occupiers who have supported Obama.
After his stint at OMB under Clinton, Lew spent more than two years as a chief operating officer at Citi Alternative Investments, a unit of Citigroup. During his stint at Citigroup, The Huffington Post reported, Lew oversaw investments in a hedge fund that bet on the housing market to collapse.
Multi-Adviser Hedge Fund Portfolios LLC was a unit of Alternative Investments' Hedge Fund Management Group, which the source reports was one of the largest hedge funds in the world when Lew came aboard. Multi-Adviser reportedly had about 6.5 percent of its capital invested in Paulson Advantage Plus LP by the end of 2007, shortly before Lew was named as Alternative Investments' chief operating officer.
"The Paulson fund was run by hedge fund king John Paulson, the man who made billions off the deterioration of the housing industry by making bearish bets on securities tied to home mortgages -- particularly subprime home mortgages," the Huffington Post reported in a July 2010 investigation.
Citigroup, one of the nation's largest banks, ultimately received $45 billion in TARP bailout funds in 2008. Lew received $1.1 million in compensation from Citigroup in 2008, and was reporteldy rewarded with another $900,000 bonus from the company two weeks before joining the Obama administration as a State Department official in 2009. At the time, both State Department and White House officials refused to confirm whether Lew received a post-bailout bonus from Citigroup.
When asked whether Lew's Citigroup ties could be an obstacle during his confirmation to the OMB position in 2010, White House press secretary Robert Gibbs simply said Lew "has been through the vetting process before" without acknowledging the issue, The Washington Times reported.
Moreover, during his 2010 confirmation hearing before the Senate Budget Committee, Lew said he did not believe deregulation of Wall Street led to the 2008 financial crisis. Several Democratic U.S. senators, commissioners at the Securities and Exchange Commission, and Obama himself all pointed to the deregulatory practices of the Clinton and Bush administrations as a major cause of the worst financial crisis to hit the country since the Great Depression.
Lew served as OMB chief from May 1998 to January 2001, when Bill Clinton signed into law two major pieces of deregulation legislation: the Financial Services Modernization Act of 1999 and the Commodity Futures Modernization Act of 2000.
Obama's Chief of Staff Picks All Have Financial Industry Ties
Obama seems to have a penchant for picking chiefs of staff who are well-acquainted with the financial industry, particularly big banks.
Emanuel, who is now mayor of Chicago, served as chief of staff from January 2009 to October 2010, where he earned the ire of some liberal Democrats for supporting corporatist Blue Dog Democrats over progressive challengers in the U.S. House of Representatives.
After leaving the Clinton administration in 1998, Emanuel joined the investment banking firm Wasserstein Perella and was later named to the board of directors of the Federal Home Loan Mortgage Corporation -- better known as Freddie Mac -- in 2000. The Obama administration later rejected a request under the Freedom of Information Act to review Freddie Mac board minutes and correspondence during his time as a director.
During the 2008 election cycle, when Emanuel was still serving as a Chicago congressman, Open Secrets reports he was a top recipient of campaign contributions from hedge funds, private equity firms and the larger securities/investment industry.
Before Obama was inaugurated in January 2009, the industry newsletter Hedge Week reported that Emanuel, then chief of staff-designate, was a loyal ally who would ensure "that the sector will get a fair hearing as the new administration begins the process of reforming U.S. financial sector regulation. At a time when hedge fund managers feel particularly friendless, it cannot hurt to have someone who understands their business in the heart of the White House."
Daley's past as a member on the executive committee of JP Morgan Chase & Co. was well-known when he replaced Emanuel in January 2011. As a moderate Democrat who reportedly opposed the creation of the Consumer Financial Protection Bureau and also served on the boards of Boeing and Merck & Co., he was seen by critics on the left as too close to business interests.
"The Daley departure marks the end of Obama's attempt to look pro-business, launched a year ago with his much-touted [Wall Street Journal] op-ed promising regulatory reform," Phil Kerpen, the vice president for policy at Americans for Prosperity, a conservative group aligned with the Tea Party, told Politico.
Obama Had More Wall Street Donations than GOP Presidential Candidates
Although Wall Street reform has been a major issue for both Obama and congressional Democrats, the president has managed to receive more campaign donations toward his re-election from the financial and banking industry than any of his Republican challengers.
Through his own campaign and the Democratic National Committee, which is aiding his re-election bid, an October analysis by The Washington Post found that Obama had received more money from financial service companies than all of the GOP candidates combined. The president even beat Republican frontrunner Mitt Romney on his own turf: Obama managed to rake in $76,600 from Bain Capital, the Boston-based private equity firm co-founded by Romney, last year, while Romney himself only collected $34,000.
While a top banking executive who spoke on the condition of anonymity told the Post that reports of disaffection between the president and the banking executives are "exaggerated and overblown," he acknowledged that Obama's congenial relationship with the industry would not benefit his re-election chances.
"It probably helps from a political perspective if he's not seen as a Wall Street guy," the donor said.
FOLLOW MORE IBT NEWS ON THE BELOW CHANNELS