Who Is Jesus 'Chuy' Garcia, The Man Who Forced Rahm Emanuel Into A Runoff Election For Chicago Mayor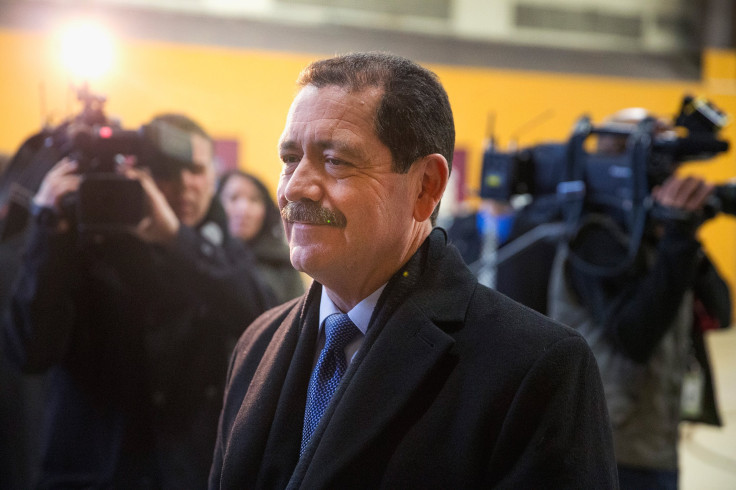 The battle to decide who will be the next mayor of Chicago was turned on its head Tuesday, after Jesus 'Chuy' Garcia managed to force the incumbent, Rahm Emanuel, into a runoff election, the first in the city's history, on April 7.
The man responsible for this political upset has a long history in Chicago politics and activism. Garcia currently serves on the Cook County Board of Commissioners, and previously served on Chicago's City Council and in the Illinois General Assembly. Born in Mexico, but raised in Chicago, Garcia's bid for the mayor's office only began in October 2014, after Karen Lewis, the charismatic president of the Chicago Teachers Union, decided to drop her nascent bid after being diagnosed with a brain tumor.
Lewis urged him to run, citing his long-standing ties with organized labor, LGBT community leaders, Jews, Muslims and leading liberal figures in the city, according to the Chicago Reader. Such liberal groups now form the backbone of Garcia's power base in the city.
Garcia has the support, in particular, of the city's influential teachers union, which has seen relations with Emanuel deteriorate significantly in recent months, as a result of his decision to close 50 underperforming schools, almost all of which were in black neighborhoods.
Some who know Garcia describe his personal style as unconventional. "He's an odd bird in the sense that he's got two traits you rarely find in politicians these days, which are honesty and humility," Maurice Sone, an attorney who oversees a community group that Garcia previously led, told the Chicago Tribune. "Don't let his soft demeanor surprise you. ... He's not confrontational. He just has a different way."
A departure from business-as-usual politics may be a large part of Garcia's appeal. Several left-leaning organizations, including U.S. PIRG (Public Interest Research Group) and MoveOn.org, cast Tuesday's results as a vociferous rejection by Chicagoans of big money in politics, according to USA Today.
Insofar as Garcia plays into the well-worn media narrative of an electoral David, his rival, Emanuel, fits nicely into the role of a Goliath, particularly when it comes to fundraising. The incumbent has raised over $13 million since 2012, according to the New York Times, and has the public support of President Barack Obama, who visited Chicago last week to show support for his former chief of staff.
"We were up against huge amounts of money and people with power who lined up to protect the status quo," Garcia told the Times. "Voters rejected that."
But, while Garcia's success has stirred excitement, Emanuel remains the favorite in the contest.
© Copyright IBTimes 2023. All rights reserved.
FOLLOW MORE IBT NEWS ON THE BELOW CHANNELS