Rahm Emanuel: Campaign Donors Get Shadowy No-Contract Payouts From Chicago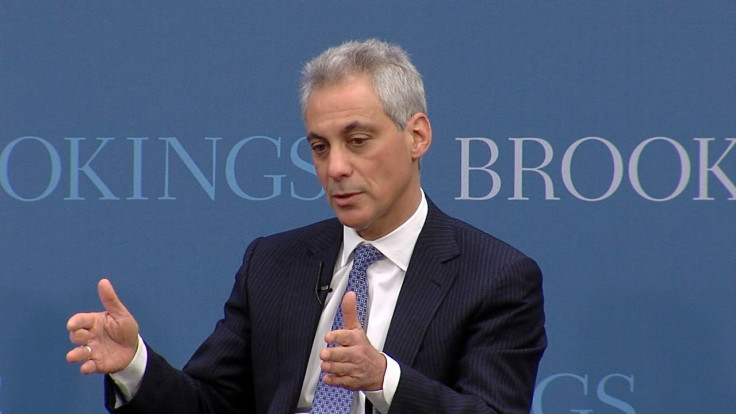 In 2006, then-Congressman Rahm Emanuel attacked his Republican colleagues for oversight failures, focusing in particular on the awarding of a $7 billion no-bid contract to Halliburton, which had for a time been headed by Dick Cheney. Yet data examined by International Business Times show that, as Chicago mayor, Emanuel, a Democrat, has used an even less transparent no-bid process, where there is not even a contract, just a payout -- in many cases to some of the mayor's largest campaign contributors.
In all, firms that have received tens of millions of dollars' worth of shadowy "direct voucher payments" (DVPs) from the Emanuel administration have given more than $775,000 worth of campaign contributions to the mayor's political organizations. That's a subset of the $1.2 million in total campaign contributions that Emanuel has received from employees of all vendors doing business with the city, according to municipal documents reviewed by IBTimes. Emanuel accepted those donations after signing an executive order purporting to ban campaign donations from city contractors.
Chicago's DVP process is permitted thanks to loopholes in Illinois' procurement law that allow municipal officials to circumvent the traditional contracting process. Unlike standard government contracts, DVP payouts do not require any type of public documentation. Emanuel appointees retain substantial discretionary authority to approve DVPs. The payments are not required to go to the lowest bidder; vendors receiving the payments do not have to list their qualifications and never need to document the services they provide to the city in return for the money. The DVPs appear to have been used for everything from phone service to interest payments to financial firms, but unlike the George W. Bush administration's no-bid contracts, DVP payments do not even require a formal contract, so it is impossible to verify what the money purchased.
In 2010, Chicago's inspector general issued a report that criticized the secrecy surrounding DVPs, alleged that some of the payments ran afoul of state law, and called for stronger contracting regulations. The report discourages the use of DVPs, but it does not appear to have prevented politically connected firms from benefiting from the process in a nontransparent way. The public can see which firms received the DVPs but still cannot ascertain what the citizens of Chicago received for the money -- more than $38 million of which flowed to Emanuel's campaign donors and their lobbying clients.
"The Chicago inspector general has already found abuses with the direct voucher payments, and the inspector general did not even look at the abuse of political favoritism," said Craig Holman, an ethics expert with the nonpartisan advocacy group Public Citizen. "With so little scrutiny of direct voucher payments, these are an exceedingly tempting vehicle for pay-to-play corruption. The State of Illinois has passed one of the nation's strongest pay-to-play laws, banning contracts to campaign contributors. Chicago should follow suit, and extend the ban to direct voucher payments."
In response to IBTimes' questions about the direct voucher payments, Kelley Quinn, a spokeswoman for Emanuel, said, "We believe the number of payments have gone down." However, she said the mayor's office was unable to provide evidence to support the assertion.
In recent weeks, the Emanuel administration has faced intensifying scrutiny over its moves to award lucrative city business to firms employing the mayor's campaign contributors.
Last year, IBTimes reported that Emanuel has directed tax subsidies to some of his major donors, and that he received cash from executives of firms managing city pension funds. (That disclosure prompted city lawmakers to request a Securities and Exchange Commission probe.) Emanuel also awarded coveted city-owned lakefront property to the George Lucas museum, after Lucas' wife and Disney executives donated nearly $50,000 to Emanuel's campaign. The Chicago Tribune has published a series detailing how millions of dollars' worth of city contracts have gone to the mayor's top contributors.
The inspector general's report found that the no-bid, no-contract payment system for DVPs lacked the controls provided by the traditional contracting process, which has many more internal checks against abuse and far more transparency. Warning that the DVPs created "the potential for waste and mismanagement," the inspector general found that in 2007 alone, the administration of Mayor Richard Daley used direct voucher payments to finance $192,808 on "gift cards from retailers including Dominick's, Jewel and Target." There was no information required about what those gift cards ultimately were used for -- a dynamic that experts say creates the conditions for abuse.
"Written solicitations are key for anti-corruption purposes because you can identify what the services actually are and then determine if contracts were awarded fairly and if the government was billed fairly," said Christopher Yukins, a professor of procurement law at George Washington University. "It's far more difficult for auditing purposes to ascertain the fairness of government disbursements in the absence of written solicitations."
Despite the warnings from the inspector general and procurement experts, Emanuel has delivered more than $38 million worth of direct voucher payments to firms or lobbying clients of firms whose employees have made more $776,663 worth of campaign contributions -- all of which came after he signed his executive order "prohibiting city contractors" and subcontractors "from making contributions of any amount to the mayor." That executive order, however, included exemptions and loopholes allowing money to flow to Emanuel from many top executives at firms doing business with the city.
For example, AT&T's political action committee and employees have given $191,750 to Emanuel's mayoral and congressional campaigns and his affiliated PAC; $52,000 of that flowed to Emanuel after he signed the executive order, despite AT&T managing the main contract for phone service for the City of Chicago. Since 2012, AT&T has received more than $2.3 million in DVPs from the Emanuel administration -- on top of the more than $69 million it has received through the traditional contracting process. In the year before Emanuel became mayor, AT&T received just $1,000 in DVPs.
Emanuel spokeswoman Quinn said the payments "were for phone services." The city's policy for DVPs, however, recommends that officials use contracts to pay for city services whenever possible. Quinn did not explain how demand for phone services outside the traditional contracting process expanded after Emanuel took office.
A similar situation exists with the politically influential law firm Jenner & Block. The firm's employees have donated over $134,000 to Emanuel's mayoral campaigns and affiliated PACs -- $38,613 of which has come since he signed his executive order. Since 2012, the firm has received $4,373,609 in DVPs from the Emanuel administration. By contrast, in the year before Emanuel became mayor, Jenner & Block received just $393,000 in DVPs.
Quinn said the payments are a contingency fee to the firm for a lawsuit "against a city contractor who performed subpar work on a project at O'Hare Airport." Legal fees, however, are not considered to be acceptable items for direct voucher payments, according to city policies.
Lobbying firms that are large Emanuel donors have been able to win sizable DVPs for their clients. DLA Piper's employees and PAC have given more than $135,000 to Emanuel's campaigns, $84,900 of which came after his executive order banning contributions from firms' individual registered lobbyists. In 2013, DLA Piper was hired to lobby on behalf of RBS Citizens Bank. On Jan. 3, 2014, the bank received a $9 million DVP -- its first ever payment of any kind from the City of Chicago. It was followed by an additional $9 million DVP at the end of the year.
Quinn said, "This a regular interest payment" on RBS' loans for a Chicago transportation project. But the DVP disclosure was on the City of Chicago's vendor disclosure website, which is separate from the Chicago Transit Authority's disclosure website. Quinn did not respond to a request for comment as to why the City of Chicago would be paying the interest on a financial agreement initiated by the CTA. The CTA is an entirely separate entity from the City of Chicago.
Employees and the PAC of Medline, a medical products firm, have given Emanuel more than $210,000 over his career. Medline has received a total of $1.8 million in DVPs from the Emanuel administration since 2011. In no other year on record did Medline receive money from the City of Chicago. Quinn said the DVP is the first "regular interest payment" on the city's $86 million purchase of the hospital complex from Medline that is now vacant, unused property.
UBS employees and PACs have given Emanuel nearly $160,000 over the course of his career. In 2014, UBS got more than $10.5 million in DVPs from the Emanuel administration.
Quinn said "this represents swap payments for water debt" from 2000 and 2004. Swap deals have been revealed to be expensive and damaging arrangements for many cities, and Los Angeles has taken steps to renegotiate them. UBS also confirmed to IBTimes that the payments were for a swap deal.
Other than UBS, none of the firms cited above would comment to IBTimes for this story, and Quinn provided no documents to verify her explanations for the payments. The City of Chicago's vendor disclosure website does detail millions of dollars in payouts, but with no reason given for the payments. In 2007 DVPs totaled more than $700 million. More recent data has not been disclosed, despite open records requests from IBTimes.
"The mayor is paying back his campaign contributors using the DVP process," said Alderman Scott Waguespack, an Emanuel opponent on the Chicago City Council. "He talks a lot about his commitment to ethics reform. But his own practices show that he has no commitment to ethics reform." Waguespack asserted that a block of progressive Emanuel opponents on the City Council "have tried to reform DVPs, but our legislation has gone nowhere."
Dennis Lynch contributed research to this report.
© Copyright IBTimes 2023. All rights reserved.