Rahm Emanuel: Teachers Union Helps Push Chicago Mayor Rahm Emanuel To Runoff In Re-election Bid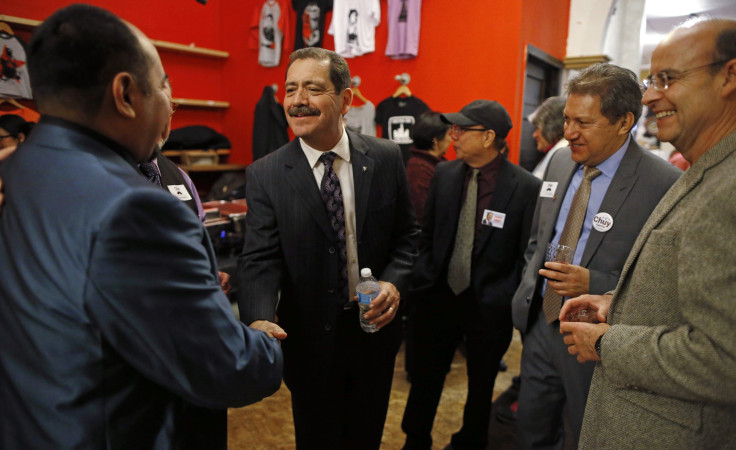 The Chicago Teachers Union flexed its surprisingly strong muscle Tuesday in the city elections. Union-allied candidates blocked Mayor Rahm Emanuel and some of his closest allies from capturing the 50 percent plus one necessary to avoid runoffs in April. The result comes more than two years after teachers took on the city's Democratic establishment in a well-received strike over issues like standardized testing, school closings, curriculum and job security.
CTU-backed Jesus "Chuy" Garcia reeled in 34 percent of the mayoral vote, compared to 45 percent for Emanuel. Other candidates allied to the union performed similarly well in city council races: Public school teachers Tim Meegan and Tara Stamps as well as school counselor Susan Sadlowski Garza all forced April 7 runoffs against top Emanuel backers.
"Today the people have spoken, not the people with the money and the power and the connections, not the giant corporations, the big-money special interests," Garcia, a Cook County commissioner, said in his victory speech Tuesday night. "We want a change."
Since winning election in 2011, Emanuel has seen his popularity dwindle among the city's large African-American and Latino populations. In no small part, that stems from his administration's closure of 49 elementary schools in May 2013, many of them in minority communities. At the same time, Emanuel's hand-picked school board has overseen the expansion of charter schools. In the last couple of years, CTU President Karen Lewis, who is black, has emerged as Emanuel's leading critic and was expected to challenge the mayor in the election after polls showed her in the lead. But after falling ill with a brain tumor, she was unable to run. Garcia picked up the torch from Lewis, though he faced doubts over name recognition and popularity.
Tuesday's results demonstrated that opposition to Emanuel, a former congressman and chief of President Barack Obama's White House staff, can find other channels too.
"He's alienated communities. He's alienated social classes. In a sense [Garcia] is the result of all of that. We need change," Jesus Sanchez, a high school teacher, told the Chicago Tribune.
© Copyright IBTimes 2023. All rights reserved.
FOLLOW MORE IBT NEWS ON THE BELOW CHANNELS