Who Is Katie Sowers? 49ers Assistant Becomes First Woman, Openly Gay Person To Coach Super Bowl
KEY POINTS
Sowers, 33, previously played in the Women's Football Alliance and on the U.S. women's national football team until retiring in 2016 from a hip injury
She began her NFL career with the Atlanta Falcons in the summer of 2016
She was then hired as a seasonal offensive assistant by the San Francisco 49ers in 2017 before being made a full-time offensive assistant in 2019
When the San Francisco 49ers face the Kansas City Chiefs at Super Bowl LIV on Feb. 2, Katie Sowers will make history as the first woman and openly gay assistant coach to work the NFL's biggest game of the year.
Sowers, 33, was born in Hesston, Kansas, a small town about 35 miles north of Wichita and three hours west of Kansas City. Sowers started playing football when she was 8 years old with her twin sister Liz.
With limited opportunities for women in football, she accepted a college basketball scholarship and also coached a fifth-grade girls' basketball team.
During her time at Goshen College in Indiana, Sowers would begin playing football in the Women's Football Alliance, the largest women's professional tackle football league in the U.S. She spent most of her career playing for the West Michigan Mayhem and Kansas City Titans. She would also join the U.S. women's national football team and win the 2013 IFAF Women's World Championship.
Sowers continued playing until a hip injury forced her to retire in 2016.
After her retirement, she was approached by the Atlanta Falcons to join the team as a training camp assistant and wide receivers' intern for the 2016 NFL preseason. She would remain with the Falcons through the end of 2016 as an intern scout.
In 2017, Sowers received an offer to join the team as a seasonal offensive assistant by new 49ers head coach Kyle Shanahan, who previously worked with her when he was the Falcons' offensive coordinator. She stayed on as a seasonal assistant for two years and ahead of the 2019 season was offered a full-time position as a 49ers offensive assistant.
"She's a hard worker; you don't even notice her because she just goes to work and does what's asked," Shanahan said in 2017. "Because of that, she's someone we'd like to keep around. We're still figuring out exact titles and stuff and what that aspect is, but she's done a good job for us two years in a row in camp, and we'd like to have her help out throughout the year."
Sowers accession through the coaching ranks was helped by the Bill Walsh NFL Coaching Diversity Fellowship.
"Growing up, I would have loved to see a female in this position, because I always just thought it couldn't happen," Sowers said in a 2019 interview with The Mennonite. "I'm up to the challenge. My goal and my hope for women is that when I am in conversation with someone or I'm asking a bunch of young kids what they want to do when they grow up, it's not odd or weird for a girl or a woman to say she wants to be a football coach. The more normal that can be, the better we're going to be as an organization."
Sowers credits her dad, who coached the women's basketball team at Bethel College in Kansas.
"I always looked up to my dad. How players related to him and how he changed their lives as players and as people. I wanted to have that kind of impact," she told MarketWatch
Many have gotten to know Sowers' story in recent years. She was featured in a Microsoft Surface Pro television commercial. After the 49ers reached the Super Bowl with a win in the NFC Championship, she was congratulated on Twitter by tennis great Billie Jean King.
Sowers is just the third woman to be hired as an NFL coach. Kathryn Smith became the first woman coach when she joined the Buffalo Bills staff in 2016.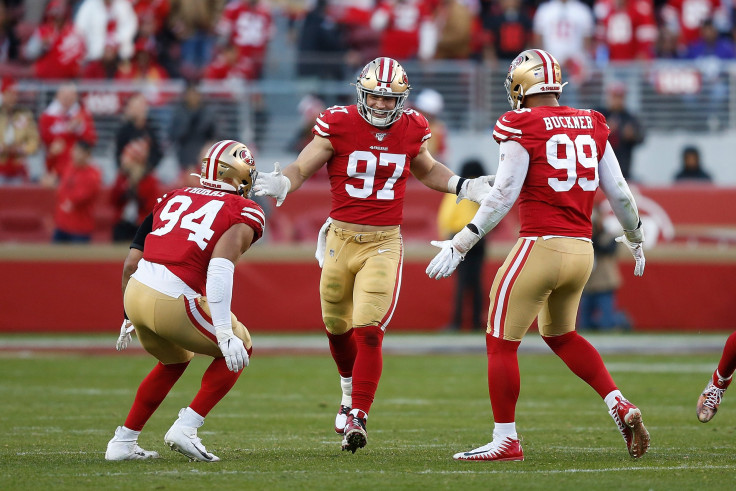 © Copyright IBTimes 2023. All rights reserved.