Who Is Kelly Ayotte? 10 Things To Know About Mitt Romney's Potential Running Mate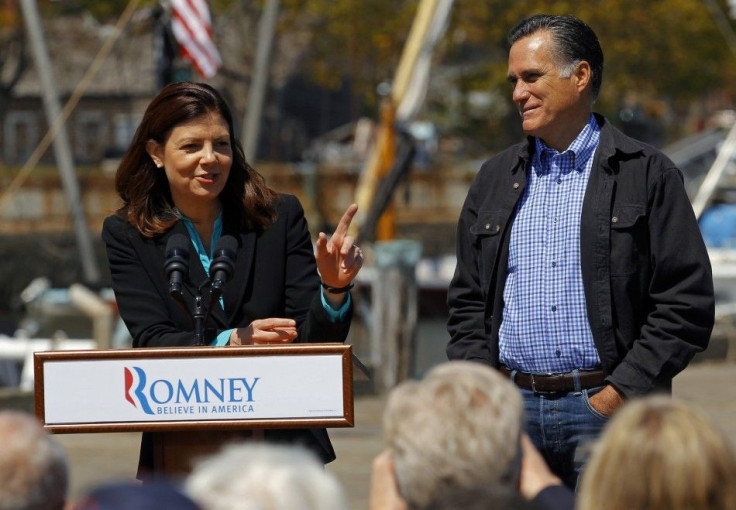 Sen. Kelly Ayotte is next in line to potentially fill the position of Mitt Romney's vice presidential candidate.
The Senator from New Hampshire, who endorsed Romney months before the primary there, joined GOP hopeful at a campaign event that was taking place in the Granite state.
We know that with his experience, he will make sure that we get our fiscal house in order in Washington, that we stop crushing all of us and our children with mountains of debt, and that we get Americans back to work, Ayotte said of Romney, when she endorsed him in November.
Romney and Ayotte toured fishing boats and dock ramps in Portsmouth, N.H., before the Senator took the liberty of introducing the prospective presidential candidate to a crowd gathered nearby.
Taking the stage ahead of the Romney, Ayotte showed her support for the Republican's campaign, suggesting that Obama's regulations have hurt the economy nationwide as well as in New Hampshire.
If Washington isn't broken, I don't know what is, Ayotte, who hasn't appeared with Romney since she campaigned with him ahead of the state's primary in January, told the crowd at Romney's campaign event. And now more than ever we need Mitt Romney's leadership in the White House.
Ayotte, elected to the U.S. Senate in 2010, has previous experience campaigning for the potential GOP nominee, but as Romney has begun the formal search for a running mate, it's now a completely different ball game.
While the event hints at the idea of the two republicans running together on one ticket, Romney told Fox News in November that he was considering Ayotte for the slot.
There are probably 15 names of people, Romney said in response to a question about his list of possible running mates, including Kelly Ayotte.
Romney, who owns a vacation home in New Hampshire and served one term as governor of neighboring Massachusetts, is very popular among Republicans in the state and won the primary there by a landslide in January.
So with so much on the line, there is no doubt that it's a good idea to know everything there is to know about the potential vice presidential candidate.
Here are 10 things to know about New Hampshire Sen. Kelly Ayotte.
1. Education
Ayotte received her B.A. from Pennsylvania State University majoring in political science. In 1993, Ayotte graduated from Villanova University School of Law, where she had served as Editor of the Environmental Law Journal.
2. Experience with New Hampshire Attorney General Office
In 1998, Ayotte joined the office of the New Hampshire Attorney General as a prosecutor. In 2003, she became legal counsel to Governor Craig Benson. She returned to the Attorney General's office three months later, becoming Deputy Attorney General. In June 2004, Ayotte was appointed Attorney General of the State of New Hampshire by Governor Craig Benson.
3. U.S. Senate
Ayotte resigned as Attorney General on July 7, 2009 to explore a run for U.S. Senate in 2010. After being recruited by the National Republican Party in Washington, Ayotte defeated lawyer Ovide M. Lamontagne, businessman Bill Binnie and Jim Bender in the Republican Senate primary.
In the general election, Ayotte ran against Democratic nominee, Paul Hodes, Libertarian nominee Ken Blevens, and Independent Chris Booth.
4. Abortion
Ayote is pro-life and believes that abortion should be prohibited except in cases of rape, incest or health of the mother.
5. Gay Marriage and Adoption by Same-Sex Couples
Ayotte opposes same-sex marriage and adoption by same-sex couples which are both legal in New Hampshire. She resigned as state Attorney General shortly after Governor John Lynch signed a set of three same sex marriage bills into law which she opposed.
6. Labor Right and Minimum Wage
Ayotte opposes passage of Employee Free Choice Act (Card Check), a bill currently under consideration by Congress that proposes to amend the National Labor Relations Act to change the process by which employees decide whether to form or join a labor union.
She, who opposes any increase in the minimum, is also against the passage of legislation that would subject the minimum wage to automatic cost-of-living adjustments.
Finally opposes passage of legislation that mandates that employers provide paid sick leave to their employees.
7. Gun Rights

Ayotte supports an individual's right to bear arms and Second Amendment rights. She supported the U.S. Supreme Court's overturning of the Washington, DC and City of Chicago gun ownership bans and as Attorney General fought against the reauthorization of the Federal Assault Weapons Ban.
8. Immigration
Ayotte supports Arizona SB 1070, Arizona's anti-illegal immigration law passed in 2010 and supports the enforcement of all existing immigration laws. She is against the granting of amnesty to any illegal immigrant
9. Medical Marijuana
Ayotte thinks marijuana should go through the FDA process before being approved.
10. Social Security
Ayotte has stated that she is open to raising the Social Security retirement age for younger workers
© Copyright IBTimes 2023. All rights reserved.
FOLLOW MORE IBT NEWS ON THE BELOW CHANNELS