Joe Biden Slams Mitt Romney on Foreign Policy: I Promise You, The President Has a Big Stick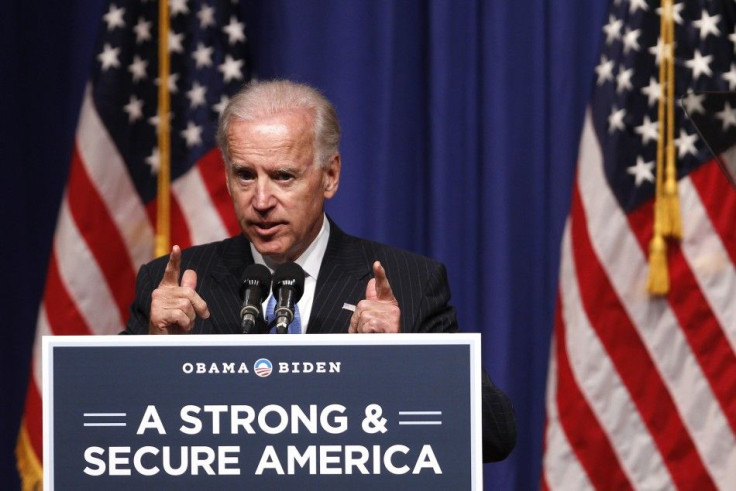 Just days before the anniversary of Osama bin Laden's killing, Vice President Joe Biden directly appealed to students while boasting President Barack Obama's foreign policy achievements and slamming presumptive Republican presidential nominee Mitt Romney as out of touch.
The speech at the New York University law school's Vanderbilt Hall in Manhattan was the fifth campaign-framing stop the vice president has made on behalf of the president as primary season wraps up and general election stumping begins.
If you are looking for a bumper sticker to sum up how President Obama has handled what we inherited, it's pretty simple, Biden said. Osama bin Laden is dead and General Motors is alive.
A large part of Biden's speech was dedicated to Romney, who he claimed saw foreign policy through a rearview mirror. He particularly attacked Romney on Russia, claiming that the Obama administration's agreement on a nuclear arms treaty made the United States safer while Romney is counting on our collective amnesia and is totally out of touch with our times by wanting to bring Russia relations back to the Fifties.
He even refers to Russia as the Soviets, which reveals a mindset, Biden said shortly after Romney surrogate and former Reagan Navy Secretary John Lehman invoked Cold War rhetoric in a conference call. Everyone sometimes slips, although I never do, the vice president said.
Although Biden's speech was filled with serious arguments about Russia, Iran, Afghanistan and fighting the Taliban, moments like that self-referential joke (Biden has a reputation for putting his foot in his mouth) drew laughs from the largely young audience of about 500 people.
Biden reached the climax of his speech with details of the Osama bin Laden raid -- or as he liked to put it, sending the SOB to the gates of Hell -- and praised the president for having a backbone like a ramrod. As students waited for a late Biden to show up on stage, clips about last year's mission from the Tom Hanks-narrated campaign documentary The Road We've Traveled played on a screen.
Biden drew giggles from the audience when he talked about dealing with the possible nuclear threat from Iran, making a reference to President Teddy Roosevelt's famous admonition to speak softly but carry a big stick.
I promise you, the president has a big stick, Biden said.
The NYU event -- sponsored by the school's College Democrats -- had undertones of another attempt by Obama-Biden 2012 to appeal to the youth vote, one of the president's strongest constituencies in 2008. NYU sophomore and Obama 2012 volunteer Sara Moe got to introduce the vice president.
Monday night, Obama went on NBC's Late Night With Jimmy Fallon to slow jam the news as the Barackness Monster, in an appearance clearly aimed at a young audience.
Biden, too, was able to connect with the NYU crowd despite a slow and monotonous start. NYU law student Alex Levy, a Democrat, said Biden once again showed he has a gift for putting people at ease and is able to talk about heavy topics.
The speech comes a day after Romney surrogate (and talked-about vice-presidential prospect) Florida Senator Marco Rubio stepped on the national stage with his own take on international relations, in a speech calling for muscular foreign policy and a stronger U.S. presence overseas. Although he criticized the Obama administration's handling of Russia and China, his speech had a much more bipartisan tone and took a position in the middle ground of Republican views on foreign policy.
Romney also supports a strong overseas presence, accusing Obama of not doing enough to help Syrians rebelling against dictator Bashar al-Assad, and claiming that Iran will get its hands on a nuclear weapon if the president is re-elected.
The former Massachusetts governor has also assailed President Obama over his open mic moment with Russian President Dmitry Medvedev, in which he was caught saying he would have more flexibility in dealing with U.S.-backed missile-defense system in Europe after his re-election.
Vice President Biden clearly has amnesia about the Obama administration's foreign policy failures whether it's alienating allies like Israel, the failed Russia reset, and emboldening adversaries like Iran and Syria that seek to undermine our nation's security, said Republican National Committee spokesperson Allie Brandenburger in a statement. The fact is, Americans can't afford four more years of President Obama's failed policies and broken promises.
Biden used much of Romney's own words to draw contrasts between the Republican front-runner and the president. At one point, he criticized Romney for a 2008 quote in which he said a president does not need to be a foreign policy expert (as highlighted in this Democrat attack ad) because they have the expertise from the State Department and other advisers.
I give him all the advice I have to make my case, but when I walk out of the room ... the president has to make that decision by himself, Biden said.
Levy, the NYU law student, said Romney's own words are enough for the Obama administration to make its foreign policy arguments, but fellow student Anthony Zongrillo disagreed. The NYU freshman said he believes Romney and Obama still have a lot of common ground when it comes to foreign affairs. Although a self-identified Republican, he wnjoyed the speech because there were some moments he connected to the audience.
If Biden's speech is a snippet of what's to come in the general election, the Obama campaign will continue to play up its foreign policy achievements while Romney's strongest arguments will be focused on the state of the country's finances.
Outside Vanderbilt Hall on Washington Square Park, a few Republican students protesting the Obama administration focused on the economy. They had left by the time the speech ended, but NYU Republicans president Corina Cappabiana said they talked to other students on the sidewalk to stress the dismal economic effects of the Obama administration on the youth and held a sign that said 1 in 2 new graduates jobless or underemployed.
© Copyright IBTimes 2023. All rights reserved.