Who Will Replace John Boehner? 5 Potential Republican Successors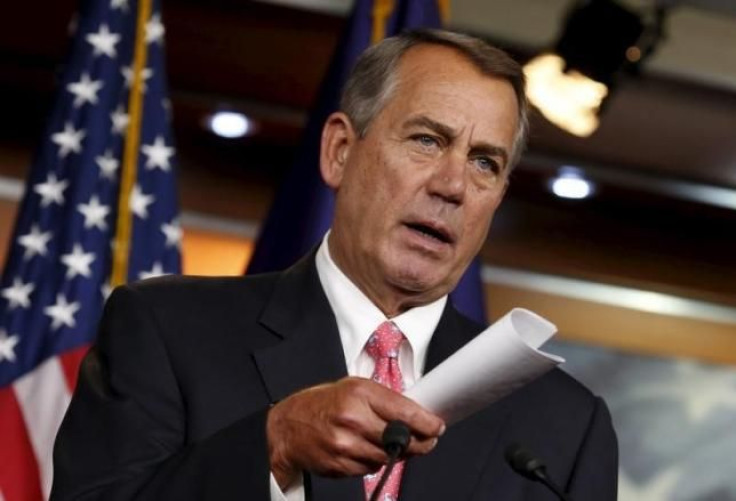 Speaker of the House John Boehner, R-Ohio, announced Friday he will resign from Congress -- his seat as well as his speakership -- at the end of October after more than 20 years on Capitol Hill. The resignation will likely see a throng of Republicans vie to replace Boehner, who in recent months has faced pressure to step down over internal GOP fighting on issues such as funding for disease research, an education bill and the possible renewal of the Export-Import Bank. Below is a list of the members most likely to replace him.
1. Kevin McCarthy, R-Calif.: McCarthy has been the House majority leader since August 2014, after Eric Cantor was defeated in a primary and resigned, and was previously the majority whip. Just last week the Californian said he supported Boehner, but in a recent Politico report he was named as one of the top candidates to move into the speakership.
2. Paul Ryan, R-Wis.: Along with McCarthy, the former Budget Committee chairman and 2012 Republican vice presidential nominee is rumored by Politico to be a likely pick. He is popular among the House conference and is one of the best-known Republicans in the country. Like McCarthy, he also placed his support behind Boehner just last week. But in the immediate aftermath of Boehner's announcement, Ryan told NBC news that he would not run and that "it's a good job for an empty nester." Ryan has young children.
3. Jeb Hensarling, R-Texas: The chairman of the Financial Services Committee, who stepped down from his position as the fourth-ranking House Republican in January 2013, has only recently been associated with a possible run for speaker. Hensarling would command support from the powerful Texas delegation, the largest Republican state bloc in the House.
4. Tom Price, R-Ga.: The current chairman of the Budget Committee has been seen as a potential speaker since he lost out on the bid for conference chairman to Rep. Cathy McMorris-Rodgers of Washington in January 2013. His main support will come from grassroots conservatives. In 2014, he showed that he wished to remain a force in the GOP House by passing on the open Georgia Senate seat.
5. Steve Scalise, R-La.: The House majority whip has been a prominent name in the GOP since he brought calm during a rough patch for the party during the 112th Congress when a debt limit crisis caused deep divides. Likeo Price, Scalise decided to stay in power in the House instead of launching a Senate bid in 2014.
© Copyright IBTimes 2023. All rights reserved.