Whole Foods Rolls Out Home Delivery, In Battle With Big-Box Retailers And Groceries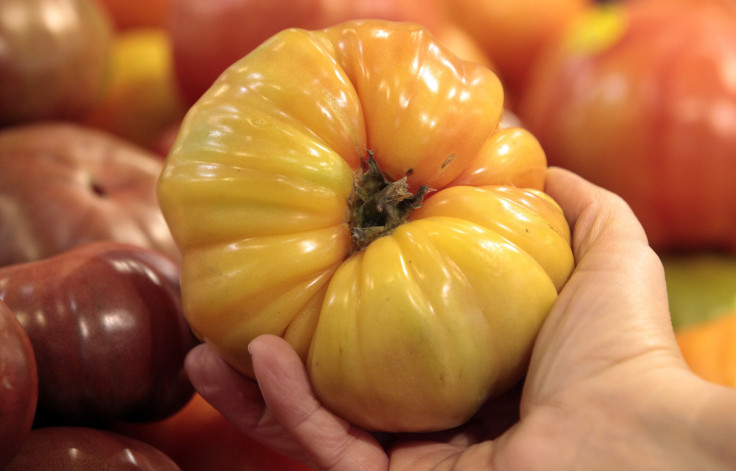 Whole Foods, the largest retailer of organic and natural foods in the U.S., will soon begin sending the contents of its carefully curated shelves to diners' doorsteps across the country.
The Austin, Texas-based company announced Wednesday it is getting into the grocery home-delivery game, an increasingly crowded market that analysts say will be essential to its future success as busy shoppers increasingly turn away from visiting physical stores.
By offering a specialized product line and unique shopping experience, Whole Foods Market Inc. (NASDAQ:WFM) has solidified its position as the dominant grocer in a natural and health food industry that has gone from niche to mainstream since its founding in 1980 .
But the past year has been something of a reckoning for the tried-and-true Whole Foods business model, as the company's last three quarterly earnings reports have seen falling same-store sales growth figures. It stock fell from a high of more than $65 in October to less than $40 on Thursday.
When the company reported disappointing earnings in April, it announced that it would slash prices as part of a push to boost sales growth. But the grocery business already has numerous cut-price retailers, and the initiative did not produce the desired results. Same-store sales growth continued to slow, according to the company's Q3 earnings report, released Wednesday.
So, Whole Foods co-chief executive officer Walter Robb announced the planned Sept. 1 launch of a home-delivery service during the company's Wednesday earnings conference call with reporters.
"[W]e are expanding our reach to customers outside our stores," he said. "Through strategic partnerships, we will offer home delivery and customer pickup in 12 to 15 major markets and launch our first online subscription club by calendar year end. Next year, we expect to offer direct ship in several key categories."
Robb offered little in the way of details about the initiative, and company spokeswoman Robin Rehfield Kelly declined to offer further clarification.
But what is clear is that the move will bring Whole Foods into yet another crowded industry, as relatively new companies like FreshDirect Inc. and PeaPod Inc. have already established themselves as grocery delivery services in some markets, and both Google Inc. (NASDAQ:GOOG) and Amazon.com Inc. (NASDAQ:AMZN) are working to put in place nationwide grocery delivery operations.
The move is a necessary one for Whole Foods as it loses customers to retailers like Kroger Co. (NYSE:KR) and Wal-Mart Stores Inc. (NYSE:WMT), according to Kevin Meany, CEO and president of creative brand agency BFG Communications, which lists companies like The Coca-Cola Company (NYSE:KO) and Cartoon Network as clients. Both Kroger and Wal-Mart have added organic foods to their shelves in recent years, competing directly with Whole Foods. Customers who once bought consumer staples at "traditional" supermarkets and mega-retailers, and their organic and specialty goods at Whole Foods, are increasingly finding it unnecessary to shop at the latter, Meany said. Delivery can help fix that problem, he added.
"There's a huge dual user base, so to speak, that shops at multiple markets, and that's the consumer base that's being syphoned off by some of the big-box stores," Meany explained. "So this is a move to stop the migration of those dual users away -- to bring them back and keep them engaged with the store, even if they're not going into the store, to make it easy to continue to shop there but not have to go there."
Joseph Agnese, an equity analyst at S&P Capital IQ, acknowledges that now that delivery has become a basic expectation of many shoppers and a key offering of many of Whole Foods' competitors, "you've got to be there or you're going to be losing market share."
But simply releasing a new mobile app -- as Robb also announced Wednesday Whole Foods will be doing in the near future -- and offering delivery will not be enough.
"It'll supplement the core retail store business but I don't think it'll be a significant piece of the growth going forward, to help them achieve their long-term growth goals," he said.
More important for Whole Foods will be its ability to strengthen its core brand while setting itself apart from the growing competition, all while adding hundreds of new stores over the next several years, according to Susan Lee, a project manager at the global strategy agency Brand Union in New York, N.Y.
"What I don't see in anything they've released in the past two quarters is whether they have an idea of the degree to which they have to differentiate themselves. I don't think that lowering their prices is going to do enough because it will water down their brand," she said.
"As Whole Foods expands, that's going to be one of their big challenges: how do you continue to differentiate yourself and be seen as innovative when you become ubiquitous?"
© Copyright IBTimes 2023. All rights reserved.
FOLLOW MORE IBT NEWS ON THE BELOW CHANNELS