Why Ecuador President Correa Has Become A Key Player In Edward Snowden's Quest For Refuge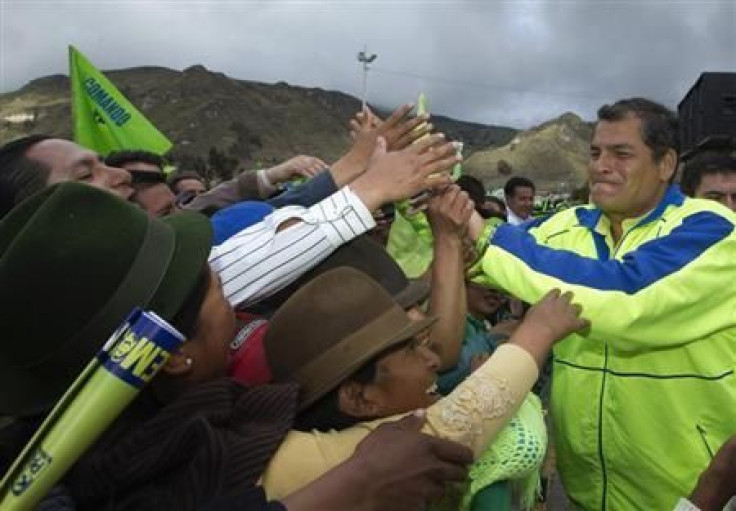 [UPDATE 2:20 p.m. EDT] Ecuador President Rafael Correa made his first public statement on Edward Snowden, via Twitter: "Hello country and world. Another complicated week for change. Rest assured that we will very responsibly analyze the Snowden case and … [in an ensuing Twitter post] we will make the best decision with absolute sovereignty. Regards to all and have a happy week."
Meanwhile, speaking from an event in Hanoi on Monday Ecuador's Foreign Minister Ricardo Patiño suggested that the Correa administration views Snowden as "persecuted."
"The word treason has been batted around in recent days," he said, "we need to ask who has betrayed who?"
Original story begins here:
To get a sense of why Ecuador President Rafael Correa has embraced the causes of high-profile leakers of U.S. secrets Edward Snowden and Julian Assange, all you have to do is look back at what he said in 2008, a year after the socialist leader won his first presidential election.
At the time, the U.S. government was hoping to renew a lease for Manta, a $70 million U.S. Air Force base of operations for antinarcotics surveillance, an effort scuttled by reports that the U.S. allegedly assisted Colombian forces in attacking inside Ecuador on March 1 of that year, enraging the Ecuadorean public and forcing Correa to choose between accepting U.S. geopolitical interests or appeasing his constituency as he began his second year in elected office.
"We'll renew [the Manta lease] on one condition: that they let us put a base in Miami, an Ecuadorian base," he told reporters during an official visit to Italy.
And now, just over a year after Ecuador granted Assange asylum at the country's embassy in London where the WikiLeaks founder resides to this day, Correa has been given another opportunity to assert himself on an issue the United States hasn't received a great deal of sympathy over. If Snowden can make it to Ecuador (or perhaps to the closest Ecuadorean embassy), he is likely to be granted the same protections the country has extended to Assange.
By thumbing his nose at U.S. interests and asserting Ecuadorean sovereignty, Correa has emerged as a more moderate version of the late Venezuelan President Hugo Chávez, says Steve Striffler, professor and Doris Zenmurray Stone Chair in Latin American Studies at the University of New Orleans.
"The U.S. might have the law on its side, but it doesn't have much of the international community, which isn't particularly sympathetic about this whole surveillance issue," he said Monday. "There is this sense that Latin America has been on the wrong end of U.S. covert policies, especially during the Cold War, and this is an opportunity to carve out a little independence."
Many in Latin America still remember the days when they were subjected to covert U.S. support for right wing dictatorships, such as Operation Condor, and so many Latin American voters aren't likely to feel sympathy for the U.S. government over the issue of covert spying on its own people.
Correa, president of one of the poorest countries in Latin America, joins Bolivian President Evo Morales and Nicolás Maduro of Venezuela -- all living in the shadow of regional powerhouse Brazil – in eschewing U.S. interests and capitalizing on the lack of popularity of the United States among the region's most economically disadvantaged. They have little to lose in speaking out against U.S. economic and national security interests.
Ecuador and U.S. have sparred in the past. In 2011, Ecuador kicked out U.S. Ambassador Heather Hodges over some of the content released by WikiLeaks where the ambassador called a former commanding general of the country's national police corrupt and engaged in human trafficking. The U.S., Ecuador's largest trading partner by far, retaliated by ending diplomatic relations that were only repaired last month. A 20-year battle over whether Chevron Corp. (NYSE:CVX) is reponsible for toxic waste dumped between 1972 and 1993 in the northeast of the country by Texaco, which Chevron acquired in 2001, has yet to be resolved; Ecuador says the oil giant owes $19 billion in damanges and that case is ongoing.
The rise of the South American left -- where even Brazilians essentially elected the incumbent in 2010 by voting for President Luiz Inácio Lula da Silva's chief of staff Dilma Rousseff – mainly leaves Colombia and its President Manuel Santos Calderón as America's sole national security ally on the continent.
With Chávez out of the way and Castro essentially a wheelchair-bound invalid, there's a new opportunity for a populist leftist leader to emerge, and Correa may be using every chance he gets – including granting Snowden asylum from U.S. prosecution – to assert himself as the new face of Latin America's push-back against U.S. interests.
© Copyright IBTimes 2022. All rights reserved.
FOLLOW MORE IBT NEWS ON THE BELOW CHANNELS