Why 'Hamilton' Matters: Lin-Manuel Miranda's Hip-Hop Tribute Is Just What Broadway, And America, Needs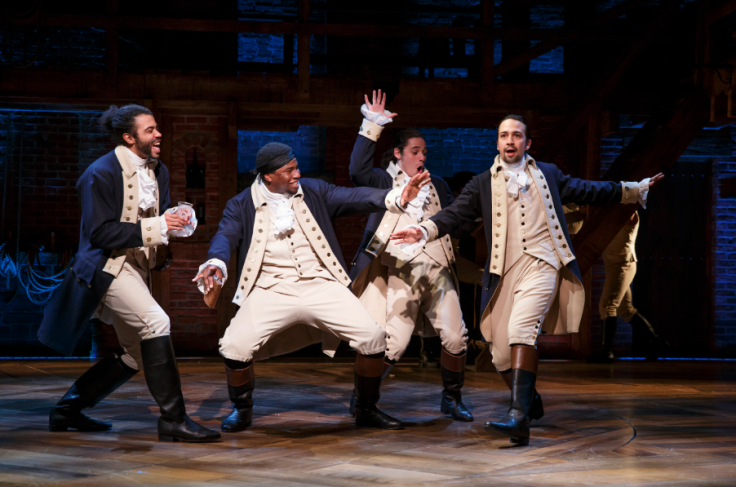 When composer/lyricist Lin-Manuel Miranda ("In the Heights") began reading "Alexander Hamilton," the 700-page historical biography by Ron Chernow about one of America's Founding Fathers, he immediately wondered if anyone had turned it into a musical. He also saw an unlikely contemporary figure in the brash and verbose immigrant orphan from St. Croix who fought for American independence and helped found the young republic: the late rapper Tupac Shakur.
From these ingenious associations was borne the smash hip-hop musical "Hamilton," which debuted at the Public Theater in February and started its Broadway run July 13, with Latino and black actors starring as our Founding Fathers. To the Donald Trumps and Tea Party folks with anti-immigrant rhetoric and sentiments, "Hamilton" is an aesthetic rejoinder that suggests their position is practically un-American.
"How does a bastard orphan son of a whore / and a foreign Scotsman dropped / in the middle of a forgotten spot / in the Caribbean, by providence impoverished, in squalor / grow up to be a hero and a scholar?" raps Vice President Aaron Burr (Leslie Odom Jr.), Hamilton's rival and eventual killer, in the musical's first number.
The syncopated rhythms of its hip-hop delivery, combined with a mashup of contemporary slang and heightened lyricism, bring drama and life not only to Hamilton, the character, but also to history, its relation to our contemporary lives and struggles, and to musical theater, which many say is stuck in the 1950s.
For an industry that subsists these days on Disney juggernauts and musical renderings of old movies, this is no small feat.
But what remains of Broadway's past is the decidedly homogeneous demographic of its audiences: Wednesday night's performance at the Richard Rodgers Theatre, for instance, was attended by a crowd that, from eyeballing it, was around 98 percent white.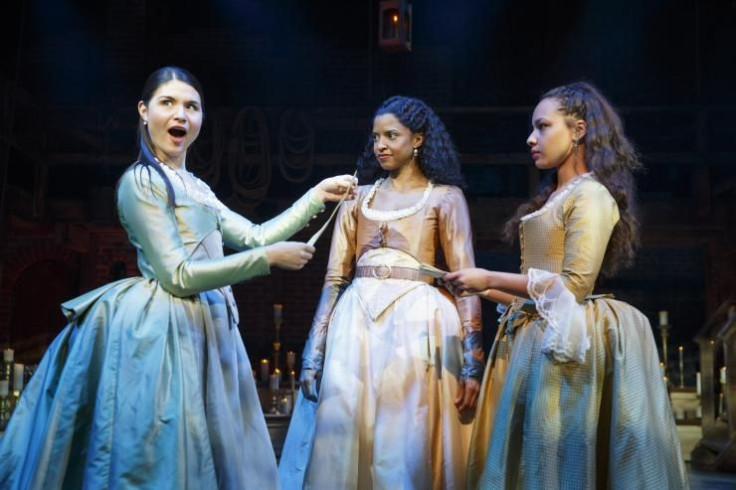 Just The Facts -- And Flare
"He had accurately condensed the first 40 pages of my book into a four-minute song," author Ron Chernow told the New York Times' T-Magazine of this number when he first heard it. "And he had forged a unique idiom that blended formal 18th century speech with 21st century slang." Chernow added that the lyrics sounded "natural and spontaneous."
That first number sets the heightened tone for "Hamilton," whose title character's frenzied life is punctuated with slower moments, reflected in numbers sung in more traditional musical theater styles, largely involving domestic scenes with Hamilton's wife, Eliza (Phillipa Soo). But it's hard not to side with Thomas Jefferson (Daveed Diggs), who jokes after one such scene, "Can we get back to politics?"
After all, it's Hamilton's unvaunted ambition that is the musical's lifeblood. So it is in numbers like the one that imagines political arguments between Jefferson and Hamilton about the role of the federal government (Jefferson believed in states' rights; Hamilton wanted a strong federal government) as rap battles taking place in hallowed Cabinet chambers that electrify. It also doesn't hurt that Jefferson has the swagger and voice of Outkast's André 3000 with purple 18th century fashions that recall Prince.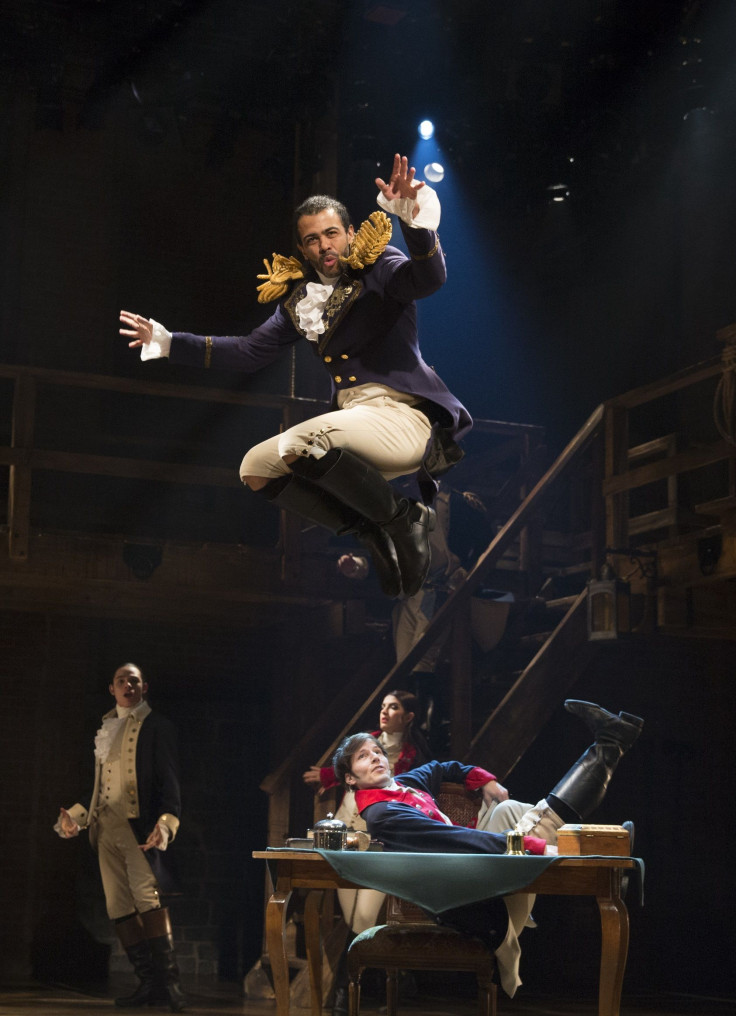 Other references to contemporary music include a feminist pop song sung by the Schuyler Sisters in the style of Destiny's Child, and a high camp performance by King George III (Jonathan Groff), who appears singing '60s Brit-pop ballads in the form of breakup songs sung to the revolutionary colonists.
"You cheated with France and now I'm fighting with France and Spain," he laments in one number. "You'll be complaining when I'm gone," he sniffs in another song, comically beseeching, "Don't throw away this thing we've had."
Aaron Burr (Leslie Odom Jr.) leads the chorus of his character's parallel desire to be "In the Room Where It Happens," namely where power and prestige are forged, in a "bring down the house" performance about backdoor political dealings.
But the subversion of "Hamilton" is most compressed in its first number.
In a performance at the White House in 2009, Miranda rapped the "four-minute song" -- the one that blew Chernow away -- for a delighted audience that included President Barack Obama and his family. The number demonstrated how thrilling the "Hamilton" mashup of past and present can be. Miranda, who grew up in Inwood, Manhattan's northernmost neighborhood, seamlessly brings his audience into what the New Yorker calls his "historical and cultural reimagining" by referring to Hamilton in terms more familiar to rap.
"The 10 dollar father without a father" is ambitious, "a brother who is ready to beg, steal, borrow or barter," and "Another immigrant, comin' up from the bottom / His enemies destroyed his rep, America forgot him."
"We take it as a given that hip-hop is the music of the revolution," Miranda told CBS. "The hip-hop narrative is writing your way out of your circumstances. All my favorite hip-hop songs are musical theater 'I want' songs: 'I want to get somewhere else. I want to get my corner of the sky.'"
© Copyright IBTimes 2022. All rights reserved.
FOLLOW MORE IBT NEWS ON THE BELOW CHANNELS