Why The Middle East's Largest Christian Community Is Fleeing Egypt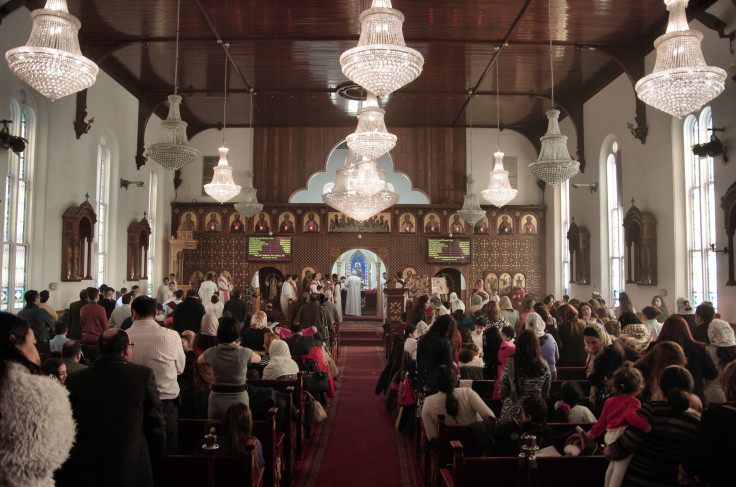 Incense smoke fills the air as a priest with a salt-and-pepper beard and a billowing white gown recites Arabic hymns at the pulpit. Rows of red-cushioned wooden pews gradually fill, and a group of mostly young women carrying their children squeeze themselves into a standing space in the back.
Aging Egyptian men with scruffy chins meet outside by the parking lot, speaking Arabic. In the lobby, latecomers for a simultaneous English prayer service upstairs, many of them second-generation Egyptian-Americans, make way for the staircase, dodging little boys chasing one another in unpredictable directions. It's a Sunday morning at the Coptic Orthodox Church of Saint Mark in Jersey City, New Jersey, and the faithful have gathered to pray.
Egyptian churches across New York and New Jersey have seen their communities swell in recent years as Egypt has faced political turmoil, a slumping economy and a growing militant insurgency. The exodus has intensified fears for the future for Christianity in the Middle East, as some now worry for the fate of Egypt's Christians, one of the world's oldest Christian communities.
"Mostly they're coming to find better opportunities because of uncertainties in Egypt," said Rev. Markos Ayoub, a priest who leads the Sunday liturgy at St. Mark in English. "It's not easy to be a Coptic Christian in the Middle East these days."
Asylum statistics from 2013, the most recent year for which government statistics are available, show that the number of asylum claims granted to Egyptians in the U.S. climbed almost 10 times from their 2010 level to 3,102 in 2013. Only Chinese asylum seekers accounted for a greater number of granted claims, and although the statistics do not separate asylum claims based on religion, several immigration lawyers said Copts accounted for a vast majority of their Egyptian clients. Those numbers do not account for people who came on other types of visas. The New York City region is home to one of the nation's largest Egyptian enclaves.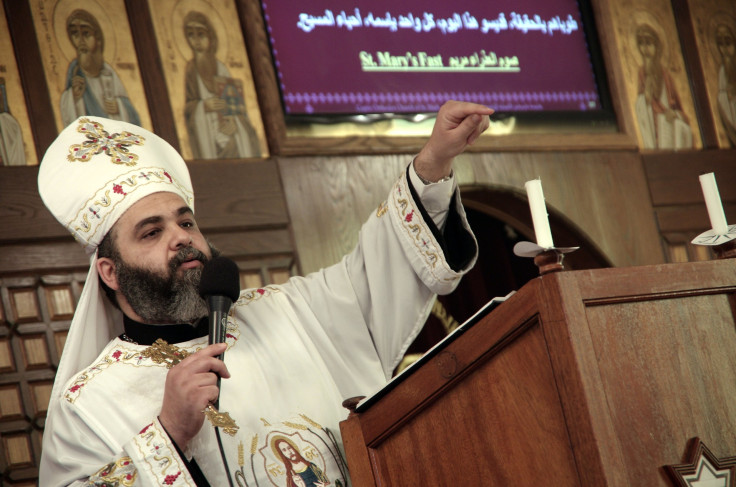 Copts have been flooding out of Egypt since country strongman Hosni Mubarak was ousted from power as part of the protest movement that swept several Arab countries in 2011. A void in leadership left by the unrest allowed hard-line Muslim preachers unrestrained freedom of speech, which often targeted Christians. In the months that followed, Christian businesses were attacked, churches were fire-bombed and Christians kidnapped and ransomed.
In 2012, in Egypt's first democratic election in 30 years, a Muslim Brotherhood-affiliated party came to power. Christians say the government, led by Mohammed Morsi, did little to protect them from mob attacks and increasingly frequent abductions. They charged the newly elected Islamist government with inciting a new wave of anti-Christian violence targeted against churches, homes, businesses, shops and schools, and demanded Morsi take action. Anger rose among Christians after clashes broke out at a Cairo cathedral, resulting in the death of six Christians. Morsi vowed to protect Christians after the attack, but many felt his words were hollow.
Jacklyn and her husband, who declined to give their family name, lived in the Mediterranean port city of Alexandria and fearfully watched the news, tracking developments in Muslim-Christian relations. At first the political turmoil felt far-off, and Jacklyn hardly paid attention to the political unrest even as Mubarak's regime toppled.
"There were reports of murders and growing tensions, and that really scared us," Jacklyn said in Arabic, speaking in the basement of a crowded Jersey City church on a recent Sunday.
She and her husband later won the visa lottery, and they excitedly jumped on the opportunity to relocate to the U.S., where she joined hundreds of other Copts, as Egypt's Christians are known, who had recently arrived and were watching events unfold in Egypt closely.
Back home, the country's economy plummeted, and Egyptians widely blamed Morsi for poor leadership skills amid a gas shortage and surging inflation. They took to the streets in numbers that harkened back to the protests that ousted Mubarak a year earlier, and as if the prayers of Christians had been answered, a charismatic military general named Abdel-Fattah el-Sisi swept in and announced a military takeover in 2013. It was widely welcomed by Christians and during a carefully choreographed televised address to the nation, the Coptic pope, Tawadros II, joined the new leader onstage. For the first time in decades, Egypt had a leader who vowed to mend relations.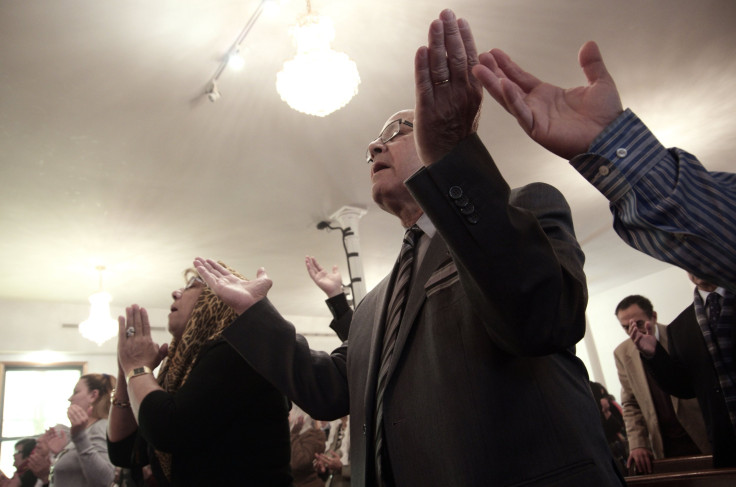 Christian support for Sisi, however, has come with a price. Sisi's government has been accused of major human rights abuses, including handing down mass death sentences to opponents, particularly those from the Muslim Brotherhood and left-wing activists, who continue to contest his leadership. After nearly 1,000 Muslim Brotherhood supporters were killed in 2013 protesting Sisi's military takeover, angry activists went on a rampage attacking Christians for their support of the new government. At least 42 churches and many more businesses and homes were targeted.
Years later, Christians continue to complain of rampant and systemic discrimination, and they are virtually shut out from the political sphere. All church construction and repairs must be approved by authorities, and Christians in rural areas have frequently been on the receiving end of violent attacks. Human rights groups say crimes against Christians regularly go unpunished.
"What they've experienced in the past is such a low bar that jumping that bar is not exactly a feat," Maryam Meseha, vice president of the Coptic Lawyers Association said, noting that Sisi is widely popular among Copts. "So when you take Sisi in comparison, of course he's going to be better than a 40-year dictator or the blubbering disaster that Morsi was."
All the while, the government faces a growing Islamic insurgency, and extremist attacks have stretched beyond the Sinai, where an affiliate of the Islamic State group is based. In Libya last year, 21 Egyptian Christians were beheaded by ISIS, sending chills through Coptic communities worldwide. And as of 2015, all Christians in the northern Sinai had fled.
"People are extremely worried about the future," said Samuel Tadros, a senior fellow at the Hudson Institute's Center for Religious Freedom in Washington, D.C., who is himself an Egyptian Christian. "Yes, Egypt looks stable today, but they're worried about tomorrow and the day after."
The political turmoil of the last five years has hit Egypt's economy hard. The government's fragility has scared off potential investors, and low oil prices have dampened hopes for a re-emergence on the energy market. Unemployment remains high, and more than a quarter of the population lives in extreme poverty. Egypt's tourism industry, too, has been affected as terrorist attacks have scared away foreigners. That has particularly impacted Copts, who frequently took jobs at tourist resorts and hotels for their relatively high percentage of English speakers and their willingness to serve alcohol, unlike many of their Muslim compatriots, Tadros said.
The instability in Egypt has been felt in New York and New Jersey, where Arabic is now more commonly spoken in Coptic churches than English. Church populations have ballooned beyond their capacity, and a steady flow of immigrants has required churches to start up volunteer wings, hire new priests and expand their operations. In the Rev. Anthony Basily's tight basement office, dozens of garbage bags are piled up along the wall with donations for newcomers, as St. George & St. Shenouda Coptic Orthodox Church in Jersey City has recently begun a fourth Sunday liturgy to accommodate a population that has doubled over the last five years.
"We are still seeing new families sometimes every week, it's growing very fast," he said.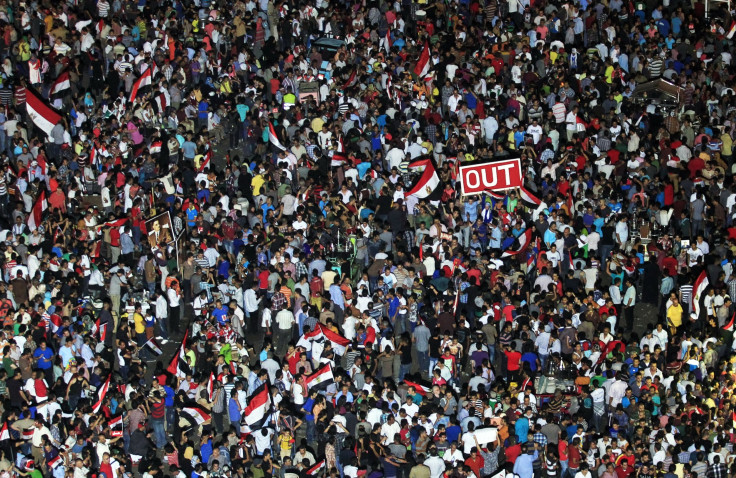 The flood of Christians out of Egypt comes as other Middle Eastern countries have seen their populations dwindle in the last few decades. A century ago, they accounted for some 15 percent of the population in the Middle East, whereas today they make up just 4 percent, according to the Economist. They have nearly disappeared in places like Iraq, where minorities have in particular been targeted by extremist groups.
Copts make up around 10 percent of Egypt's population of 80 million, making them the Middle East's largest Christian community. They trace their history back to the very earliest days of Christianity, read some prayers in an ancient Coptic language and elect their own pope. Their numbers, which range in the millions, ensure that Christianity won't fade away anytime soon from Egypt, church leaders said, but fears remain strong as some of the most influential and wealthy in the community have left.
Sam Mikhail, who volunteers to help settle new immigrants in the New York City borough of Queens, said his church has tripled in size with immigrants in the last five years. St. Mary & St. Antonios Coptic Orthodox Church in Queens has started up programs to help newcomers with everything from housing and education to psychological support and welfare applications. Immigrants often arrive clueless of what to do once in the U.S. and reach out to churches for help while waiting at the airport with their belongings and children.
"It's a lot of people coming very fast, and it's not easy to accommodate every single family or all of their needs," Mikhail said. "They have to eat, they have to live … and at the same time, these people are coming from a completely different culture, a different environment."
Areas surrounding churches now teem with people speaking Arabic, who often run their own grocery stores or fast-food restaurants. Churches are more than just a place to pray: They often form the core of Coptic social life, with their congregants generally living in homes and working in shops surrounding the church.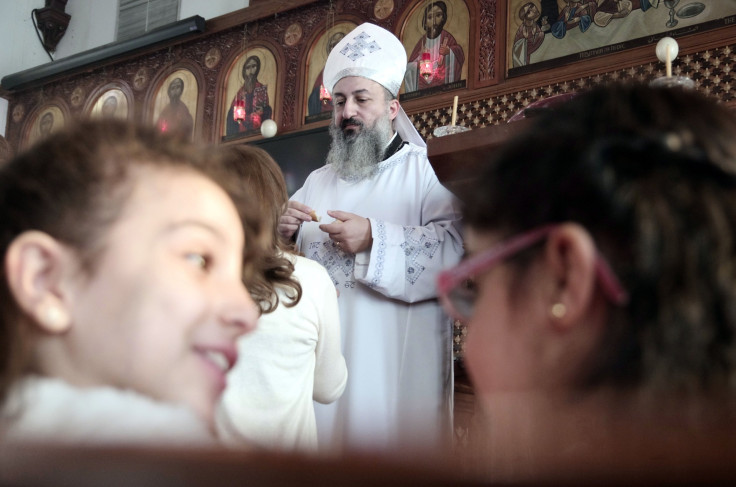 Neveen, a mother of two from the northern Egyptian city of Ismailia who declined to give her full name, said her Jersey City church is the only place she feels comfortable. It reminds her of her Coptic community back home, which she left three and a half years ago, just before the Muslim Brotherhood came to power, as she heard about stepped up attacks against Christians.
Even as she was ready to board her plane to the U.S., ticket in hand, she kept second-guessing the decision. She said she had a good life in Egypt up until the revolution — her husband worked at the post office and made a decent living — and she was conflicted over leaving her extended family. Ultimately, she left because she wanted to pave a better future for her two sons, aged 9 and 12, she said.
"It was terrible," Neveen said. "When you leave everything familiar and all that you love, and then you come to a place you don't know anyone, you know nothing, you don't know what the future holds — I couldn't process it all."
Neveen lives in one of the apartment buildings not far from the church, in a neighborhood that has filled up with Egyptians in recent years. She rarely ventures out of the Coptic community, has not yet learned English and hopes some day to move out to the suburbs. But she longs to eventually return to Egypt, though she's not sure her children would agree.
"Sometimes we wonder if we had stayed in Egypt, maybe that would have been better," Neveen said. "It was a very hard decision to leave, and for now, the church is the main thing that helps me. I don't feel like I'm in America when I'm here."
"In my heart, I want to return," she said.
© Copyright IBTimes 2022. All rights reserved.
FOLLOW MORE IBT NEWS ON THE BELOW CHANNELS