Why Is Syria Bombing Aleppo? Pro-Assad Troops Killing Civilians In Rebel-Held Neighborhoods, UN Says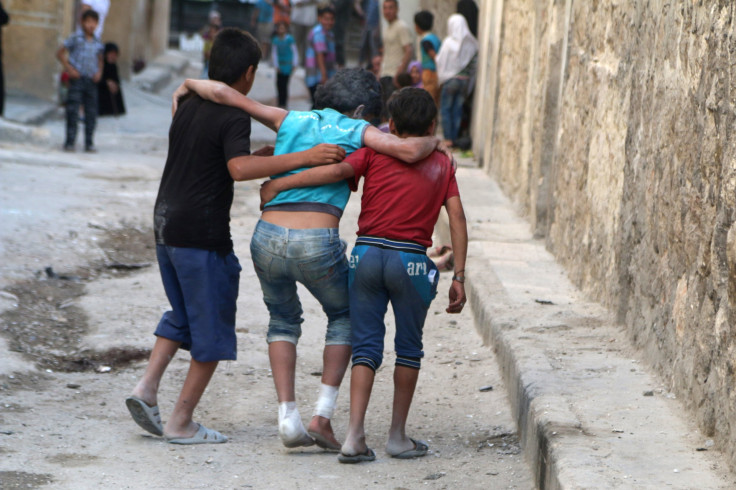 UPDATE: 6:30 a.m. EST — An Al Jazeera journalist reported a Russia-backed agreement had been reached to allow safe passage to civilians from east Aleppo through the city's Bustan al-Qasr neighborhood.
Original story:
Troops loyal to Syrian President Bashar Assad entered homes in the last rebel-held areas of east Aleppo and shot civilians dead, the United Nations Human Rights Council (UNHRC) said Tuesday. The organization said it had reliable evidence proving pro-government troops killed 82 civilians "on the spot."
"Yesterday evening, we received further deeply disturbing reports that numerous bodies were lying on the streets," UNHRC spokesman Rupert Colville told reporters in Geneva. "The residents were unable to retrieve them due to the intense bombardment and their fear of being shot on sight."
He added there was a "complete meltdown of humanity in Aleppo."
Tens of thousands of Syrians have been killed and nearly 11 million displaced after five and a half years of war. Part of the Arab Spring movement, the conflict began as a peaceful protest against the Syrian government but soon descended into civil war, which has since spiralled into war with other countries, including the United States, being involved.
Aleppo, once Syria's industrial and financial center, was largely untouched by the 2011 protests but became an important battleground in 2012 when rebel forces launched an attack on the government. The result divided Syria's largest city in two, with the eastern portion of the city under rebel control and the west under Assad.
In 2016, pro-government forces backed by Russian airstrikes launched an offensive to retake the entire city. The besieged eastern Aleppo was continuously bombarded with airstrikes that destroyed majority of its hospitals and prevented the delivery of humanitarian aid while its civilians were trapped with dwindling food, water and medical supplies.
The Syrian military said Monday troops had regained control of 98 percent of rebel-held eastern Aleppo. Lieutenant General Zaid al-Saleh said the battle for Aleppo had entered its "final steps" and told the rebel fighters still in the city to "surrender or die."
Assad told state media last week that recapturing eastern Aleppo from the rebels would be a milestone in the Syrian war but would not end the ongoing conflict.
"To be realistic, this does not mean the end of the war in Syria, but a huge step toward that end," Assad told Syrian newspaper Al Watan. "It does not end until all terrorists have been completely eliminated... and we will continue the war against them."
Meanwhile, a spokesperson for UN secretary-General Ban Ki-moon said Monday evening Ban was "alarmed over reports of atrocities against a large number of civilians, including women and children, in recent hours in Aleppo."
The International Committee of the Red Cross (ICRC) reportedly said people had "literally nowhere safe to run."
Speaking from Aleppo, ICRC communications head Pawel Krzysiek, said: "We need to depoliticize the process of protecting civilians. We need to put their lives first. And we need to do it now before it is not too late."
© Copyright IBTimes 2022. All rights reserved.
FOLLOW MORE IBT NEWS ON THE BELOW CHANNELS