Will 'Fired' John Fox Go To The Chicago Bears? Some Twitter Users Hope So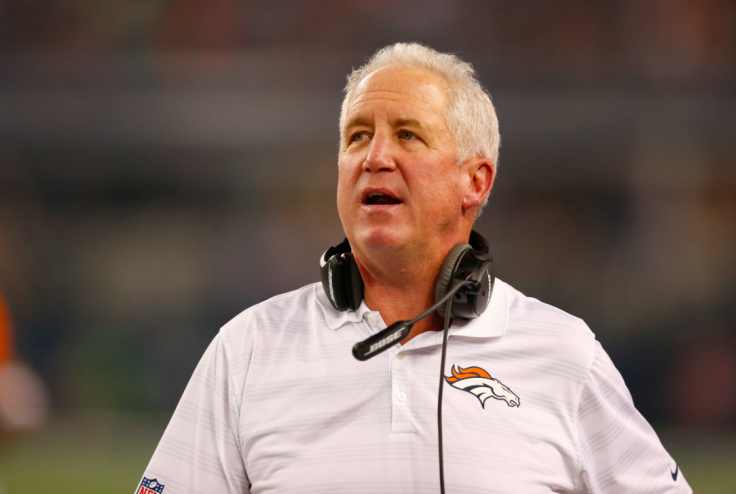 Head coach John Fox and the Denver Broncos parted ways Monday. Fox's departure followed a more than hour-long meeting with General Manager John Elway.
"John Fox and I met for more than an hour on Monday afternoon to discuss the 2014 season and our goals for the future. During our open and candid conversation, it became clear that it was best for both the Denver Broncos and Coach Fox to move on and make this change," Elway said in a statement on the Broncos' official website.
"While we have made significant progress under Coach Fox, there is still work to be done. I believe this change at the head coaching position will be in the best interest of our long-term goal, which from day one has been to win World Championships."
Fox said the agreement was mutual after a "productive" and "honest" talk. "Although we came up short of our ultimate goal, I am proud of our team's many accomplishments during these last four years," Fox said.
The Bronco's finished 12-4 for this season. During his tenure with the team, Fox compiled a 46-18 record and has an overall career record of 126-95. The Bears ended the 2014 season with a dismal 5-11 record.
Just because Fox doesn't have a career with the Broncos anymore doesn't mean his coaching career is over. In fact, some Twitter users predicted Fox would become the new head coach of the Chicago Bears after Marc Trestman was fired. Other netizens tweeted they wanted to Fox wearing gangrene with the New York Jets after Rex Ryan got the ax, but it's unlikely since Fox allegedly turned down a meeting with the Jets, The Score wrote.
Some posts about Fox hopefully going to the Bears have been listed below:
Others weren't so excited about Fox potentially joining the Bears:
Follow me on Twitter @mariamzzarella
© Copyright IBTimes 2023. All rights reserved.