Peyton Manning Retiring? What Denver Broncos QB Said After Loss To Colts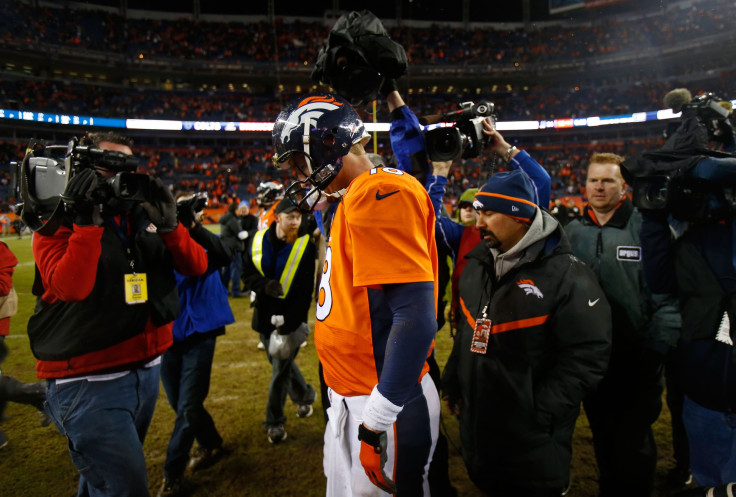 In perhaps the lone upset of the weekend, the Denver Broncos fell at home to the Indianapolis Colts in Sunday's AFC divisional playoff game, 24-13. To many, the contest felt like an unofficial passing of the torch from veteran quarterback Peyton Manning to burgeoning star Andrew Luck, prompting discussion about Manning's future in the NFL.
Following an uninspiring effort, Manning was asked about the possibility of retirement. The 38-year-old could not guarantee that he would be back on the field for the 2015 season.
"Yeah, I guess I can't just give that simple answer," Manning told reporters. "I'm processing it. So I can't say that. I could not say that.
"That's kind of what I've said all along. But I can't answer every what-if circumstance. What if you're not as healthy? What if certain coaches leave? I can't answer every what-if situation. I think I'll have to take some time to see how I feel, see how I feel physically."
Manning's inability to confirm his return sparked Twitter reaction from several sportswriters and pundits.
Manning did not look like his old self on Sunday. He completed 26-of-46 pass attempts for 211 yards and one touchdown. The normally accurate slinger was unable to throw the ball down the field with much precision, completing just two passes that went at least 15 yards, and failing to complete 15 of his 21 attempts that went at least five yards in the air, according to ESPN's Stats & Information.
An injury might have been partially to blame for Manning's weak performance. ESPN's Adam Schefter reports that Manning played with a torn right quadriceps, which he suffered in the first half of Denver's Week 15 contest against the San Diego Chargers. A Broncos' team source told the Denver Post that Manning's quadriceps are strained, not torn.
The way Manning played down the stretch would appear to indicate that he was hampered by the injury. After playing the Chargers, Manning threw three touchdowns and four interceptions over the course of three games. However, he had been struggling before getting hurt. In the three games before Denver played San Diego, Manning totaled just 609 passing yards. He threw two interceptions in each of the three contests prior to that stretch.
Does Manning have anything left? Most indicators seem to point that he does. Manning's 2014 season was still better than that of most quarterbacks, as he threw for 4,727 yards and 39 touchdowns. The 15 interceptions and a 101.5 passer rating were his worst numbers, since joining the Broncos in 2012.
However, considering his declining performance in the final stretch of the Broncos season, and the potential look of the team next season, Manning could choose to retire before things get worse. Wide receivers Wes Welker and Demaryius Thomas, as well as tight end Julius Thomas, are no guarantees to return to the team, since they are all free agents. There have also been rumors that the Broncos and head coach John Fox could party ways following the team's loss.
While there are reasons for Manning to walk away, he has plenty of incentive to return to Denver next year. Manning's salary for 2015 will become guaranteed if he's still on Denver's roster on March 10. He has two years left on his contract, and would be paid $19 million for playing next season.
The Broncos aren't likely to be Super Bowl favorites next season, like they had been in the previous two years, but they still have a strong chance to continue being among the top teams in the AFC. Denver was tied for the NFL's best regular-season record, and entered Sunday's contest as seven-point favorites.
He won a Super Bowl in 2007, but Manning's legacy could be significantly bolstered with another trip to the big game. Sunday's loss marked yet another failure for, arguably, the greatest regular-season player in league history. Manning's playoff record stands at 11-13, and he's been one and done in a record nine postseason appearances. Tom Brady, who Manning most often gets compared to, is expected by many to reach his sixth Super Bowl this upcoming weekend.
A touchdown pass in Week 7 gave Manning the all-time passing touchdown record, but avoiding retirement would help him set even more passing marks. His 5,927 completions trail Brett Favre's record of 6,300, and a repeat of 2014 would put Manning in sole possession of first place. Favre's career passing yards record is all but guaranteed to be topped by Manning, if the quarterback returns in 2015.
Oddsmakers believe the chances of Manning retiring are slim. Bovada.lv has given Manning +400 odds of retiring before Week 1 of the 2015 season. His odds of playing next season are -700.
© Copyright IBTimes 2023. All rights reserved.