Will Hurricane Jose Hit The Bahamas After Irma?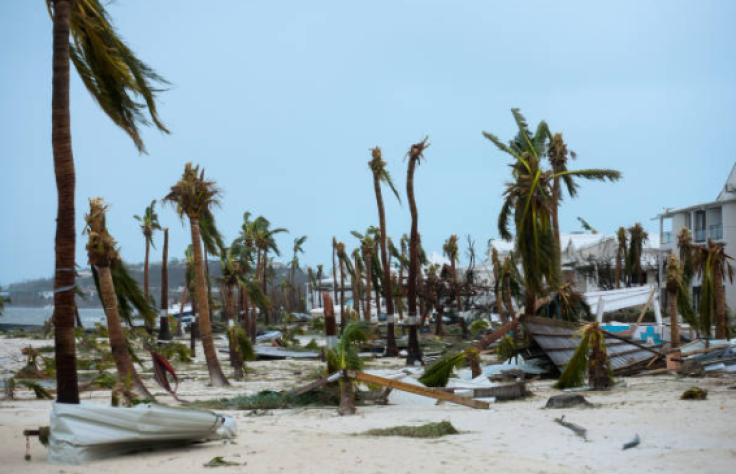 Hurricane Irma, now an "extremely dangerous" Category 4 storm, slammed into the Bahamas Friday on its way to Florida. Irma, which is the size of France, has been wreaking havoc in the Caribbean since Wednesday with maximum winds up to 185 mph. Irma decimated Barbuda, eliminating 95 percent of its buildings, and left 1 million people in Puerto Rico without power. The storm left at least 11 people dead.
Most recently, Irma hurled into the Bahamas with winds up to 155 mph, NBC News reported Friday.
"The eye of Irma should continue to move westward away from the Turks and Caicos Islands and toward the southeastern Bahamas this morning," the National Hurricane Center said. "The core of the hurricane will then move between the north coast of Cuba and the Bahamas during the next day or two, and be near the Florida Keys and the southern Florida Peninsula Sunday morning."
The Bahamian government shut down the international airport in Nassau. They ordered the evacuation of Mayaguana, Inagua, Crooked Island, Acklins, Long Cay and Ragged Island, CNN wrote.
While Irma has already caused damage in the Caribbean, there's a chance they could be hit by a second hurricane: Jose.
"Jose is moving toward the west-northwest near 16 mph. A slower west-northwestward motion is expected during the next couple of days. Hurricane conditions are possible within the hurricane watch area on Saturday, and tropical storm conditions are expected within the tropical storm warning areas by Saturday morning. Tropical storm conditions are possible in the tropical storm watch areas by Saturday morning. Jose is expected to produce total rain accumulations of 2 to 6 inches in the Leeward Islands from Dominica to Anguilla," The Hurricane Center said. "Isolated maximum amounts of 10 inches are possible in the northern Leeward Islands from Antigua and Barbuda to Anguilla. This rainfall will maintain any ongoing flooding and may cause additional life-threatening flooding. Swells generated by Jose are expected to affect portions of the Leeward Islands by later today. These swells are likely to cause life-threatening surf and rip current conditions."
President Donald Trump tweeted about the storms and simultaneously touted his support for the Coast Guard. "Hurricane Irma is of epic proportion, perhaps bigger than we have ever seen. Be safe and get out of its way,if possible. Federal G is ready!" he wrote. "Our incredible U.S. Coast Guard saved more than 15,000 lives last week with Harvey. Irma could be even tougher. We love our Coast Guard!"
Follow me on Twitter @mariamzzarella
© Copyright IBTimes 2023. All rights reserved.