Will India's Onion Prices, Which Have Jumped 245%, Dictate India's Central Bank Policy Review?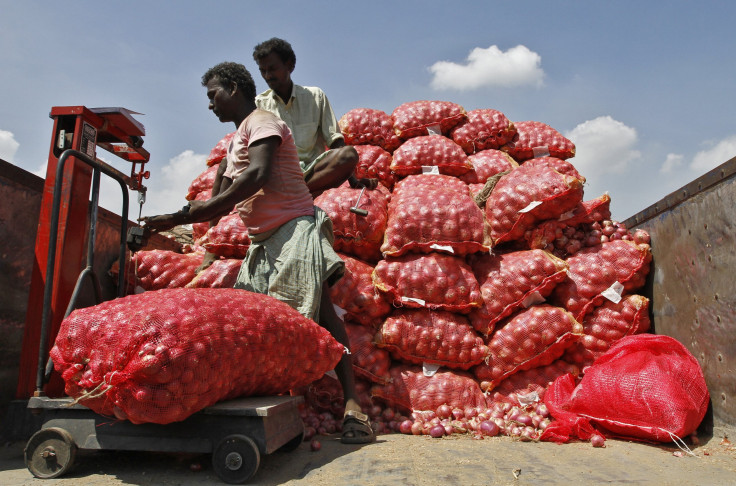 India and its markets are looking forward to the Reserve Bank of India's monetary policy review on Friday -- the first after the appointment of celebrated economist Raghuram Rajan as the new governor of the central bank -- at a time when the country is reeling under double-digit food and fuel inflation, and amid uncertainty in the global economic environment ahead of a key meeting of the U.S. Federal Reserve on Tuesday and Wednesday.
India's wholesale price index, or WPI, hit 6.1 percent in August on a yearly basis, up from 5.79 percent in July, with food inflation rising by 12.4 percent annually, mainly due to a surge in vegetable prices, which rose 77.8 percent year-on-year.
Prices of onion -- a key commodity credited with bringing down at least two governments since the 1980s due to shortages -- rose a whopping 244.6 percent in August.
"Heavy rainfall is posing difficulties in procuring onion produce from farms. Within a week of rain stoppage the market will be flooded with onions and prices will be back to normal," Rajinder Kumar Sharma, chairman of the New Delhi-based Azadpur Agricultural Marketing Committee, told International Business Times. "Normally India does not import onions, but the current shortage in domestic supply has forced a few traders to import onions from countries like Pakistan, China and Iran."
The price of a kilogram (2.2 lbs) of onion cost as much as 80 rupees ($1.27) in the first week of September.
"We will have adequate supply of onions by Oct. 10-15, or before Dussehra," he said referring to a upcoming Hindu festival, adding: "I don't think the current onion price hike would hurt the government in the upcoming election, because by election time onion prices are likely to fall to about 10 rupees a kilogram."
Adding to India's troubles is fuel inflation, which hit 11.3 percent in August on a yearly basis, indicating the impact of the rupee's weakness, which has depreciated 12.48 percent so far this year. According to a Bank of America-Merrill Lynch report estimate, a 10 percent depreciation in the currency adds 1 percent to the inflation figure.
Core inflation, excluding volatile components such as food, slowed in August, to record 1.9 percent annually, "suggesting the weakness in demand, and not yet reflecting the pass-through of INR weakness into core," Goldman Sachs India said in a research note.
Industry Groups Call For Measures To Boost Growth
According to Indian industry groups, inflationary pressures remain a key concern, but at the same time, the government and the RBI cannot afford to discontinue efforts to boost growth, amid a sharp slowdown.
"What has been a key concern for a long time now is that rise in food prices continue to contribute strongly to overall inflation. It is therefore important that structural factors affecting food inflation are addressed on a priority basis," Didar Singh, secretary general of Federation of Indian Chambers of Commerce and Industry, or FICCI, said in a statement.
But, Singh stressed on the importance of efforts to reinvigorate investor sentiment and to boost growth, as the Economic Advisory Council to the Prime Minister, or PMEAC, recently revised downward its growth estimate for the current financial year to 5.3 percent from 6.4 percent and "FICCI's latest Business Confidence Survey also reported a worsening of the near term outlook on investments."
"Giving a boost to investments at this juncture is imperative if the growth cycle has to be turned around," Singh said ahead of Friday's review.
Global Environment
However, the beleaguered domestic currency is expected to take precedence over other economic considerations and the RBI's decision is expected to depend heavily on the Fed's decision regarding its asset-purchase program, which is expected to impact the rupee's fortunes.
C. Rangarajan, chairman of the PMEAC, told the media Friday that the currently rigid monetary policy stance, which is tailored to prop up the rupee should continue until the currency stabilized.
If the Fed defers tapering its asset-purchase program, "the RBI will then likely roll back July measures if a return to risk appreciates the INR," BofA-ML said in a research note, referring to liquidity measures undertaken by the Indian central bank to rescue a rapidly depreciating rupee.
"We were always skeptical of the ability of the July 15 tightening measures to arrest depreciation. Yet, we appreciate that the RBI may not want to take risks with already-so-very-fragile INR expectations."
© Copyright IBTimes 2023. All rights reserved.
FOLLOW MORE IBT NEWS ON THE BELOW CHANNELS