Wisconsin Governor Scott Walker Backs Anti-Union Bill In State Senate: State Inches Toward Right-To-Work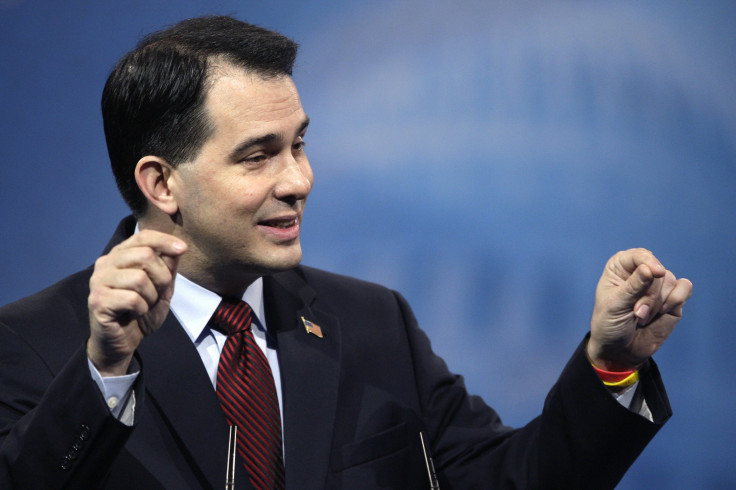 Wisconsin Governor Scott Walker is going after unions again. On Tuesday, his state's Republican-majority Senate plans to take up a Walker-backed bill that would make the Badger State the 25th "right-to-work" state in the nation. The bill prohibits contracts between labor unions and employers that allow unions to collect fees from all workers they are legally obligated to represent.
"There's no doubt right-to-work is meant to have a devastating impact on private sector unions in Wisconsin," said Paul Secunda, a labor law professor at Marquette University Law School. "And it would be very devastating."
Union density is low in states with such measures. With little incentive to pay for a bargaining service already provided to them, employees tend not to back whatever union may exist at their workplace. That, in turn, leads to a decline in organized labor's bargaining power and political influence. The average worker in states with right-to-work laws earns about 12 percent less than workers in other states, according to the AFL-CIO.
Senate Republicans are moving fast to minimize public backlash. After a committee hearing on Tuesday, floor debate is expected to begin Wednesday. Since Republicans also control the lower chamber, the legislation could reach Walker's desk as early as next month.
Walker's support for right-to-work marks something of a public reversal on the subject. Last year, while campaigning for re-election, he insisted that he opposed right-to-work as distracting and divisive.
The governor and potential 2016 frontrunner is a well-known foe of organized labor. Two decades ago, as a state legislator, in fact, he sponsored a right-to-work bill. And in 2011, Walker supported a successful push to repeal most collective bargaining rights for state employees, a move that triggered mass protests at the capitol building in Madison as well as a failed recall challenge. Still, Walker seemed to suggest that right-to-work -- at least, at this juncture -- was a step too far. He warned last year that it could "bring the whole firestorm back."
Now, Walker's public volte-face could put him in the company of Michigan Governor Rick Snyder and Indiana Governor Mitch Daniels. Both Republicans signed right-to-work bills in union-friendly Midwestern states after relatively limited legislative debate and past assurances they did not want to pass them.
In January 2012, Daniels signed a right-to-work bill just hours after it passed the State Senate -- about a year after putting the kibosh on a similar bill. In September 2012, Snyder broke his well-documented record of opposition when he signed right-to-work legislation. In that case, Michigan Republicans refused to hold committee hearings on the bill, which took just a week to reach the governor's desk after being introduced.
The Wisconsin-based Center for Media and Democracy notes the latest bill's language closely mirrors that of a model right-to-work bill crafted by the American Legislative Exchange Council. The conservative nonprofit, which focuses on passing state legislation, receives backing from wealthy donors like the Koch brothers and boasts corporate sponsors like ExxonMobil, AT&T and Pfizer.
Unions, for their part, are already mounting opposition. Protesters are gathering in Milwaukee on Monday. Labor groups are also planning a Tuesday night rally in Madison -- the site of their failed stand against Walker four years ago.
It's going to take even more street heat this time around, says Marquette's Secunda, since Democratic legislators stand little chance of blocking the bill's passage. "Short of a massive general strike of all organized labor, public and private sector, there is no way this will not pass," he said.
That hasn't happened in the United States since 1946, when more than 130,000 workers in Oakland walked off their jobs en masse.
© Copyright IBTimes 2023. All rights reserved.