World Series 2015: For New York Mets, David Wright's Absence Had A Bittersweet Silver Lining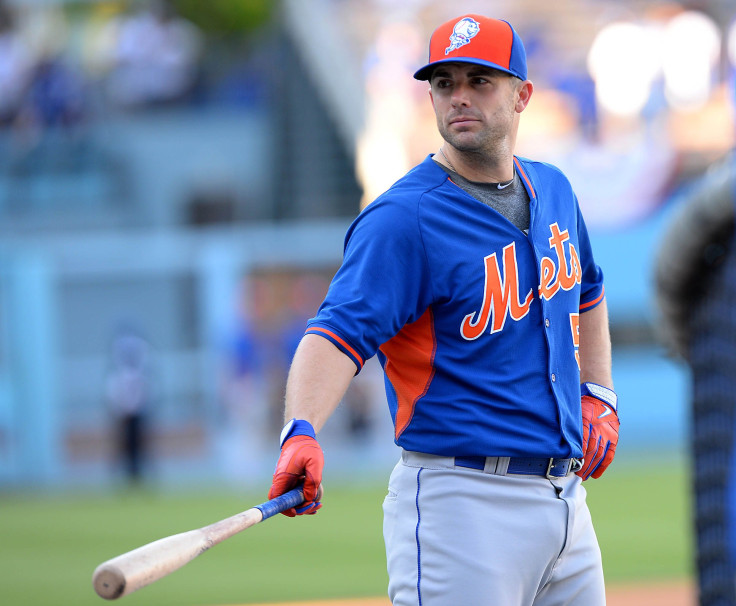 David Wright has been a crucial stabilizing force for the youthful New York Mets this postseason, providing veteran leadership and timely production throughout the team's unlikely rise to the World Series. But it was Wright's monthslong absence from the lineup -- and the insurance policy it triggered in his contract -- that freed general manager Sandy Alderson to acquire key contributors to the Mets' championship run.
Wright's $20 million salary made him the highest-paid player on the Mets' roster this season, which made his diagnosis with a debilitating spinal condition last May all the more difficult to swallow. The Mets' front office has operated under a tight budget since 2008, when team owners Fred and Jeff Wilpon lost millions in Bernie Madoff's infamous Ponzi Scheme, forcing Alderson to be very careful about where he spent the team's money.
But Wright's contract included a clause that allowed the Mets to recoup a prorated 75 percent of his $20 million salary if he missed more than 60 days of the season. With Wright sidelined from mid-April until late August, the Mets, while bereft of their on-field leader, were suddenly flush with money. Bolstered by the unexpected windfall, Alderson acquired outfield Yoenis Cespedes, relief pitcher Tyler Clippard, as well as utility players Kelly Johnson and Juan Uribe – all of whom played a major role in the Mets' World Series run. The Mets never wanted to lose their captain, but they found a bittersweet silver lining in his prolonged absence.
"For a team that is excessively cash-strapped, given the externalities that they've faced for the last few years, that allowed them to be more active at the trading deadline, and then all their trade deadline moves worked out," said Robert Boland, a professor of sports administration at Ohio University.
David Wright | PointAfter
For Alderson and the Mets front office in general, the 2015 season is the culmination of their methodical, patient approach to rebuilding a franchise. Wright and outfielder Curtis Granderson are two of just four players on the Mets roster who earn more than $10 million per season. Instead, New York has relied on a mixture of stopgap veterans, such as NLCS hero Daniel Murphy, and inexpensive rookies to fuel their rise to the top of the National League.
The team's youthful pitching staff, led by starting pitchers Matt Harvey, Jacob DeGrom, Noah Syndergaard and Stephen Matz, is the crown jewel of Alderson's philosophy. The four starters, all age 27 or younger, earned less than $3 million combined this season, but baffled the Los Angeles Dodgers and Chicago Cubs' potent lineups all postseason. By comparison, Jon Lester, the Cubs' highest-paid starting pitcher, earned $20 million in 2015.
But the July 31 acquisition of Cespedes just before the trade deadline gave the Mets the middle-of-the-order bat they sorely lacked during Wright's absence, and it proved to be the turning point of the Mets' season. Cespedes hit .283 with 22 home runs and 54 runs batted in during the season's second half, thrusting himself into the National League Most Valuable Player race. The Mets went 43-30 after the All-Star break en route to the NL East crown. Before Wright's injury, Cespedes and his $9 million salary for the 2015 season would have been out of reach.
"That was helpful to them, because he's their highest-paid player. That's not an insignificant amount of money, and that allowed them to expand the payroll toward the end," Boland said.
Wright returned from his injury in late August, just in time to aid his teammates in their final push toward the playoffs. He was a valuable contributor down the stretch, hitting .280 with three home runs and 12 RBIs to go along with a .385 on-base percentage.
Wright has struggled at the plate during the playoffs, but had a crucial go-ahead hit in Game 1 of the NLDS and made several run-saving plays in the field. He's also proved a calming influence over Matz, Syndergaard and the rest of New York's young pitching staff.
And in just a few days' time, Wright, with Cespedes, Clippard and the rest of the Mets' plucky roster at his side, will compete for his first World Series ring.
© Copyright IBTimes 2023. All rights reserved.