World War I Veterans' Benefits Continue To Be Paid 100 Years After Fighting Began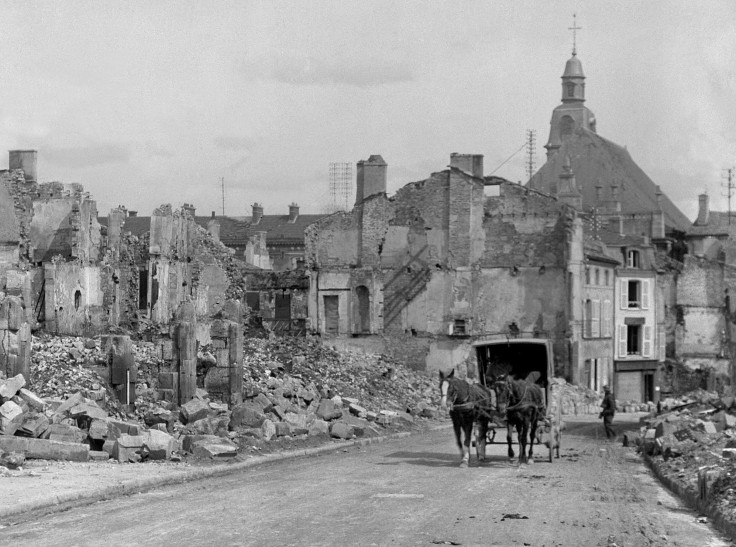 When Florence Van Valkenburgh was 7 years old, she stood on the street in Rochester, New York, and waved at passing convoys of soldiers headed from their Lake Ontario training camp to New York City, where ships would take them off to what was then known as the World War. She remembers the convoys fondly.
"The military camp wasn't far away from where we lived in Rochester," she said over the phone from her Florida residence. "Me and my sister would wave as they drove by. We didn't really know where they were going or the things they would do, but I was so proud of those young men going to fight for us."
As a child in 1917, she had little understanding of the human cost of what would later become known as World War I, which had been going on for three years already when the United States joined the Allies (United Kingdom, France and Italy) in the fight against the Central Powers (Germany, Austria-Hungary and the Ottoman Empire).
Yet today, as the 104-year-old widow of a World War I veteran, Florence Van Valkenburgh Ellenberger personifies one of the war's monetary costs, albeit a small one: She receives a monthly allotment of $1,100, part of the $16.1 million that the U.S. government still pays in World War I pensions annually, though the war was fought a century ago and its last veteran died in 2011. Of the more than 67 million military personnel with the Allied Forces and the Central Powers who fought in WWI, about 10 million died. Ellenberger isn't sure of her husband Forreste's role because he rarely spoke about it, she said.
Ellenberger's pension serves as a reminder that the cost of war continues long after the final bullets are fired. Even today, one daughter of an American Civil War soldier who died in 1938 receives a pension of $73.13 a month and veterans' benefits are still paid to 16 widows and children of soldiers who fought in the three-and-a-half-month-long Spanish-American War of 1898.
The current annual benefits payout to eligible relatives of veterans who fought in World War II, Korea, Vietnam, Kuwait, Iraq and Afghanistan is around $6.7 billion, according to U.S. Department of Veterans Affairs statistics for fiscal year 2013, the most recent available, which does not include the cost of health care. According to a Harvard University study, the cumulative cost of the Iraq and Afghanistan wars is projected to hit $4 trillion to $6 trillion in the coming decades.
Ellenberger, who was born on Memorial Day, May 30, 1910, in Rochester and now lives in a care facility in Sun City, Florida, is among approximately 2,000 living WWI widows in the United States, according to figures cited in a May 2014 Wall Street Journal report. Due to Medicaid deductions, she actually receives only $90 a month from the pension of third husband Lt. Forreste Ellenberger, who was a white officer -- as was the case with all such officers -- in the black 25th Infantry Regiment, known as the Buffalo Soldiers.
Pensions are paid to spouses of veterans, provided the spouse has not remarried, and any children of the veteran who are under 18, or under 23 if attending a school approved by the Veterans Administration. Most widows from long-ago wars, like Ellenberger, married men who were much older, mainly because of the financial security they offered.
Florence was 51 when she married Lt. Forreste Ellenberger, who was then 72, at the end of 1961, after the deaths of her first two husbands. Her first husband, Almon Miller, committed suicide in early 1959, and afterward, "I tried to run the grocery store that we had together as best I could, but in the end it was hard on my own," Ellenberger said. "After that, I started working at the local hospital on the switchboards for something to do."
Soon after remarrying, Florence found herself widowed again when her second husband, Irvine (Mike) Wilcox, died of a heart attack in 1960. Just a year later she met Ellenberger while arranging events as president of the Women's Auxiliary of the Mellenville, New York, Volunteer Fire Company.
"We were down there making arrangements to hold our banquet at the local fire station and Forreste happened to stop by," Ellenberger said. "It was a local farmer that introduced us. Of course, I was a widow and I wasn't really thinking about another man. I was too busy organizing and being part of my groups and organizations."
A widower himself, Ellenberger asked Florence for her phone number because he was keen to see her again. "I was being a little fresh with him, so I told him to look it up in the local directory," she said. "I thought he was joking."
"Of course," Ellenberger continued, "he did call." Lt. Ellenberger invited her down to New York City, where he planned to attend a meeting as treasurer of the American Cancer Society, which was what he did after retiring in 1955 as president of the State Bank of Albany. "We agreed to meet in Central Park after his meeting, so I went and did a bit of shopping in Macy's and the other big stores," she said. She waited patiently on a bench for an hour or so, and when he arrived, they went for a walk in the park.
"He told me to sit down on a rock in the park, and I said, 'I'm not tired', but he insisted and then as I sat there he proposed to me," Ellenberger said. "It was quite romantic because I was in my fifties by then and not expecting it at all."
The were married for nearly 30 years, until his death in 1988 at their home in the King's Point neighborhood of Sun City.
Ellenberger's eldest son, Charlie Miller, who, like all of their children, is from her first marriage and now deceased, fought in Korea; her youngest son, Almon Martin Miller, served in the U.S. Navy; and a daughter, also named Florence, married a man in the Air Force.
The pension money Florence receives pays for her care at the Sun Terrace care home in Sun City, which is paid through Medicare. Today, Ellenberger keeps active around the nursing home and has made a lot of friends. "The bigwigs call me 'Flo' and I'm sort of the queen around here," she said. She has 11 grandchildren and an "unknown amount" of great grandchildren, she joked.
"I'm still very active and I look a lot younger than I am," Ellenberger said, adding that she looks forward to her 105th birthday.
© Copyright IBTimes 2023. All rights reserved.
FOLLOW MORE IBT NEWS ON THE BELOW CHANNELS