'World's Largest Real Estate Bubble' Has China Worried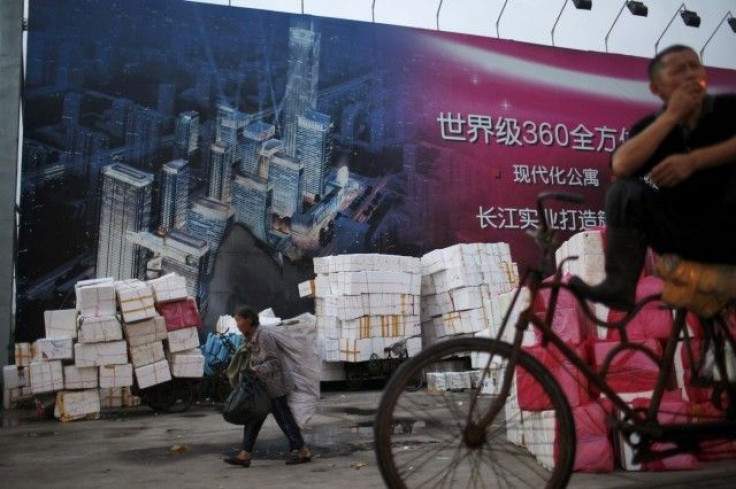 The Chinese government is trying to deflate what might be the largest real estate bubble in history.
Despite concerns that the falling prices in the property market could trigger a broader slump in the economy, the central government is insisting on maintaining new restrictions on real estate purchases.
But the new measures are having unexpected consequences, both on a smaller local level in China, and on a broader international level outside the country.
According to Chinese official media, average prices in China's housing market surged by as much as 300 percent between 2005 and 2009.
That meteoric rise was initially concentrated in major cities like Beijing, Shanghai, Shenzhen, Chongqing, Guangzhou, and Tianjin, but then spread to relatively smaller cities as well. In an attempt to cool the real estate market, the government has imposed new restrictions over the past two years on second-home ownership, and also introduced pricing caps across the country. In addition, down payments and mortgage requirements were raised. In some major cities, like Shanghai and Chongqing, property taxes were introduced for the first time.
That has now created an ongoing, albeit gradual, slump in the real estate market.
Housing prices hit a 16-month low point in May 2012, after a ninth consecutive monthly decline. Home prices in Beijing are now 3.1 percent lower than a year ago; in Shanghai and Guangzhou, 1.6 percent lower; in Shenzhen, 2.3 percent lower; and astonishingly, in Wenzhou, some 14 percent lower. According to the government, home values have fallen in 54 out of 70 cities analyzed from May 2011 to May 2012.
At the same time, foreign and domestic analysts are also concerned about effects on the economy, especially as construction and land development have been a major driver of China's recent growth. As an example, almost 35 square kilometers (13 square miles) of shopping centers have been built over the last 10 years or are currently being constructed in China -- about two-fifths the size of Manhattan Island, according to data from real estate consultant CBRE Group.
Both the Chinese Central Bank and Ministry of Housing and Urban Development announced again on Monday that the central government had no plans to relax housing market regulations.
Yet some local governments have defiantly moved, of their own volition, to create new incentives to reinvigorate home purchasing, only to be embarrassed soon after by being forced to repeal their decisions.
In October last year, the southern city of Foshan in Guangdong Province rescinded plans to relax limits on home buyers. In February, Wuhu, a city in East-Central China's Anhui Province, announced a waiver of property taxes and a set of new subsidies for home purchases. Three days later, it revoked the new rules.
Zhu Haibin, the chief China economist for JPMorgan Chase & Co. (NYSE: JPM), wrote in a note to clients on Monday that with further housing market corrections and sluggish land sales, local governments have the incentive to introduce various measures to circumvent the property tightening measures.
So why is there growing insubordination amongst local governments?
If the central government is adamant on keeping up the restrictions to avoid the risk of a real estate bubble popping, local governments are the ones feeling the pinch on their purses.
The sale of land to private developers (land cannot really be sold in China since it cannot be privately owned: what's sold are the rights to use, live on, or build on a plot of land) make up 30 percent of local government revenues, according to data from Swiss bank UBS in a report released June 2011.
The link between land development and government income explains why falling land sales in places like Wuhu caused so much distress. According to SouFun, China's largest real estate website, revenue for the city from land sales in Wuhu fell 51 percent to 4.6 billion yuan (around $730 million) from 2010 to 2011. A major hit, but still better than a decrease of 60 percent to 5.3 billion yuan (around $830 million) in the northern port city of Dalian over the same period.
Last Thursday, He Keng, Vice Chairman of the Finance and Economic Committee of the National People's Congress, said that Some people, mainly local governments and developers, want China to relax property-tightening measures and wish the market to rebound. But their hope must not be fulfilled. Otherwise, the Chinese economy will suffer big turbulence.
Other than concerns about inflation, the central government is also worried that rising prices driven by speculation and home purchases from the upper classes may be causing discomfort among middle-income and lower class citizens.
China's wealthy upper class, flush with cash, isn't content to simply sit on that money in the meantime. Its hunger for property is now sending buyers overseas.
The amount of money invested abroad due to domestic housing limits is thought to have reached 400 billion yuan or nearly $63 billion.
Wealthy Chinese home buyers are now regularly shopping for properties in places like New York City, Los Angeles, and San Francisco in the U.S., in Vancouver and Toronto in Canada.
The National Association of Realtors says that from March 2010 to March 2011, the Chinese became the second largest foreign source of home buyers in the U.S. after Canadians, making some $7.4 billion worth of private home purchase, or 25 percent more than the previous year.
Real Capital Analytics, a property research and consulting firm, says that mainland Chinese and Hong Kong businesspeople spent $1.7 billion on commercial properties in 2011, four times more than in 2008. Experts believe that figure understates the real value of Chinese property investment in North America, since buyers may operate through businesses already set up abroad.
Meanwhile in China, debate continues over whether the current real estate predicament was the result of widespread speculation.
Experts like Alastair Hughes, the CEO of Jones Land Lasalle Inc, a real estate services and investment management firm, told Bloomberg on June 13 that only a tiny minority of the homebuyers in China were actually speculators. 93 percent actually plan to live in their new properties.
But experts like Yi Xianrong, from the China Academy of Social Sciences, would not agree. Last year he told the Financial Times that The high housing price is not due to limited supply - it is because of endemic speculation.
China's real estate bubble is undeniably the biggest in history but our property taxes are lower than Zimbabwe's; the situation is laughable, Yi added.
The government is spending the equivalent of $27.2 billion over the next year to build low-cost housing, mostly for migrant workers to major coastal cities. In May, real estate consultancy Knight Frank said that housing values in Beijing and Shanghai increased some 111 percent between 2006 and 2011. The prices for an average apartment in both cities are roughly comparable to the greater metropolitan prices of New York, meaning they may be 20 to 30 times higher than the average yearly income for a Chinese citizen.
The country's major real estate developers don't seem to be in trouble though. China's National Bureau for Statistics said that real estate investment grew over 18 percent in May from the previous year. The first and second-ranked property developers in the country, China Vanke and Evergrande Group Ltd. (Hong Kong: 3333), both had record sales over 10 billion yuan (more than $1.6 billion) in May.
© Copyright IBTimes 2023. All rights reserved.