World's Largest Solar Plant, Partly Owned By Google, Opens In Nevada, Roasts Birds And Angers Environmental Group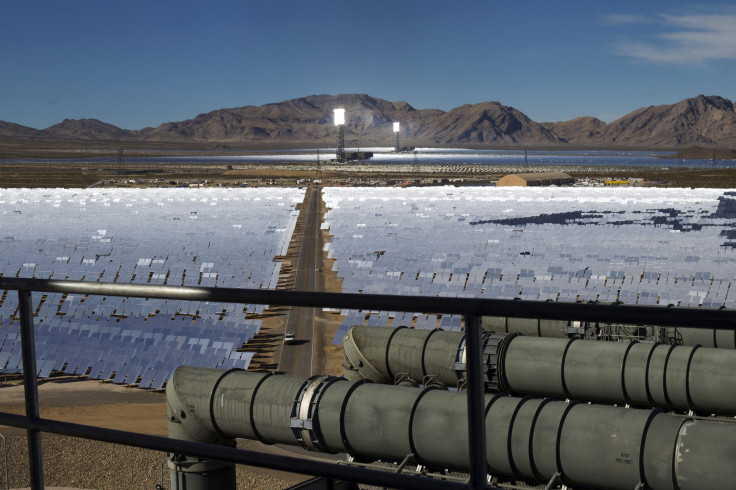 A sea of 350,000 mirrors the size of garage doors is rippling across the Mojave Desert, reflecting solar energy onto 40-story towers and blazing a path for the growing solar industry as the world's largest solar power plant of its type.
The Ivanpah Solar Electric Generating Station, located along five square miles of federal land on the California-Nevada border southwest of Las Vegas, officially opened Thursday.
But the achievement for renewable energy has some downsides: Besides costing more per household than conventional coal or natural gas plants, it jostles a balance between clean-energy and harming wildlife and its habitat. The technology is killing birds with the scorching heat it bounces upward and threatens desert tortoises and bighorn sheep by tapping scarce water sources.
The $2.2 billion "power tower" solar-thermal plant, owned by NRG Energy Inc (NYSE:NRG), Google Inc. (NASDAQ:GOOG) and BrightSource Energy Inc., received a $1.6 billion federal loan guarantee. Mirror panels reflect sunlight onto boilers on three towers, heating water into steam that drives power generators to light up about 140,000 homes in a year and avoiding 400,000 metric tons of carbon dioxide per year, equal to removing 72,000 vehicles from the road.
"The Ivanpah project is a shining example of how America is becoming a world leader in solar energy," U.S. Energy Secretary Ernest Moniz said in a statement Thursday after attending the project's opening ceremony. "This project shows that building a clean-energy economy creates jobs, curbs greenhouse gas emissions, and fosters American innovation."
"At Google we invest in innovative renewable energy projects that have the potential to transform the energy landscape and help provide more clean power to businesses and homes around the world," the tech giant's director of energy and sustainability, Rich Needham, said in a statement. "Ivanpah is a shining example of such a project and we're delighted to be a part of it."
Years of regulatory and legal obstacles, including relocations of turtles and assessments of the potential impact on milkweed and other plants, slowed the feat of engineering. State and federal regulators expected the project to kill some birds (the air surrounding the towers can reach up to 1,000 degrees Fahrenheit), but they have picked up more dead birds than they'd anticipated. So far, the count has included a grebe, a peregrine falcon, two hawks, four nighthawks and warblers and sparrows. Eleven birds died in November. The Bureau of Land Management (BLM) has launched a two-year study of the facility's effects on birds.
"We know solar projects are an issue as far as birds are concerned," Michael Connor, the California director of conservation nonprofit Western Watersheds Project, said. "But they say, well, it's not significant, so we'll monitor it. So what happens now? You find lots of dead birds. Then what happens? Nothing."
Western Watersheds Project filed a lawsuit against the BLM in January 2011, alleging it had failed to protect more than 1,000 desert tortoises, along with birds and sheep. A California district court tossed out the case in November 2012, and two weeks ago, Western Watersheds restated its pleas to the U.S. Ninth Circuit Court of Appeals.
"Now we're just waiting to hear what the Ninth Circuit says," Connor said.
NRG Energy has ownership interest in 10 other utility-scale solar facilities in the U.S. A spokesman for NRG, Jeff Holland, said it's too early to draw conclusions about the project's environmental impact.
And a spokesman for BrightSource, Joe Desmond, said that he thinks the company will be able to resolve the problem of bird deaths. BrightSource plans to build more big plants in California and elsewhere.
© Copyright IBTimes 2023. All rights reserved.