Worldwide Smartphone Growth Estimates: Better Days Ahead For Windows Phone While Android And iOS Are Expected To Lose Market Share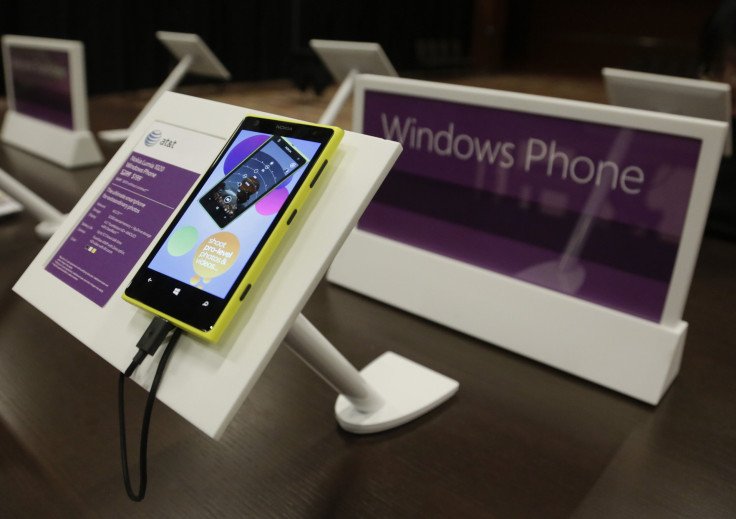 Microsoft's (NASDAQ:MSFT) Windows Phone mobile-operating system may not be a challenger to Google's (NASDAQ:GOOG) Android and Apple's (NASDAQ:AAPL) iOS just yet, but it could turn out to be the fastest-growing OS for smartphones in the world over the next four years, according to a new report from International Data Corporation, or IDC.
In 2014, 47 million Windows Phone devices are expected to be shipped, accounting for a 3.9 percent share of the worldwide smartphone market. And, in 2018, as many as 121.8 million Windows Phone devices are expected to ship for a market share of 7 percent, representing an astounding 29.5 percent annual year-on-year growth rate.
"Windows Phone stands to grow the fastest among the leading smartphone operating systems, with continued support from Nokia as well as the addition of nine new Windows Phone partners," an IDC statement said. "Most of these new vendors come from emerging markets and could help bring the Windows Phone experience to customers there."
In 2014, Android will have a 78.9 percent market share with 950.5 million units shipped. But, by 2018, its market share will slide to 76 percent, with 1.32 billion units shipped. The market share of iOS, which will stand at 14.9 percent in 2014, is also expected to slip to 14.4 percent in 2018.
As for BlackBerry (NASDAQ:BBRY), the struggling Canadian smartphone-maker is expected to almost vanish, with market share dropping from 1 percent in 2014 to 0.3 percent in 2018.
Check out the table here: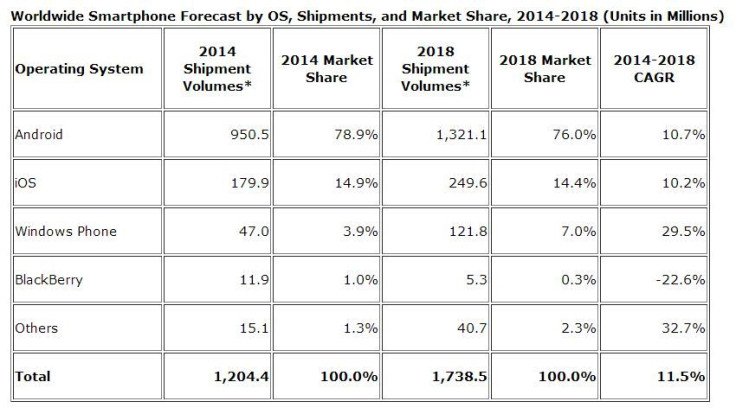 According to IDC, as mature markets become saturated and worldwide smartphone growth slows, service providers and device manufacturers are seeking opportunities to move hardware wherever they can, making smartphones significantly cheaper than before. In 2013, the worldwide smartphone average selling price, or ASP, was $335, which is likely to drop to $260 by 2018.
"In order to reach the untapped demand within emerging markets, carriers and OEMs (Original Equipment Manufacturers) will need to work together to bring prices down," Ramon Llamas, research manager at IDC, said in the statement. "Last year we saw a total of 322.5 million smartphone units ship for under $150 and that number will continue to grow going forward… Not all vendors will want to get into this space, but those that do must make deliberate choices about their strategies in order to succeed."
IDC's estimates of smartphones' ASP supports its claim that Windows Phone could grow the most in emerging markets. The average price of a Windows Phone smartphone could be $195 in 2018, compared to $202, $610 and $324 for Android, iOS and BlackBerry devices respectively.
In the overall market, smartphone shipments will drop to an annual growth rate of 8.3 percent in 2017 and 6.2 percent in 2018, despite a strong 2013 when annual smartphone volume surpassed 1 billion units for the first time, accounting for a 39.2 percent growth over 2012.
Although many emerging markets are expected to see high smartphone growth in 2014, worldwide volumes are expected to be 1.2 billion, up from 1 billion in 2013, representing a 19.3 percent annual growth.
"2014 will be an enormous transition year for the smartphone market," Ryan Reith, program director at IDC, said. "Not only will growth decline more than ever before, but the driving forces behind smartphone adoption are changing. New markets for growth bring different rules to play by and 'premium' will not be a major factor in the regions driving overall market growth."
© Copyright IBTimes 2023. All rights reserved.