WTO Warns Global Trade Will Shrink Again In 2012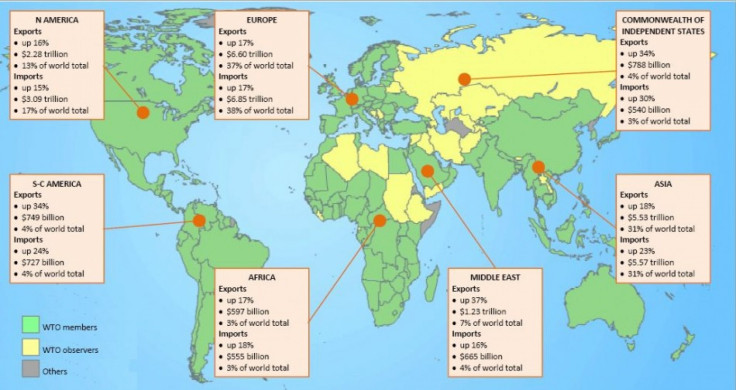 Growth in global trade is likely to slow for a second year in 2012, to 3.7 percent, though severe downside risks -- a steeper-than-expected downturn in Europe, rapidly rising oil prices and geopolitical factors -- could push it further below a 20-year average of 5.4 percent, the World Trade Organization forecast Thursday.
Trade expansion slowed from 13.8 percent in 2010 to 5 percent last year, missing a 2011 forecast of 5.8 percent issued in September.
Although growth is expected to rebound slightly to 5.3 percent in 2013, We are not out of the woods, WTO Director-General Pascal Lamy said.
More than three years have passed since the trade collapse of 2008-09, but the world economy and trade remain fragile, Lamy noted. The further slowing of trade expected in 2012 shows that the downside risks remain high.
The main threats to trade growth this year include the debt crises among several euro zone countries and higher prices for commodities.
The agreement on a debt restructuring plan for Greece has provided some respite for governments, but at least a mild recession in the European Union may now be looming, with negative consequences for global trade and output, the WTO said.
The Geneva-based trade body warned that emerging- and developing-market countries would be hurt by falling import demand in the European Union, which is the single biggest market for their exports.
The 2012 forecast -- which assumes 2 percent export growth for developed economies and 5.6 percent for developing economies, a group that includes Russia -- would bring trade growth below the long-term average of 6 percent for 1990 through 2008, the WTO said.
The latest trade forecast assumes global output growth of 2.1 percent in 2012, down from 2.4 percent last year.
Recent production data suggest the EU may already be in recession, and even China's robust economy appears to be growing more slowly in 2012.
Economic prospects have brightened in the United States and Japan as labor conditions improve in the former and business orders pick up in the latter, but these positives will provide only partial relief from the earlier negatives, the WTO said.
In 2011, developed economies exceeded expectations, while developing ones did worse than anticipated. The U.S. economy saw exports grow 7.2 percent in 2011 after rising by 15.4 percent a year earlier. Exports from the EU grew by 5.2 percent compared with 11.5 percent in 2010.
The fastest-growing regions were the Middle East at 4.9 percent; the Commonwealth of Independent States, which includes most former Soviet republics, 4.6 percent; and South and Central America, 4.5 percent.
China, the world's biggest exporter, again outpaced the rest of the world last year at 9.3 percent, but that was a far cry from the 28.4 percent jump it achieved in 2010.
Lamy expressed concern that the sluggish pace of recovery in national economies may produce a steady trickle of restrictive trade measures [that] could gradually undermine the benefits of trade openness. He urged WTO members not to backslide on efforts to knock down trade barriers.
It is time to do no harm, Lamy said.
© Copyright IBTimes 2023. All rights reserved.
FOLLOW MORE IBT NEWS ON THE BELOW CHANNELS