Is Yelp Stock Worth Buying? IPO Share Price Valued Between $12 and $14
OPINION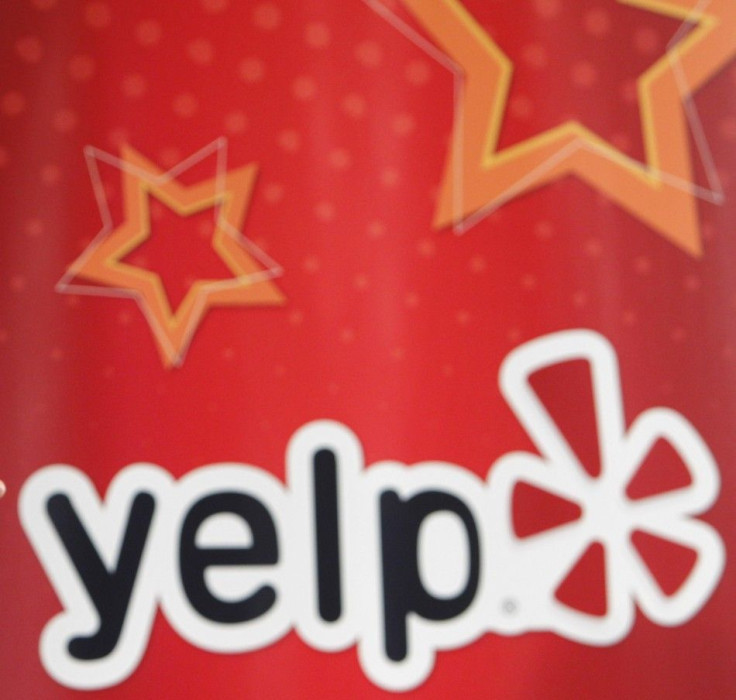 Online review site Yelp gearing up for its IPO next week, but once the company hits the New York Stock Exchange on March 2, should consumers line up to buy the company's stock?
Yelp filed its initial public offering with the SEC on Nov. 17 -- two weeks after Google acquired rival Zagat for $175 million from its co-founders -- and hired Goldman Sachs and Citigroup to be the company's lead underwriters for its IPO. Yelp rated its own business on Feb. 16 and decided to price its shares between $12 and $14 apiece, which could potentially value the seven-year-old San Francisco-based company at $840 million. Yelp plans to trade on the New York Stock Exchange under the ticker symbol, YELP.
In November, Yelp had originally hoped to raise $100 million, but since Yelp had once rejected a $500 million acquisition offer from Google in 2010, the IPO could have valued the company at more than $2 billion. But since Yelp waited to go public, Facebook's enormous IPO is casting a large shadow over Yelp's market debut. Facebook is expected to be valued anywhere between $75 billion and $100 billion.
When Yelp goes public on March 2, the company plans to sell 7.1 million shares while its charity foundation plans to share an additional 50,000 shares. Depending on investor demand, Yelp could make more or less money in the IPO, but Yelp is in good hands with Goldman Sachs, which handled other successful IPOs of Microsoft, Yahoo and Groupon. Yelp is also giving investment bankers an option to sell an additional 1.07 million shares. Should Yelp's share price of $14 hold, the IPO could raise $115 before expenses.
Founded in 2004, Yelp has already raised more than $50 million from VCs, including Benchmark Capital, Bessemer Venture Partners, DAG Ventures and Elevation Partners; Bessemer owns 22.5 percent of the company, Benchmark owns 16.2 percent, and Elevation, whose principals include Irish singer Bono, owns 22.4 percent. Yelp CEO and co-founder Jeremy Stoppelman owns 11.1 percent of Yelp's outstanding shares, while Max Levchin, Yelp's first investor and the co-founder of PayPal and Slide, owns 13.8 percent of the company.
Yelp's filing with the SEC reveals that the site boasts more than 22 million reviews, 61 million monthly unique visitors and 529,000 business pages. The site has helped many small businesses gain traction online, but Yelp largely makes it money by selling ads to these local businesses. Yelp also makes some money in brand advertising, partnerships, and other services such as Yelp Deals, its Groupon-type service for daily discounts. The company did not state whether or not it has a profitable business model, but in the first nine months of 2011, Yelp lost $7.6 million; in the first nine months of 2010, the company lost roughly $8.5 million.
Yelp has been contemplating an IPO for a long time. In April, Stoppelmantold the Wall Street Journal that his company intended to go public, and had already begun its search for a chief financial officer with IPO experience. In July, Stoppelman found his man and hired Rob Krolik as the company's CFO. Prior to joining Yelp, Krolik helped Shopping.com go public in 2004.
Yelp could be encouraged by the recent slew of successful social media IPOs. In May, business networking site LinkedIn enjoyed a tremendous IPO. The Santa Monica, Calif.-based company originally priced its shares at $45 each, but as LinkedIn began trading, shares surged to above $90 per share and settled in the $80 to $85 range, roughly double their offering price. The IPO made LinkedIn founder Reid Hoffman a billionaire.
Groupon, the Chicago-based daily deals giant, finally went public Nov. 4 after several delays. Groupon pegged its opening share price between $16 and $18, but within its first minutes as a public company, shares soared to about $28. Shares have settled around $25, and the company's market value is nearly $16 billion, even though its June filing with the SEC stated that the company was still not profitable.
However, Yelp needs to be careful about how it handles its IPO as most of the attention is still given to Facebook, which filed its IPO in the beginning of February. Facebook's public offering will be the big mama of all IPOs, but if Yelp can show that its service can be used in many different applications -- Facebook included -- Yelp could have an extremely successful market debut.
Yelp will be a great stock to buy, and it's probably one of the few Internet companies that is actually worth buying. While the status of the company's business model is not yet certain, Yelp has a lot of hands in a lot of different pies. Its services and its API are used by companies both big and small, and even Siri uses Yelp to help sort out business results by rating.
Yelp could eventually be the first business ratings service to fully leverage the Internet, if enough companies can buy into its platform consisting of user-rated content. Google will likely try to compete with Zagat, but Yelp boasts more than 61 million monthly visitors to its site, and many more access its API through other means.
Yelp provides a unique service: It organizes our world for us so we know what's worth checking out. More so than Facebook, Yelp stock could be extremely valuable because Yelp has so much more room to grow, while Facebook users lament when the platform makes any changes whatsoever. Yelp could expand its services to more businesses, but it could easily become the Rotten Tomatoes of the business world. If Yelp could personalize its results to individual tastes -- which is entirely possible with today's technology -- Yelp could be the best and most valuable review site in the world.
Many will be paying attention to Facebook when it goes public this spring. But don't overlook Yelp. Its stock comes highly recommended.
© Copyright IBTimes 2023. All rights reserved.
FOLLOW MORE IBT NEWS ON THE BELOW CHANNELS