Yemen Civil War: Tenuous Cease-Fire Called As Dozens Killed In Clashes Between Al Qaeda, Houthis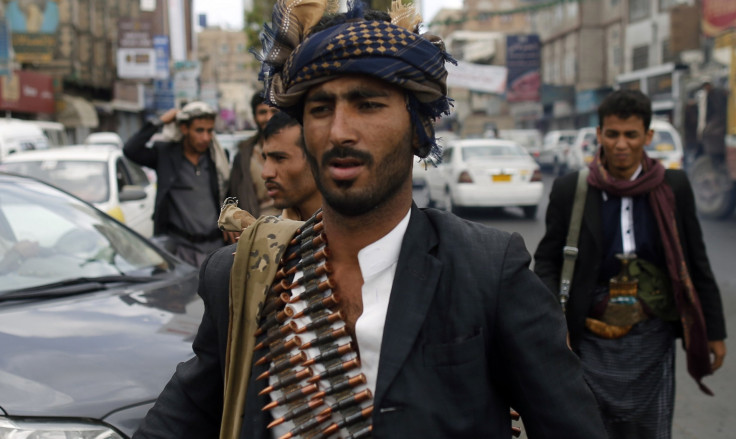 For a second time in as many days Sunnis and Shiites battling each other in one of Yemen's larger commercial cities have agreed to a temporary cease-fire on condition Shiite rebels are given safe passage out of town. Ibb, a historic city about 93 miles south of the capital of Sanaa, has been the focus recently of intense fighting since the Houthis, a Shiite minority rebel group, took control of the country's capital and the main port city of Hodeida Sept. 21.
Images on the social media site Twitter show what purport to be the bodies of scores of Houthi rebels on the streets of Ibb accompanied by messages hailing a victory for al Qaeda of the Arabian Peninsula (AQAP) fighters, the primary Sunni-affiliated Islamist militant group operating in the country. Ibb has been an AQAP stronghold since the Arab Spring uprising ousted Yemen President Ali Abdullah Saleh from power in 2012.
A 24-hour cease-fire was called Friday between Sunni tribesmen and the Houthis, but it was interrupted early Saturday as Houthi fighters challenged a checkpoint set up by local Sunni tribesmen, according to Al-Jazeera , which said recent developments have created "utter chaos in every corner of the country." The cease-fire was interrupted by the killing of dozens of people in and near Ibb late Friday and early Saturday. Locals say it's unlikely the second cease-fire will hold for long.
"There are heavy clashes now between the Houthi fighters and the supporters of Islah. It's a very scary situation," a local Ibb official told Reuters. The Houthi advance into the south threatens to reignite the Yemen separatist effort in a country that was formed in 1990 with the unification of the northern Yemen Arab Republic with the southern People's Democratic Republic of Yemen. Fighting has rekindled a southern separatist movement based in the Aden, the country's most important port city. Separatists have demanded all government civil servants and soldiers leave the south by Nov. 30.
© Copyright IBTimes 2023. All rights reserved.