Yemen Conflict: Houthi Rebels Pound Aden, Kill At Least 20 Civilians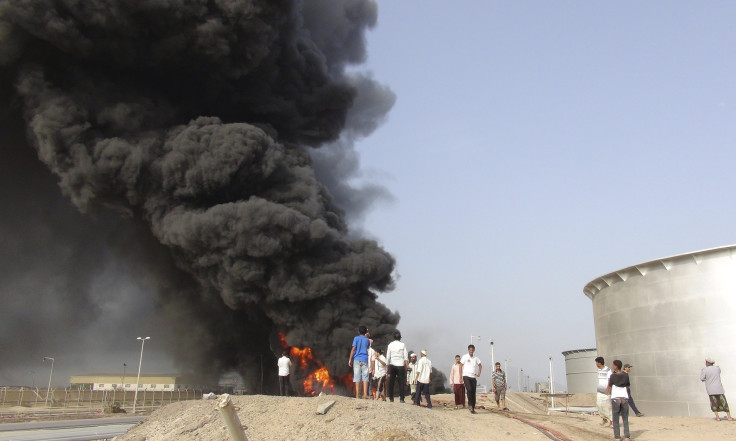 At least 20 civilians were killed and 41 wounded when Shiite Houthi rebels attacked a residential district in Yemen's city of Aden early Wednesday, Agence France-Presse (AFP) reported, citing medical sources. The attack came 12 days after a peace talk in Geneva between Yemen's warring factions ended without a ceasefire agreement.
The Houthi fighters and their allies pounded Aden's Al-Mansura district, controlled by forces loyal to Yemen's internationally recognized President Abed Rabbo Mansour Hadi, with 15 Katyusha rockets. The attacks were launched from rebel positions in the Dar Saad neighborhood, AFP reported, citing Ali al-Ahmadi, a spokesman for the loyalist forces.
The rebels began firing rockets before dawn when the residents were busy on the streets ahead of the day-long fast observed by Muslims during the holy month of Ramadan. Another round of rockets, fired later in the morning, hit mourners as they were burying the dead from the earlier attack, al-Ahmadi told AFP.
The seaport city of Aden was the last refuge of Hadi before he fled into exile in Saudi Arabia's capital Riyadh in March. Meanwhile, his loyalists have been fighting -- with support from Saudi-led coalition airstrikes -- to defend the city against Houthis, who are allied to Yemen's former president Ali Abdullah Saleh.
On June 19, a U.N.-sponsored five-day peace talk between Yemen's warring factions failed to settle on a ceasefire deal, raising concerns of further escalation of the conflict, which has left more than 2,800 people dead since Saudi Arabia and its allies began airstrikes against Iran-linked Houthi rebels in late March.
A series of coordinated bombings claimed by the Islamic State group has also added another layer to the Yemen conflict. Most recently, ISIS said it was behind a car bomb blast in Yemen's capital city of Sanaa late on Monday, which killed at least 28 people.
© Copyright IBTimes 2023. All rights reserved.
FOLLOW MORE IBT NEWS ON THE BELOW CHANNELS