Yemen Crisis: Saudi Arabia Airstrikes Against Houthi Rebels Hit Sanaa Airport As Civilians Scramble For Aid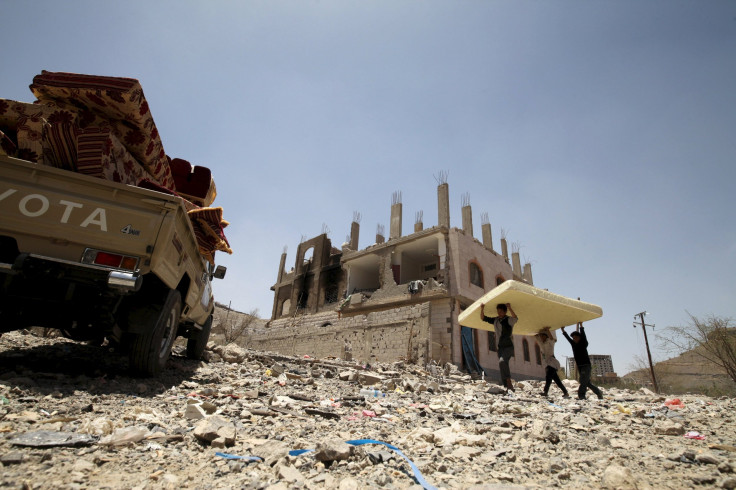 Chaos is escalating in Yemen on Tuesday as a Saudi Arabia-led coalition against the Iran-backed Houthi group targeted the capital's international airport in Sanaa with airstrikes. Saudi Arabian missiles reportedly hit a nearby oil tanker, engulfing the airport's runway in flames, the Yemen Post reported.
The airport hadn't been in usable condition before Tuesday's airstrikes. But the explosion reportedly damaged the runway, which could prevent aid aircraft from landing in the capital. A Yemeni official told Reuters that a civilian aircraft operated by Yemen's Felix Airways, which operates mostly local flights, was attacked. Civilians on the ground reported that a plane carrying food and other humanitarian aid had been hit in airstrikes.
Overnight, Saudi Arabia and several mostly Persian Gulf coalition partners continued to bombard Houthi targets while the Shiite rebel group advanced in the southern Yemen city of Aden, a former stronghold of exiled Yemeni President Abed Rabbo Mansour Hadi. Airstrikes hit several Houthi targets, including army bases and various civilian buildings thought to be turned into weapons depots, the Associated Press reported. A Saudi Arabian soldier stationed on the border between Saudi Arabia and Yemen was also killed in clashes overnight, the state-run Saudi Press Agency reported.
Meanwhile, Houthi rebels also battled Yemeni tribesman in the oil-rich Marib province on Monday, leaving at least 15 people killed, Reuters reported. Houthis claim their advances in the province are aimed at eradicating militants from al Qaeda in the Arabian Peninsula (AQAP), the terrorist organization's branch in Yemen, who have a solid presence in the area.
Clashes between the Saudi-led coalition and Iran-backed Houthi militants began in late March and have since turned Yemen into a "humanitarian catastrophe," officials from aid organizations said. At least 115 children have been killed, 172 injured and at least 140 have been recruited by armed factions in the country since the Saudi-led coalition began bombing the country last month, Unicef said.
"There are hundreds of thousands of children in Yemen who continue to live in the most dangerous circumstances, many waking up scared in the middle of the night to the sounds of bombing and gunfire," Julien Harneis, Unicef's representative to Yemen, said last week. "The number of child casualties shows clearly how devastating this conflict continues to be for the country's children. Without a speedy end to the violence, children will be unable to lead normal lives."
Before the current chaos began, Yemen was already the poorest country in the Arabian Peninsula and ranked eighth out of 178 in the Fund for Peace's 2014 Fragile State Index, which is based on several factors, including sectarian violence, poverty, state security, public services and the government's legitimacy. It scored worse than Iraq, Syria and Libya. Roughly half of its population is below the poverty line. Almost 50 percent of Yemenis don't have access to clean water, and slightly less than a third don't have basic healthcare.
"It was difficult enough before, but now there are just no words for how bad it's gotten," International Committee of the Red Cross spokeswoman Marie Claire Feghali said Monday. "It's a catastrophe, a humanitarian catastrophe."
© Copyright IBTimes 2023. All rights reserved.
FOLLOW MORE IBT NEWS ON THE BELOW CHANNELS